February 2012
Bentley Continental GT V8
The GT V8 shares a bodyshell with the W12 model, with a few detail changes
February 2012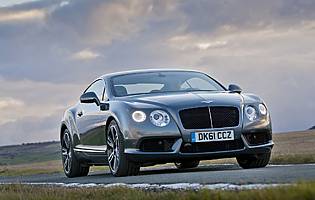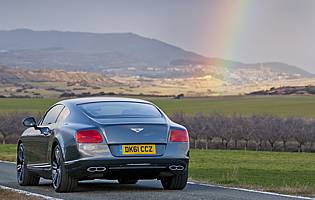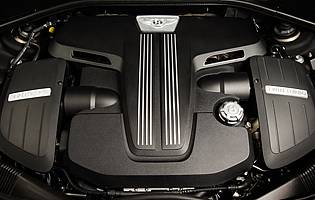 Overall rating

Likes:
Specially engineered exhaust system delivers a wonderful noise
High-quality trim throughout the cabin
Drivetrain feels beautifully engineered
Excellent cabin refinement even at speed
Gripes:
Weight can blunt performance and handling
Official fuel economy difficult to match in the real world
Some cabin parts could looks and feel a little more expensive
Sportiest suspension setting sometimes not firm enough for outright thrills
The V8 version of the Continental GT was built in response to increasing pressure from environmental and financial corners, but adds to the range rather than replacing the W12-engined model. Aimed at a slightly younger market that places more emphasis on driving character and sportiness, the GT V8 has been designed to be an entry point into the brand.
While the existing Continental GT carries on as before, the V8 is essentially a new model in its powertrain and attitude - at least in a marketing sense. It uses clever, advanced technology to reduce the capacity of the engine and achieve important tax breaks in certain crucial markets across the world, thus opening the Bentley brand up to new audiences.
Technically it sits beneath the Continental GT W12 in the range, but with a different emphasis on some aspects of the driving experience; it's intended to be an alternative choice rather than an inferior one. It indicates that Bentley will further look to downsizing in the future, using technology to ensure that any further new engines are still both powerful and refined.
Key to the model's huge reduction in CO2 output and fuel consumption are ideas like cylinder deactivation under light engine loads and an efficient layout that keeps pipes as short as possible so less energy is wasted. Externally, although the basic bodyshell is the same, red enamel Bentley badges and a black grille separate the V8 from the W12.
Despite a more aggressive intent, the V8 is not meant to be a stripped-out sports car. The coupe still weighs 2.3 tonnes, little lighter than the W12 model partially because the W12 is an extraordinarily lightweight engine for its capacity. Key to Bentley ownership is personalisation, and the vast options list will keep even the most particular of customers happy.
Our verdict on the Bentley Continental GT V8
For many this 'lesser' Continental GT will be just the ticket. Bentley is keen to focus on the driving experience, and this V8-powered car offers the keen driver a more involving experience. Despite the reduction in cylinder count it's a capable and engaging machine, and no less luxurious because of it.
Costs
According to Bentley's claims, the GT V8 uses much less fuel and emits far less CO2 versus the previous generation GT with the W12 engine. In conjunction with a large fuel tank it gives the V8 a vastly superior cruising range - a quality specifically requested by existing Continental GT buyers. Its CO2 is respectably low and as a new, more accessible way of buying into the brand it is likely to retain high residual values.
Space and practicality
Storage space is at a little bit of a premium in the cabin, with relatively ineffective door pockets a low point. There are several storage bins; a closed one underneath the central armrest and a smaller, open one beyond the gear lever. The glove box is of a good size though. Boot space is much more pleasing on the whole, with a long, deep load area easily accessible through an ample aperture.
Controls and display
Given the intended cheekiness and character of the V8 Continental, it's a little underwhelming to see that more of an effort wasn't made with the instrument cluster. It's very functional, clear and informative, but it's quite dull to look at compared to so many other areas inside and outside the car. All the controls fall into standard Volkswagen Group locations so it's incredibly easy to pilot, and the digital displays are also easy to read at a glance.
Comfort
Adjustable suspension settings are standard fitment on the GT, with four options between 'Comfort' and 'Sport'. At the Comfort end the ride quality is excellent, with only a few vibrations and bumps making their way through to the cabin with any vigour. The seats are multi-way adjustable and suited to most sizes and shapes of body, but especially slim people might find them a little wider than ideal through corners.
Car security
An advanced alarm and immobiliser are fitted as standard. Cars like the GT V8 are nearly impossible to steal without the key these days, and security is further helped by the absence of any visible locking mechanism on the boot. Heavily-tinted security glass is not standard but can be specified if required.
Car safety
The Continental GT V8 uses a four-wheel-drive system for extra traction, providing a surer footing in wet conditions. Few other safety details have been released, but as part of the Volkswagen Group Bentley has access to a plethora of cutting-edge safety technology, and potential GT V8 owners should rest assured that the most advanced of these will be included by default.
Driver appeal
The GT V8 is set up to be a more sporting drive than the W12 model, and it is livelier. A relative absence of turbo lag and a wave of torque throughout the rev range make it rapid, and its real appeal comes through fast, uneven, sweeping bends where the platform is both supremely stable and beautifully poised. It can't hide its substantial bulk through tighter corners and is prone to understeer very slightly, but responds positively to throttle inputs mid-corner.
Family car appeal
Existing Continental GTs are often used for making long journeys across countries, and although there are no relevant statistics it's likely that many of these journeys are made with children. Isofix child seat mounts are standard if needed, and there's more than enough room for families of up to four and their luggage. The materials are expensive and perhaps sensitive to damage, but for older children there are few drawbacks.
First car appeal
The GT V8 is the cheapest Bentley yet, but it's hardly 'affordable', and is very unlikely to be within financial reach of a first-time car buyer. Its size and slightly restricted visibility also count against it for young or inexperienced drivers, and despite the fact that it's actually very easy to drive carefully and safely, the sheer power that's readily available would be too much for new drivers to handle.
Quality and image
Bentley is a brand that places high importance on quality and is seen as such, boasting an enviable reputation for quality of materials and finishes. The Continental GT V8 has the same standard of build as its W12-powered brother and as such is resplendent in very luxurious quilted leather upholstery and wood polished to a high gloss. The drivetrain also feels incredibly solid and substantial, adding to an overall sense of an extremely satisfyingly well made car.
Accessibility
Although it's a little on the low side, the Bentley is very easy to get in and out of. The seats are shaped to avoid getting in the way of either front or rear seat occupants. The long doors extend well past the typical position of the front seats, so accessing the back is surprisingly easy too. To overcome the difficulty for people in the front in reaching the seat belts, neat automated arms push the belts forward, to within reach.
Stereo and ICE (In car entertainment)
As satellite navigation is standard, the large screen that it operates through is standard too. The stereo systems, including the astonishingly good Naim Audio upgrade with built-in hard drive, are partially controlled via this touchscreen interface with some aspects of the functionality reserved for old-fashioned buttons. It can sometimes feel like a clumsy and unnecessary combination but the screen is bright and clear, and the system does accept SD card, CD and auxiliary inputs.
Colours and trim
Positioned to appeal to a slightly younger audience, the variety of standard colours includes not just the usual reserved, gentlemanly hues but also some more adventurous shades that look fantastic on the GT's shapely shell. The interior trim is of the highest quality and the trim details, including the aviation-inspired push-pull air vent switches, look superb. The CT V8 has a slightly cheeky, roguish look about it in the right colour combination.
Parking
Well engineered steering makes the car surprisingly easy to manoeuvre at low speed, although rear visibility could be better. There are parking sensors to help guide the driver into gaps, but the sheer size of the GT will make appropriate spaces harder than usual to find. The two-door coupe body style means long doors, which make bay parking doubly tricky by increasing the empty space that's needed either side of the car.
Spare wheel
Space saver spare wheel fitted as standard.
Range information
Petrol engine options - 4.0-litre (500bhp), 6.0-litre (567bhp). Transmission options: 8-speed automatic only. No specific trim levels.
Alternative cars
Aston Martin DB9 A large V12 engine gives different character but shorter cruising range
Mercedes-Benz CL63 AMG Sensible appearance and all-round ability hides ballistic performance
Maserati GranTurismo S Significantly cheaper and less advanced than the GT V8, but more characterful
BMW M6 Again much cheaper, but more inconspicuous and just as efficient