January 2011
Bentley Continental GT Supersports Convertible
The muscular view from the front lets you know this is no ordinary Bentley
January 2011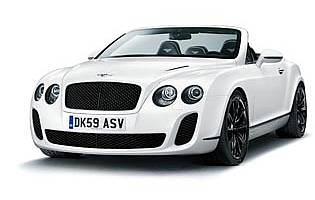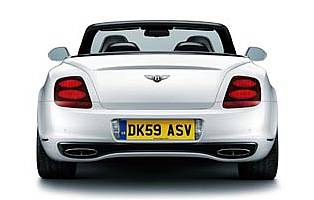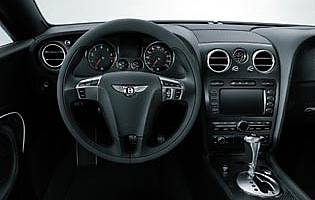 Overall rating

Likes:
Despite car's performance potential, ride is always comfortable
Engine is flexible around town and never feels stressed on the open road
Subtle exterior styling add an air of purpose to the car's character
Cabin feels special thanks to subtle detailing and quality of fit and finish
Gripes:
It might be 'only' a two-door convertible but the Supersports is a big car
Limited number of E85 outlets weakens the car's green credentials
Despite toned down exterior, this is not a car for shrinking violets
Engine's thirst is substantial - even for a car boasting such performance
Bentley's Continental GT range has been a runaway success. All things are relative when a car costs six figures, but the striking two-door model offers a lot of performance, refinement and street presence for its modest asking price. Building on the success of the flagship Supersports coupe is the drop-top model.
The Supersports Convertible isn't quite as extreme as its coupe cousin. For one thing, the car's rear seats make a return, although they are of limited use in the real world. Everything else about the drop-top Supersports is no less extreme, however.
Boasting detailed suspension, steering and powertrain changes, the Supersports models were developed to enhance the Continental GT's reputation as a genuine high performance car. The basic variant is no slouch and this Supersports boasts 621 horsepower to the regular car's 556 horsepower.
The Supersport's minor exterior tweaks see the brightwork of the standard model replaced by darker, more menacing trim. Combined with a lower ride height and wider track, the flagship convertible is a welcome departure from the glitzy glamour of the donor car.
The firmer ride and greater urgency of the uprated engine and bold visual appearance might be more in tune with a German supercar, but the overall experience remains one of impeccable luxury. This is reinforced in the convertible; there are few cars of this nature that allow unruffled top-down motoring at such indecent speeds.
Our verdict on the Bentley Continental GT Supersports Convertible
The Supersports model offers buyers the same, familiar, level of comfort and refinement as the other Continental GT variants but with a performance twist. The car combines Ferrari-rivaling pace with an impressively agile character. Factor in the added dimension of being able to lower the roof, and if you've go the resources to own such a car it is a very special experience indeed.
Costs
Asking price aside, which is considerable, fuel economy will be the biggest burden on your finances. Consumption is in the low teens when driven normally and easily in single figures when driven hard. There's also the car's high CO2 rating and equally high insurance premium to consider.
Space and practicality
In real terms this Supersports is just like a regular Continental GT drop-top. The result is ample oddment storage options. At the rear there's a spacious boot, cementing the car's Grand Touring abilities. The presence of rear seats doesn't turn this Bentley into a family car, however. You'll struggle to accommodate small children let alone adults.
Controls and display
As in so many areas, the Supersports is just like all the other Bentleys. The main display located high up in the fascia is clear, easy to use and supports many of the car's core features. The dominant gearlever is supplemented by column-mounted gearshift levers, while the main instruments easy to read - a good thing considering the car's performance potential.
Comfort
The Supersport remains comfortable even at high speeds and on challenging country roads despite a lower and stiffer suspension set-up than a regular Continental GT. It's hard not to hear the car's distinctive exhaust note, although for many this won't be viewed as a bad thing.
Car security
It goes without saying that a desirable car such as this needs protection, and it's no surprise to learn that the standard alarm and immobiliser system should prove sufficient to prevent most attacks. Opting for a tracking system should boost peace of mind and help further satisfy your insurance company.
Car safety
A high level of active and passive safety system are standard fit. And don't forget here's also the car's standard four-wheel drive system, which proves its worth not just at high speed but also in slippery and wintery conditions. Everything is backed up by airbags throughout the cabin.
Driver appeal
Positioned a step above the already brisk Speed variant, the Supersports delivers a more accomplished performance on all types of roads. With more power going to the rear of the all-wheel drive system, this Bentley has the potential to be more 'playful' if you know what you're doing. The detailed changes to suspension, steering, engine and transmission also allow the car to corner faster and flatter with greater confidence. The smooth and predictable auto transmission is another welcome addition.
Family car appeal
It might have four seats but it's no family car. It would, however, be fine for occasional family-based activities. The boot is big, so two-up to the park, school or out on a shopping trip is possible. Don't expect small children to treat the car's plush interior with respect, though.
First car appeal
It should be pretty obvious that any Bentley would be a poor choice for a novice driver. This is a hugely quick car and part of its appeal is the ease at which high speeds can be achieved, which makes it something a novice might want to leave until sufficient experience has been gained elsewhere.
Quality and image
The Crewe-based company is proud of its claim that everything is done in-house. From development to manufacture and the use of fine materials, these are attributes that position the firm above its mass produced rivals. If brand awareness and sales figures are anything to go by, it's been a successful approach.
Accessibility
Being a big car does, sometimes, has its virtues. With its long, wide-opening doors, access to the front of the car is straightforward. Predictably, with the roof down, there's ample room to access and egress the cabin. It's pretty good with the roof up, too. Unlike the coupe the convertible does come with rear seats, although they are perform more of a decorative than functional role.
Stereo and ICE (In car entertainment)
It's hard to fault the performance of the standard issue equipment. With the main unit's display taking centre stage in the fascia, supplementary steering wheel controls prove useful, although the glovebox located CD changer eats into the storage space. Naim-branded audiophile amplification option does much to enhance the system's abilities, and MP3 player inputs are available.
Colours and trim
Predictably you can have any colour combination your bank balance can support. That said, dark trim replaces the shiny chrome for the regular GT, while black-painted wheels add a menacing touch. Despite the free reign regarding materials and combinations, dark leather upholstery and carbon fibre trim does much to promote the car's harder edged performance.
Parking
Bentley supplies the Supersports with a full compliment of parking sensors, for which you can be grateful for. With the addition of a reversing camera, the car's size becomes less of an issue - the view is shown on the main colour display.
Spare wheel
Space saver fitted as standard.
Range information
Petrol engine options - 6.0-litre (552bhp, 600bhp (Speed), 621bhp (Supersports)). Transmission options: six-speed automatic gearbox, four-wheel drive. Trim levels: GT, GT Speed, Supersports.
Alternative cars
Aston Martin DBS High performance Aston is hugely impressive but, like the Bentley, more GT than hypercar
Ferrari California Softly styled car offers a more intense experience than the Bentley, and is less relaxing to drive slowly
Porsche 911 Cabriolet Drop-top turbo variant is supercar quick, cheaper but less spacious
Mercedes-Benz SL-Class In AMG trim the SL is rapid, plus and a comfortable GT. Not as special as the Bentley, though