Bentley Continental GT Speed review
Cabin is superbly designed and constructed
October 2012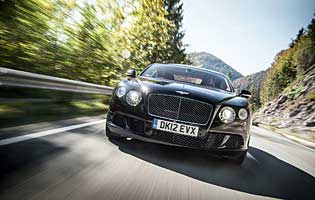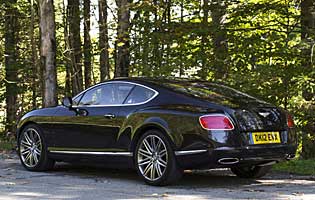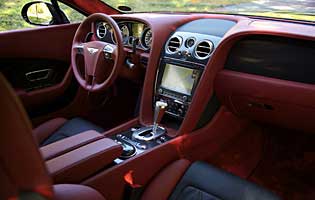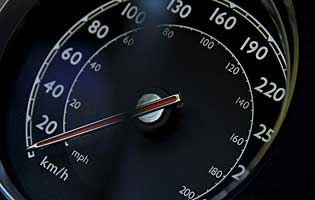 Overall rating

Gripes:
Exterior styling is a little controversial
Rear room is at a premium
Running costs likely to be very high
Rear pillars reduce visibility
Bentley has a major hit on its hands with the Continental GT, which opened up the brand to a much broader range of customers. Even though it is far from inexpensive in standard form the higher-spec and pricier Speed model was more popular than the standard W12 car in the first generation car, so it is no surprise therefore that there is now a Speed version of the current generation.
The starting point for the Speed is the standard Continental GT, already a definitive large luxury coupe. Primed for performance and long-distance cruising the Continental offers seating for four but with an emphasis on the front passengers. The GT Speed adds a wire mesh grille, unique alloy wheels and a subtly altered bodykit, and is a significant upgrade of the standard car.
Mechanically the GT Speed is largely identical to the standard car with a four-wheel drive transmission to handle the high output engine, a W12 unit of 6.0-litres and twin turbochargers. However, a small number of detail changes to the engine push the power and torque figures up substantially, with a significant effect on performance.
The combination of a compact coupe body, four-wheel drive and a high output engine makes the GT Speed a seriously fast car and, as such, puts it in competition with performance luxury cars outside of the normal customer target. Despite this efficiency has been improved over the old car and the Speed is both more economical and has lower emissions despite being faster.
The GT is also the most versatile car to be produced by the firm in recent years, delivering a high level of comfort but also impressive performance. As well as the powerful engine, the GT has electronically adjustable suspension to cope with cruising or high performance driving. In the GT Speed this is enhanced to offer a sportier set up in Sport mode whilst retaining the comfort levels expected of a car from Bentley.
Our verdict on the Bentley Continental GT Speed
The standard W12 Continental is not lacking in presence or performance but somehow the Speed version offers even more of both. It has the power to blitz the 200mph mark and be stable at such speeds yet it is sumptuously comfortable and easy to drive. It's not a car for all budgets by any means but it is supremely capable and would be a joy to own.