Bentley Continental GT Speed review
W12 engine has character and is immensely powerful
November 2008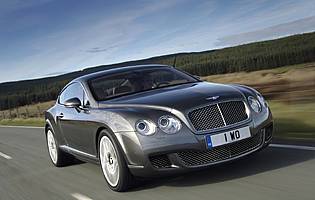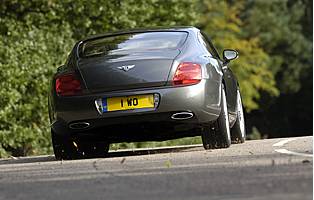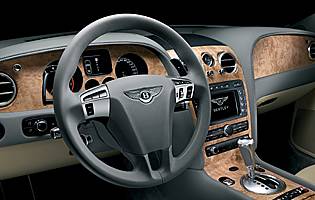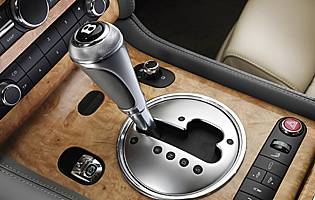 Overall rating

Likes:
W12 engine has character and is immensely powerful
Cabin is superbly designed and constructed
Excellent blend of comfort and handling
Performance is worthy of a regular supercar
Gripes:
Exterior styling is a little controversial
Rear room is at a premium
Running costs likely to be very high
Rear pillars reduce visibility
The Continental GT is the fastest-selling Bentley of all time, mixing traditional styling and values with modern technology and performance. Now there is an addition to the range in the form of the GT Speed, which adds a further sporty edge to the already attractive design.
The starting point for the GT is its shape. Rather than the traditional saloon models which have been the mainstay of the Bentley range for decades, the Continental GT comes in coupe form. It features a two-plus-two seating arrangement, although the emphasis is on the comfort of those in the front seats. The GT Speed adds a wire mesh grille, unique alloy wheels and a subtly altered bodykit, and is an improvement on the standard car.
Mechanically the GT Speed is largely identical to the standard car with a four-wheel drive transmission to handle the high output engine, a W12 unit of 6.0-litres and twin turbochargers. However, a small number of detail changes to the engine push the power and torque figures up substantially, with a significant effect on performance.
The combination of a compact coupe body, four-wheel drive and a high output engine makes the GT Speed a seriously fast car and, as such, puts it in competition with performance luxury cars outside of the normal customer target. It is also more accessible to buyers, priced at the lower end of the GBP100,000 barrier and significantly less than other models in the range.
The GT is also the most versatile car to be produced by the firm in recent years, delivering a high level of comfort but also impressive performance. As well as the powerful engine, the GT has electronically adjustable suspension to cope with cruising or high performance driving. In the GT Speed this is enhanced to offer a sportier set up in Sport mode whilst retaining the comfort levels expected of a car from Bentley.
Our verdict on the Bentley Continental GT Speed
The GT Speed is a worthwhile improvement over the standard GT, adding an extra layer of performance that adds to the car's enjoyment in the right conditions. It also does this without diminishing its every day appeal, and while the GT is not a car for everyone, it has a range of ability that will suit a wide audience.