Bentley Continental Flying Spur review
Extremely comfortable
May 2008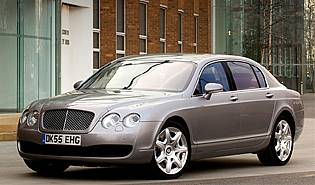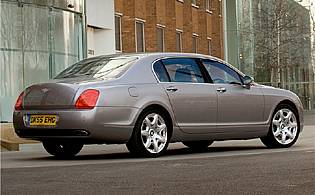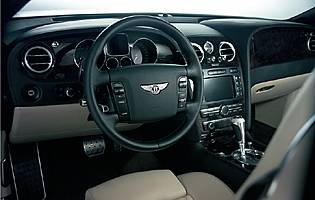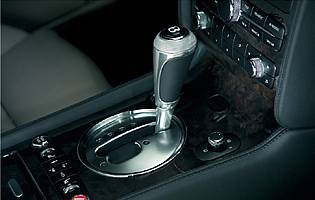 Overall rating

Likes:
Extremely comfortable
Hugely powerful and effortlessly quick
Seamless gear changes
Lacks cumbersome feel of some large cars
Gripes:
Very high fuel consumption
Lacking the exterior grandeur of some similarly priced vehicles
Finely tuned exhaust note can be intrusive
Size can make finding suitable parking spaces difficult
When it comes to Bentley's four-door executive the saloon the figures largely speak for themselves. A quoted top speed of nearly 200mph, a 6.0-litre W12 formation engine, 0-60mph acceleration of less than nine seconds and a purchase price in excess of GBP100,000 add up to a vehicle that's big in everyway.
Bentley's fastest four-door, the Continental Flying Spur, is a product of the Crewe based manufacturer's ownership by Volkswagen. A saloon version of the two-door coupe Continental GT, the Flying Spur actually shares a platform and a considerable amount of equipment with Volkswagen's own Phaeton model - also available with a W12 engine, albeit less powerful. Regardless, Bentley has put a lot of effort into making the model its own. The exterior similarities between it and the rest of the Bentley range are obvious, and the interior features bespoke reminders of the Bentley heritage, despite some obvious part sharing in places.
The traditional values of sumptuous ride quality and tremendous outright speed remain in full. Using constantly adjustable air suspension means the Continental Flying Spur wafts over bumps despite its weight, and the 6.0-litre engine, which produces a minimum of 552bhp, ensures that the model reaches cruising speed as quickly as it does smoothly and minimises the number of gear-changes required as the road goes up.
Unlike some of the more expensive models in Bentley's range, the Continental Flying Spur is not short of competitors. The premium manufacturers all have high powered, large executive saloons on offer and although you have to go right to the top of the list to find the versions that can match the Continental Flying Spur's effortless grace and delivery of power, some are considerably cheaper. Four-door GTs are in the pipeline from sportscar manufacturers such as Porsche and Aston Martin, too.
The model's discreet styling means that it is able blend in when required, while still offering a great deal of presence on the road. Drivers can appreciates the combination of luxury, heritage and modern technology offered by Continental Flying Spur, but without turning heads when not required. As a car to be discreetly chauffeured in, it's very proficient.
Our verdict on the Bentley Continental Flying Spur
Seemingly competing across two sectors, the Bentley Continental Flying Spur has the performance and build quality of a prestige car, but the more subdued presence of a premium executive saloon. A relatively additional small investment would see drivers of less exclusive brands go up in the world, while stately car drivers can downgrade in price without losing the badge or luxury appeal. It's a good choice for those who like to drive, and to be driven.