Audi S5 Sportback review
Sleek, coupe-inspired styling
December 2010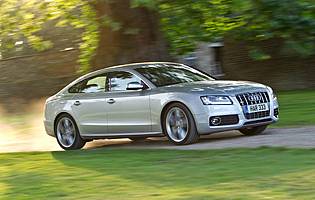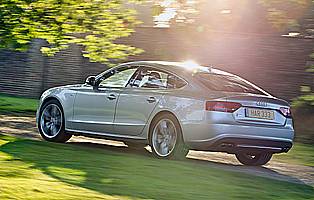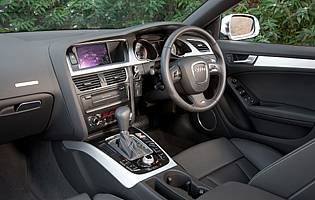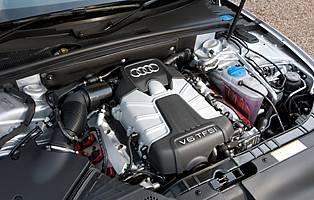 Overall rating

Likes:
Sleek, coupe-inspired styling
Excellent interior quality
Powerful engine is also smooth and tractable
Adaptable chassis quickly changes nature of the car
Gripes:
Little space advantage over A4 despite additional cost
Ride can be firm on 19-inch alloys
Supercharged V6 is thirsty away from the motorway
Dynamic steering adds weight but not feedback
Audi's ongoing quest to bolster its range with an unprecedented number of vehicles continues to result in the occasional, curious, niche model. The S5 Sportback is an example of just that, a four-seat, five-door, high performance coupe model that takes snippets of inspiration from several other models in the German manufacturer's range.
Audi's A5 has proved another success for the German premium manufacturer; originally launched as large three-door coupe model that sat somewhere between the A4 and A6 saloons a five-door version called the A5 Sportback was introduced shortly afterwards. It features similar coupe lines but with greater access to the rear seats.
Around the time that the A5 Sportback was unveiled, Audi switched the S5 version of the coupe from a 4.2-litre V8 engine to a 3.0-litre supercharged V6 unit, installing the same unit in the five-door version to create the Audi S5 Sportback.
Producing 333bhp and driving all four wheels through Audi's seven-speed S-tronic twin clutch gearbox, Quattro all-wheel drive system and an optional adjustable sports differential, there's clearly a strong focus on sports performance, but at the same time offering a luxurious, executive appeal through the combination of sleek lines, four individual seats and a wrap-around cockpit design. A hatchback rear also provides adequate boot space without compromising the looks.
Naturally, the additions to the S5 model do not end with the engine upgrade. A more aggressive front end, additional external details including the silver finish to the wing mirrors and 19-inch alloy wheels all hint at the high performance status, too. Inside, embossed, leather seats are sculpted to offer greater support and the model is generously equipped.
Our verdict on the Audi S5 Sportback
Although at first appearing to be something of an anomaly, the Audi S5 Sportback does begin to make sense once acquainted. There's no denying that it's a collection of elements from other segments but, crucially, it's a collection of the right elements. As a result, the S5 Sportback offers good looks, great performance, exclusivity and comfort. As a package it's highly attractive - but whether it's worth the additional cost over more traditional models is subjective.