Audi A5 S5 quattro review
Flexible and powerful engine
August 2007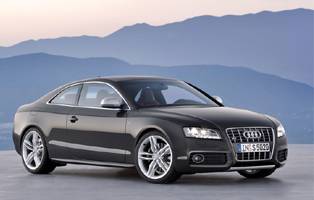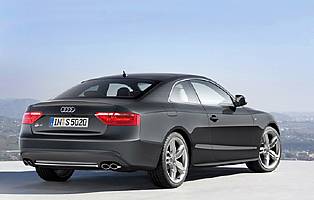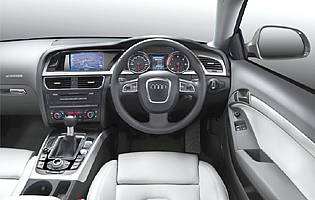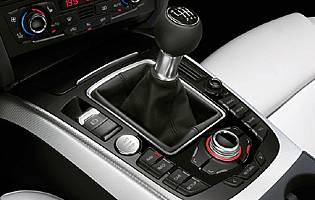 Overall rating

Likes:
A spacious and practical cabin
Wide choice of engines, drivetrains
First small premium SUV from Audi
Good levels of equipment
Gripes:
Access to rear is slightly restricted
Rear styling is a little plain
Running costs likely to be high
Fuel economy relatively poor
Premium German marque Audi is re-entering the mid-sized coupe market with the A5. Designed to compete head on with rivals from BMW and Mercedes-Benz, the A5 fills a gap in the Audi range and opens it up to a new type of customer. In S5 form it also competes as a serious performance car, with aggressive looks and honed mechanicals.
Audi has a long history of successful cars in this segment, but despite its recent sales success in the UK and abroad, it is more than 10 years since it last sold a coupe in this class. With the introduction of the A5, Audi is entering a segment that demands a premium badge, a big style factor and a wide range of models. Given that most of Audi's existing range meets these criteria, the A5 has the pedigree for success.
Another key element to the appeal of a coupe such as the A5 is the performance version. Here it wears the well-known S badge, and benefits from a number of visual and mechanical enhancements to put it above regular A5. All versions of the coupe are sleek and graceful in appearance, with a long nose and sculpted flanks, which make it appear larger than its dimensions would suggest.
Rather than being a chopped-down version of an existing saloon, the A5 benefits from a new chassis, designed with improved handling in mind. The front axle is moved forward to improve weight distribution while the front suspension is a new multi-link arrangement, which promises improved responses and wheel control. The rear suspension is also revised, while quattro models benefit from a 40/60 front to rear power split, with the aim of improving balance.
The S5 benefits from the highest specification of the current A5 range, using the biggest output V8 petrol engine combined with the quattro four-wheel drive system as standard. The visual enhancements include larger alloy wheels, a four-pipe exhaust system and enhanced front and rear bumpers. Subtle S5 badges front and rear complete the visual changes.
Our verdict on the Audi A5 S5 quattro
The S5 not only signals Audi's re-entry into the coupe market, but also highlights the progress made in terms of dynamics. The S5 successfully combines the high level of grip and handling required of a car of this performance, yet in normal driving it is sufficiently comfortable to make a viable everyday car. The attractive styling, desirable badge and impressive interior combine to deliver an excellent coupe package.