Audi Q3 RS 2.5 TSI review
Characterful, offbeat engine provides unique driver satisfaction
December 2014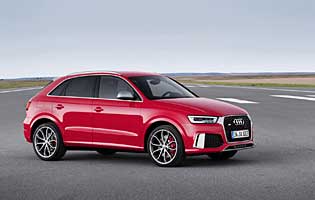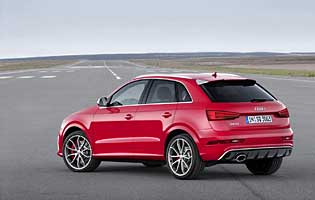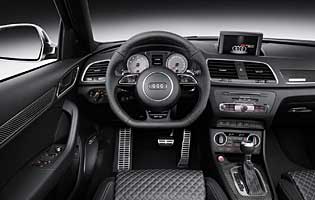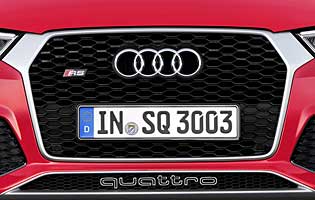 Overall rating

Likes:
Characterful, offbeat engine provides unique driver satisfaction
Good driving position combines clear view ahead and confidence to drive quickly
New gear ratios help improve the feeling of performance
Practical and luxurious extra equipment made standard
Gripes:
New looks will divide opinion even more than ever
Despite improvements, fuel economy remains poor
Weight and height hamper its overall handling prowess
Expensive materials are vulnerable to family lifestyles
The RS Q3 was something of a surprise package when it was originally released. Its combination of small SUV styling, firm suspension and the characterful but thirsty 2.5-litre five-cylinder engine from the RS 3 hatchback was an unexpected hit. For 2015 it has been updated with more power, better efficiency and extra equipment.
This is a niche vehicle, marrying an unlikely combination of attributes into a likeable package. It manages to entertain drivers almost as convincingly as the RS 3, but with a different character that defines for it a unique position in the market. Only now, at the launch of the face-lifted RS Q3, are Audi's direct rivals mounting direct challenges.
Premium quality is essential for any Audi RS model, and that rings true even for the smallest among that elite group. Buyers want sumptuous leathers, impeccable stitching and an air of solidity that isn't always available elsewhere, and the RS Q3 is well equipped to satisfy demanding customers. People whose priority is the interior will be rewarded.
However, under the bonnet is an unusual engine, designed specifically to evoke memories of Audi's famous rally cars of the 1980s. It uses turbocharging and a five-cylinder layout to create enormous amounts of power and torque, which enable the somewhat racy compact SUV to reach 62mph from a standstill in just 4.8 seconds; pace normally reserved for expensive sports cars.
The enduring fashion for higher-riding cars, in tandem with an increasing trend for downsizing, means that the Q3 range, with the RS model as its figurehead, is well-placed to get even more popular. Many buyers will find it too small, and more still will object to its eagerness to burn through fuel, but engine improvements for this updated model will keep enough people interested.
Our verdict on the Audi Q3 RS 2.5 TSI
The RS Q3 will either fit your desires perfectly or it won't even come close. It is one of Audi's most unusual endeavours, but sales success in its first few years has borne out the firm's decision to build it. A notable hike in power, combined with better fuel economy and tweaked looks, should freshen the concept without removing any of the qualities that have been so popular among buyers.