Audi A8 4.2 TDI quattro Sport Executive review
Incredibly quiet driving experience
October 2013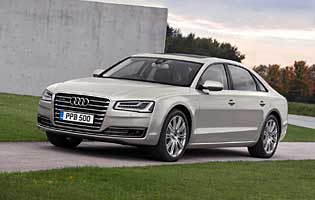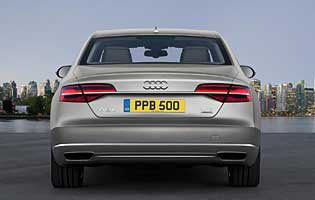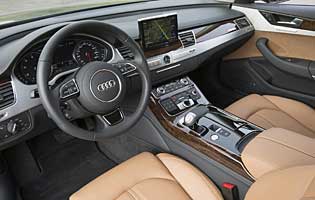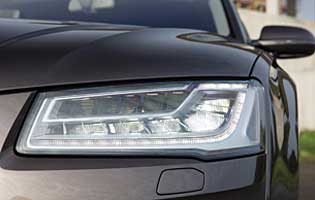 Overall rating

Likes:
Incredibly quiet driving experience
Stable high-speed stance ensures relaxed cruising
Exceedingly high quality interior materials
Advanced new technology eclipses rivals' equivalents
Gripes:
Large size can make driving in town more difficult
Significant price increase over its smaller diesel sibling
Some technology is simply too complex to work effectively
Many desirable optional extras cost thousands
The A8 is a major competitor in the large luxury car segment, going head to head with BMW's 7 Series and the Mercedes-Benz S-Class. It's also one of Audi's flagships, so has to measure up to an elevated standard of both workmanship and drive. This facelifted version has a few tricks up its sleeve to gain ground on its rivals.
Rather than being an all-new model, this is a less comprehensive update, although some of the technology on the 2014 model makes its predecessor look decidedly old-hat. The basic chassis dimensions and components are the same and the silhouette is roughly identical, but the changes are more significant than they appear.
Most of the engines have gained either in efficiency, output or both, thanks to Audi's latest fuel-saving and power-maximising measures. This 4.2-litre V8 diesel, a unique engine type for this class of car, benefits more from the latter than from the former, with a marginal fuel economy increase but a significant output boost.
It's the highest-performance diesel saloon Audi makes, occupying a niche in the market for buyers who want more than the entry-level V6 diesel without resorting to the higher fuel consumption of the similarly-priced 4.0-litre petrol model, which incidentally will only come to the UK as a long-wheelbase version. All engines except the 3.0-litre petrol will have a long-wheelbase option.
Its trump cards are split between its impressive noise insulation on all fronts, its huge acceleration and high-speed cruising ability, and its class-leading new technology, like advanced LED headlights that can turn certain groups of LEDs off to dim individual parts of the main beam when it detects other cars, maintaining main beam while not dazzling other drivers.
Our verdict on the Audi A8 4.2 TDI quattro Sport Executive
On paper it's fair to say that the A8 still lags behind its rivals in several key areas. However, the big Audi offers such a comprehensively satisfying experience to passengers and drivers alike, especially with this drivetrain, that it's impossible to overlook it. Despite its price hike over the 3.0-litre diesel this could be the best real-world version of this car, with few obvious improvements to be made anywhere.