Audi A8 4.0 TDI quattro review
Sober-looking exterior is great for anyone who hates to show off
April 2004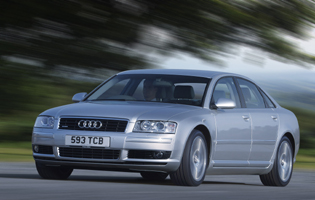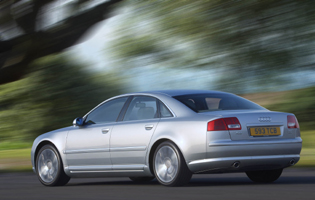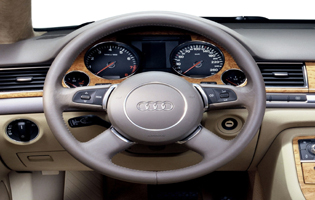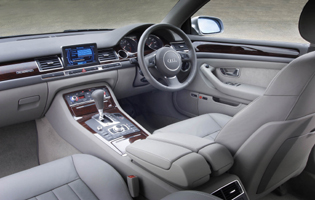 Overall rating

Likes:
Sober-looking exterior is great for anyone who hates to show off
Security of quattro four-wheel drive
Rear seat passengers spoilt for legroom, even in standard wheelbase car
Ballistic pace of V8 diesel engine
Gripes:
Exterior styling might be too cautious for some
Rivals manage to smooth out serious urban undulations better
Standard equipment tally could be higher on a car costing around GBP50,000
Despite its power advantage over rivals, V8 diesel could be quieter
Audi has taken the hi-tech route with its flagship model, the A8. Just like with previous variants, the car's body is aluminium, it's available with quattro four-wheel drive and can be had with one of a handful of advanced engines. Although not the most plentiful car on the roads, its supporters appreciate the car's subtle styling and driver-focused chassis.
Audi doesn't exactly have an enviable record when it comes to building big, executive cars. It's not that the vehicles in question have been clunkers - far from it. It has always been more a question of image and branding, plus the uphill struggle to loosen the stranglehold grip held on the market by Mercedes.
The upper luxury sector is one where customers are fiercely loyal to one brand, and changing to another is as much about the fear of something unfamiliar as it is a lack of enthusiasm to check out rival products.
What Audi has done with the A8 is to deliver a technologically advanced car clothed in a relatively restrained-looking suit. Granted, its aluminium body is no longer new as the firm has used the technology before, but the combination of the firm's trademark quattro four-wheel drive, superb build quality and a collection of advanced petrol and diesel engines makes for an interesting package. Certainly, on paper it's a lot more intriguing than that of the other German car makers.
Where BMW's 7 Series relies on delivering a surprise at first sight and Mercedes' S-Class is positively everywhere, the A8 manages to take the moral high ground with its mature, sensible styling. For some it will also offer a better drive, which is largely due to the car's pair of best-in-class diesel engines.
With criticism bubbling under the surface about quality at Mercedes, Audi is rightfully hoping to steal a march with its traditionally consistent and high standards. Also, as few cars in this sector pander to the desires of the enthusiastic driver, the A8 is noticeably more enjoyable to steer out of the box than the S-Class and the 7 Series. The latter requires a few costly option boxes to be ticked before the experience matches that of the A8.
Our verdict on the Audi A8 4.0 TDI quattro
Never one to shout about its abilities, the Audi A8 is happiest letting its rivals take centre stage and all the associated attention. Where BMW's 7 Series looks flash and Mercedes' S-Class is everywhere, the A8 demands a more cerebral approach. Its greatest strengths lie under its aluminium skin, and include understated luxury, the security of four-wheel drive and a brutally powerful V8 diesel engine.