Audi A4 3.0 TDI Allroad review
Slightly angular styling looks classy and should age well
April 2012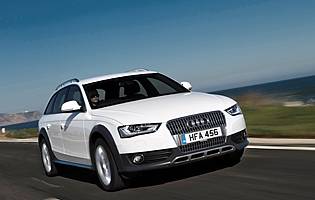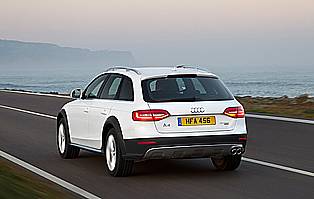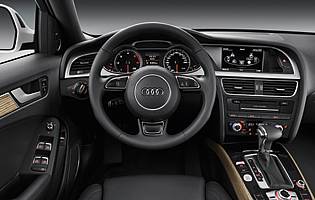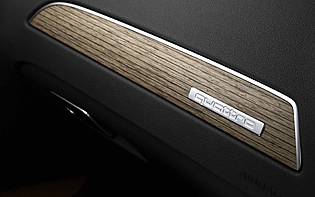 Overall rating

Likes:
Slightly angular, pretty styling looks classy and will age well
Four-wheel-drive system and extra ground clearance enhance off-road ability
Large-capacity diesel engine provides impressive performance
Lots of interior space for passengers and luggage
With a raised stance and some degree of under-body protection, the A4 Allroad has been a popular way to combine executive luxury with a genuine ability to better cope with rough treatment on difficult terrain, like driving up rutted forest tracks or for towing caravans across uneven fields. This version continues the theme, but with updated styling.
Audi's compact executive cars like the A4 have been sales winners for the firm for 40 years. The 2012 model is not all-new, being instead a restyled version of the previous car with new engine technology. The Allroad offers a more rugged look than the normal A4, but shares much improved fuel economy and CO2 emissions to reduce ownership costs.
The Allroad's styling has been sharpened, replacing the blocky shapes of the old model with a sleeker, prettier nose. The silhouette is still much the same, though. New engines offer a better mix of fuel efficiency and performance, with a good choice of petrol and diesel options. The 3.0-litre diesel is popular in the Allroad and boasts a lot of torque low in its rev range. The Allroad is based only on the estate version of the A4, which means it's blessed with more balanced proportions than the saloon as well as a slightly bigger and much more practical boot. The extra ride height does affect practicality in terms of loading and unloading luggage, but it's worth the compromise for customers who regularly drive off-road.
Trim levels and designations have continued largely unchanged from the previous model, and will be familiar to anyone upgrading or replacing their old Allroad. Many diesel A4s are initially used as company cars, but the Allroad tends to be bought more often for social and domestic use, which can mean they have covered fewer miles and retain more value.
Our verdict on the Audi A4 3.0 TDI Allroad
While the bulk of the Allroad's make-up is tried and tested, the many improvements having been made to the efficiency and running costs have improved it. It's a known quantity, but better in quantifiable ways. It cruises quietly, has economical engines and feels very well made. It will continue to serve the same niche that it has done for years and is likely to remain a popular choice.