Audi a4 2.0 tdi se saloon review
Cabin built quality easily outshines that of its rivals
December 2004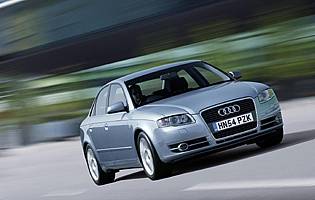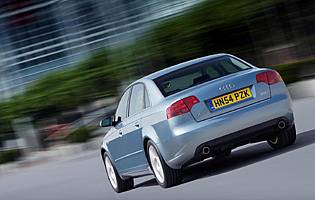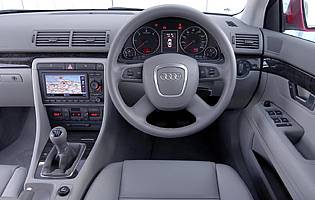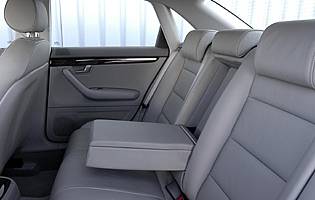 Overall rating

Likes:
Cabin build quality easily outshines that of its rivals
Comprehensive choice of engines and transmission options
Four-wheel drive quattro system is no gimmick
A4 now a more involving and entertaining car to drive
Gripes:
Long options list could prove a costly temptation too far for some
Multitronic CVT gearbox is an acquired taste and doesn't like to be rushed
From the front the A4 is too similar to Audi's smaller A3 Sportback model
Real world thirst of V6 and FSI Turbo petrol engines
Since its original launch the A4 has attracted a sizeable following. It may not have possessed the same driving talent of BMW's 3 Series, but Audi's compact executive cut a more modest dash on the road and its cabin was easily the better built. The range has always been blessed with great engines - especially diesels - but it's the 2005 model year car that unlocks their potential thanks to a thorough overhaul of its chassis.
In the past, to dismiss Audi's A4 as an also-ran in the face of the mighty BMW 3 Series steamroller was to miss the point. The Audi may not have been able to match the BMW on a twisty B-road, but neither did it sacrifice passenger refinement to entertain the driver.
Pitched more towards prospective owners who put style and image ahead of outright driver involvement, the A4 attracted a loyal - and sizeable - following. Its mix of impeccable build quality, understated design and range of capable engines proved a hit with people who didn't fancy Mercedes' more mature C-Class or the driver-focused 3 Series.
And yet, for all its efforts in producing something different, Audi - and all the other premium marques for that matter - couldn't quite overhaul the car with the blue and white propeller badge on its bonnet. Buyers, it appeared, really did want a car that promised to entertain, even if they barely scratched the surface themselves.
Which is where the 2005 model A4 comes in - proudly wearing Audi's new corporate grille, boasting a few extra millimetres in all the key areas, more equipment and (optional) toys and, crucially, a more sporting on-road demeanour. It's not the same firm and sometimes fidgety ride of a 3 Series, but a more composed display. As before, quattro four-wheel drive is an option, making the driving experience more secure and exciting in equal measure. All in all, this A4 is possibly the best all-rounder in the compact executive market.
Our verdict on the Audi A4 2.0 TDI SE saloon
Blessed with more extrovert looks and a chassis that should put a smile on any keen driver's face, the 2005 model A4 is a huge improvement over its predecessor. Although the changes may appear incremental given that the A4 looks - grille aside - largely unchanged, the overall result is something that survives comparison with BMW's 3 Series. In many key areas it even beats the Bavarian bruiser.