Audi A4 2.0 TDI 150 SE review
Styling is derivative but much improved
October 2015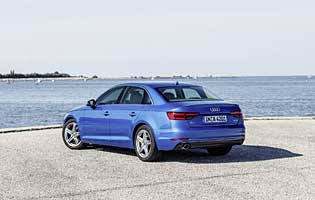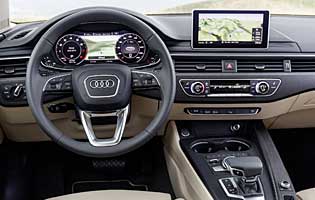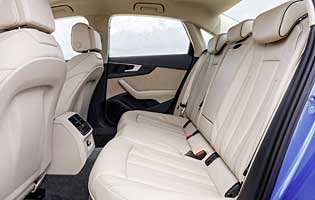 Overall rating

Likes:
Styling is derivative but much improved
Excellent cabin, packed with relevant technology
Refinement is first-rate with low noise levels and comfortable ride
Efficient engines are quiet, frugal and responsive
Gripes:
Steering is accurate and faithful but lacks feedback
Needs appropriately-sized alloy wheels to look its best
Time required to become familiar with all the on-board systems
Could still be mistaken for the previous model
It is a crucial time for the compact premium saloon segment, as almost all of the contenders within in it are brand new or have been refreshed. The latest offering to appear in a new form is Audi's A4, one of the best-selling in the segment and one of Audi's best selling cars full stop.
It was the first A4 that arrived in the mid-1990s that kick-started Audi's growth into a major player in the premium segment and twenty years later it remains one of the brand's most crucial products. Rather than just a facelift, this B9 generation A4 is all-new and benefits from the company's latest thinking in technology, mechanicals and quality.
Although familiar in some respects the A4's exterior is all-new, uses more aluminium in its construction than ever before to reduce weight, plus it is the second-most aerodynamic production car in the world according to Audi, with a drag co-efficient of just 0.23. With up to 120kg of weight saving on some models the A4 promises to be significantly more efficient than the outgoing model.
Mechanically the A4 enjoys the latest range of Audi petrol and diesel engines, including the 1.4-litre TFSI petrol as the new entry-level engine and the updated 2.0-litre TDI unit available in two power outputs. Also the new A4 enjoys a new suspension setup with a more sophisticated independent arrangement at the rear, designed to improve both handling and ride.
Inside the Audi claims that the A4 is more refined than ever, with lower noise levels and higher quality materials. The A4 can also be specified with the latest generation Audi technology already seen on other models such as the virtual cockpit, rear seat entertainment and Traffic Jam Assist to name a few.
Our verdict on the Audi A4 2.0 TDI 150 SE
While the A4's key rivals have seemingly concentrated on being the last word in sporting saloons, Audi has concentrated on making its new challenger more comfortable and refined than before, and to great effect. In many ways it feels like a scaled-down A8 limousine and is likely to prove very satisfying to own. Still good to drive if not the last word in fun, it nonetheless is a complete car.