Car Buyers Guide
Alfa Romeo Spider 1750 TBi
October 2010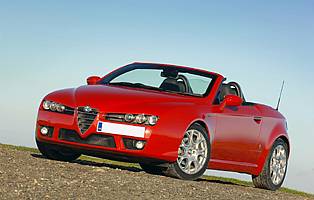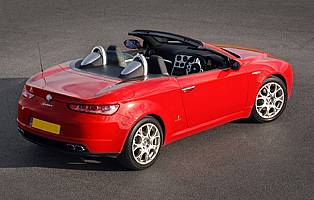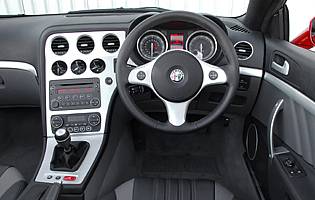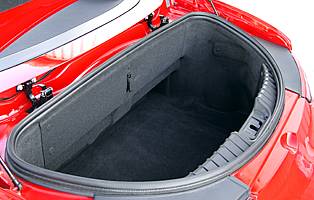 Overall rating

Likes:
Driver focussed interior feels sporty and classy
1750cc engine belies its capacity with strong performance
Exterior styling is in a league of its own
Large boot remains even with roof folded
Gripes:
Questionable build quality remains an Alfa bugbear
Fuel economy not as impressive as is suggested
Scuttle shake with roof down spoils experience on rougher surfaces
Some wind noise through the canvas roof
It may be one of the oldest models in the two-seat convertible sector and due for replacement fairly soon, but Alfa Romeo has still seen fit to bolster the Spider line-up with two new engines including a smaller capacity turbocharged unit designed to offer traditional petrol performance alongside greater fuel economy.

Alfa Romeos are traditionally considered driver's cars and, for many, that means a traditional, powerful petrol engine. Even Alfa Romeo can't afford to ignore the trend towards greater fuel economy, however, which is why a new 1750cc turbocharged petrol unit has been introduced to offer greater fuel economy for drivers who simply can't bring themselves to opt for one of the diesel engines available.

The 3.2-litre V6 and 2.2-litre inline-four petrol units remain available, but the new unit uses direct injection, variable-valve timing and turbocharging to produce 200bhp above 4750rpm and a peak of 236lb/ft of torque as low as 1400rpm. This is intended to make it tractable and economical while retaining strong performance on the road.

Elsewhere on the Spider, little has changed. The canvas roof continues to stow neatly into dedicated storage between the cabin and boot compartments leaving up to two occupants to enjoy a traditional roof-down experience.

A single trim level is available with the 1750 TBi engine, but a long list of attractive optional extras mean customers specify a car to meet their standards or desires. Inside, the cockpit is driver-oriented with a low-slung driving position and a sporty centre console that boasts individual pods for additional gauges.


Our verdict on the Alfa Romeo Spider 1750 TBi
The breathtaking exterior styling of the Alfa Romeo Spider continues to speak to the heart where the mind might otherwise be concerned with quality issues. Despite its flaws, the Spider has a lot to offer in terms of looks, surprising practicality and very decent performance.