October 2010
Alfa Romeo Spider 1750 TBi
Classic Alfa Styling has lost none of its charm
October 2010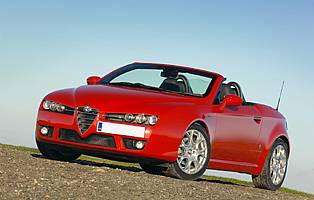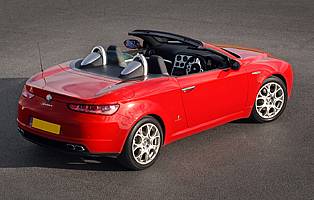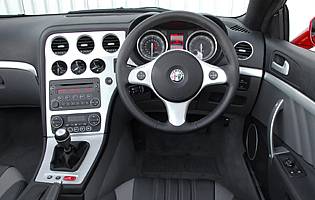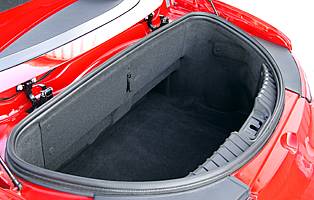 Overall rating

Likes:
Driver focussed interior feels sporty and classy
1750cc engine belies its capacity with strong performance
Exterior styling is in a league of its own
Large boot remains even with roof folded
Gripes:
Questionable build quality remains an Alfa bugbear
Fuel economy not as impressive as is suggested
Scuttle shake with roof down spoils experience on rougher surfaces
Some wind noise through the canvas roof
It may be one of the oldest models in the two-seat convertible sector and due for replacement fairly soon, but Alfa Romeo has still seen fit to bolster the Spider line-up with two new engines including a smaller capacity turbocharged unit designed to offer traditional petrol performance alongside greater fuel economy.
Alfa Romeos are traditionally considered driver's cars and, for many, that means a traditional, powerful petrol engine. Even Alfa Romeo can't afford to ignore the trend towards greater fuel economy, however, which is why a new 1750cc turbocharged petrol unit has been introduced to offer greater fuel economy for drivers who simply can't bring themselves to opt for one of the diesel engines available.
The 3.2-litre V6 and 2.2-litre inline-four petrol units remain available, but the new unit uses direct injection, variable-valve timing and turbocharging to produce 200bhp above 4750rpm and a peak of 236lb/ft of torque as low as 1400rpm. This is intended to make it tractable and economical while retaining strong performance on the road.
Elsewhere on the Spider, little has changed. The canvas roof continues to stow neatly into dedicated storage between the cabin and boot compartments leaving up to two occupants to enjoy a traditional roof-down experience.
A single trim level is available with the 1750 TBi engine, but a long list of attractive optional extras mean customers specify a car to meet their standards or desires. Inside, the cockpit is driver-oriented with a low-slung driving position and a sporty centre console that boasts individual pods for additional gauges.
Our verdict on the Alfa Romeo Spider 1750 TBi
The breathtaking exterior styling of the Alfa Romeo Spider continues to speak to the heart where the mind might otherwise be concerned with quality issues. Despite its flaws, the Spider has a lot to offer in terms of looks, surprising practicality and very decent performance.
Costs
Despite the attempts to lessen consumption with the 1750cc engine the Alfa Spider continues to burn a relatively large amount of fuel compared to some efficient petrol rivals, although it offers a traditionally audible and less thirsty alternative to the large V6 unit. Purchase prices are restrictive, but considering the style and desirability of the badge are not outlandish. Insurance costs will prove demanding however, and ticking options can push the price up considerably.
Space and practicality
For a two-seater convertible model, the Alfa Romeo spider offers an impressive amount of storage. Panels behind the two front seats, a decent glovebox and a large boot that is unaffected by the lowering of the roof are generous for the sector. It's a two seats only car, but provides more than adequate storage for a couple's weekend away.
Controls and display
The interior is appealing in terms of aesthetics and ergonomics. The distinctive instrument binnacle houses the speedometer and rev counter, which are large and easy to read. Similarly, three subsidiary dials for fuel, water temperature and oil sit in the brushed aluminium centre console at an angle optimal for the driver.
Comfort
The firm chassis does not benefit from the addition of the stylish, larger alloy wheels and low-profile tyres, resulting in a crashy and occasionally jarring ride. Scuttle shake, particularly with the roof down also impacts on the comfort levels inside. However, the buxom seats are very supportive and highly adjustable if the optional electric versions are selected. Unfortunately the canvas roof does allow in wind and road noise.
Car security
Convertible cars are natural head-turners and this can include attracting the attentions of criminals. That said, the Spider is fitted with an Alfa code immobiliser and anti-theft alarm with cut-out switch and anti-lifting module. The boot offers secure storage and the cubby holes behind the seats also offer a degree of security for smaller items. However, a canvas roof is rarely as secure as a hard-top.
Car safety
The Alfa Spider has a comprehensive range of safety equipment, which includes ABS with brake assist, EBD and hill hold assist. Five standard airbags, follow-me-home headlights, height-adjustable seatbelts with pretensioners and load limiters, and flame-resistant interior trim are among the passive safety measures.
Driver appeal
The 1750cc turbocharged engine was introduced to offer typically strong petrol performance with greater fuel economy and delivers on the first front. Acceleration is brisk once the turbo comes on boost and power delivery remains impressive across the rev range. The firm chassis and direct steering mean the car responds quickly and it grips well on turn in, but the scuttle shake resulting from the convertible form makes it less predictable than its coupe Brera twin.
Family car appeal
As a strict two-seater, the Alfa Spider is definitely not a good choice of family car. The Brera coupe would make a marginally better choice, but only for those with small children.
First car appeal
Its initial price tag, performance and insurance costs mean the Alfa Spider would be an unlikely first car for novice drivers - despite its appeal.
Quality and image
Although hardly a new design, the Spider's classical styling has stood the test of time extremely well and remains one of the most attractive models in its segment or any other. The collapsible roof heightens the appeal. Alfa Romeo has long suffered with quality issues however and, unfortunately, the Spider is not immune, with some questionable build and non-functioning equipment on the test car. Historically, Alfa Romeo owners have largely made a conscious decision to forgive these faults in lieu of the image and great styling.
Accessibility
Less agile passengers might struggle with ingress and egress owing to the low-slung seating position. The large doors are also heavy, but the boot lid offers good access to the rear storage and opens from the key fob or by pushing the large Alfa Romeo badge.
Stereo and ICE (In car entertainment)
A six-speaker stereo radio/CD player is standard equipment but full range of stereo upgrades is available including an eight-speaker Bose sound system with digital amplifier. A Windows-based system allows for iPod and Bluetooth telephone integration where specified.
Colours and trim
The Spider is available in a range of vibrant shades that truly bring out the model's timeless and extraordinarily attractive exterior styling. That said, the combination of red with a black canvas roof is hard to beat. Inside the Spider the basic trim level offers cloth with leather for the steering wheel and gear knob, but a number of cost options are available to offer greater luxury.
Parking
A low-slung seat position and a severely restricted rear view with the canvas roof in place can make reversing difficult; however the standard provision of rear parking sensors helps. With the roof down, things are much easier, but drivers will still need to be wary when positioning the long, pointy front end.
Spare wheel
A space saver is fitted as standard.
Range information
Petrol engines - 1.7-litre (200bhp); 2.2-litre (185bhp); 3.2-litre JTS (260bhp). Diesel engine - 2.0-litre (170bhp); 2.4-litre (200bhp); 2.4-litre (210bhp). Transmission options: six-speed manual gearbox, optional Q4 four-wheel drive system with 3.2 litre petrol and 2.4-litre diesel. Trim levels: Brera (extensive options list available), Brera Italia Independent.
Alternative cars
Audi TT Roadster Neat styling, strong build, frugal but powerful TFSI petrol engines
BMW Z4 Roadster Folding hard-top offers greater refinement
Mercedes-Benz SLK-Class Desirable badge and easy on the eye
Mazda MX-5 Cheaper and fewer bragging rights, but a great drive