Save on your new electric vehicle (EV) home charger
We've partnered with home charging experts EO to make your move to EV as easy and hassle-free as possible. Plus, we've negotiated a special price to save you money.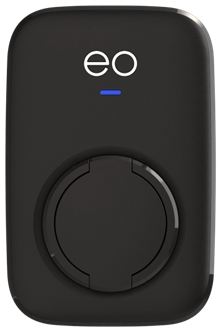 Small in size, big in power.
The latest smart home charger designed and built for the space and energy conscious EV driver.
From £1,099 installed (untethered version, incl. VAT)
Key features
Up to 22kW
Connection types: Universal Type 2 socket, Type 1 and Type 2 tethered cable (5m)
Suitable for any EV of today and tomorrow
Connectivity: Wi-Fi, Cat 5 Ethernet, Bluetooth as standard
Smartphone controlled - monitor energy usage and charge scheduling
Compatible with solar panel (optional extra)
Tethered version available (£40 extra)
Additional information
Dimensions: 215mm x 140mm x 100mm
You can get your home charger installed quickly and easily. Just follow these simple steps:

1
Click 'Get a quote' below
2
Enter your personal and property details
3
An EO agent will review the application and schedule the appointment
4
Start charging your brand new car
EV car leasing guides

Want to know more about owning and leasing an electric vehicle? Our helpful advice guides will give you the information you need to make the right choices.

Our best EV deals
Still looking for your next EV? Here is a selection of our best deals. The monthly price includes services, maintenance, breakdown cover, vehicle tax and VAT.