Seat Alhambra 2.0 TDI 150 Style Advanced
August 2015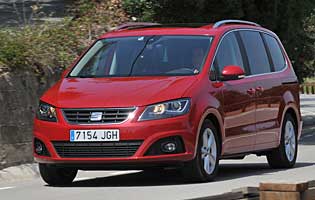 A watered-down interpretation of Seat's aggressive styling better suits the car
Ratings
Overall rating
Value for money
Costs
Space and practicality
Controls and display
Comfort
Car security
Car safety
Likes
Huge cabin offers enough space for seven people
Even with rearmost seats in place the boot remains ample
New connectivity system increases functionality
Stable and composed driving manners despite size
Gripes
High list prices seem unfair given lack of major updates
Lower-powered engines struggle to pull the car even when empty
Large size can make the Alhambra more difficult to manage in car parks
Built-in booster cushions offer no side-impact protection
Seat views the Alhambra as a winning formula, and its pan-European sales certainly back that belief. As a result the Spanish company has changed almost nothing for the model's mid-life update, merely adding a more up-to-date media interface and a few visual tweaks. Existing owners will feel no rush to upgrade until they are ready.
The Alhambra's purpose is to supply large families with all the space they need in order to run their lives with ease, and as such it's a large vehicle. Seven seats will be standard in the UK, as well as family-friendly features like in-built booster cushions for children aged around 9-11 - although these were also on the previous version.
The seven-seat MPV market has stayed fairly constant, decreasing slightly in line with the falling British birth rate, but cars like the Alhambra remain as vehicles bought out of necessity rather than desire. Its features are biased towards that degree of practicality and appeal to the head rather than the heart.
Key to its 2015 update is a new media and smartphone connectivity suite, with the ability to mirror some of a compatible phone's features on the main, larger in-car screen. The new system is more flexible and more capable than before, bringing the interface up to speed with the latest standards.
Unfortunately there is little else to raise the Alhambra's game to win new buyers, and its business case seems to be built on repeat custom from existing owners. It's impressive that on the whole the car still feels as current as it does, and its driving dynamics are still not put to shame among its rivals.
Our verdict on the Seat Alhambra 2.0 TDI 150 Style Advanced
The Alhambra is in several senses secure in its market position. Parents who need what it offers will inevitably consider it among their options whether the updated version really moves the game on or not, and customer feedback suggests that buyers didn't want much to change anyway. It is not imaginative and is quite one-dimensional in its talents, but there is no doubt that it fulfils its main purpose well.
Costs

At first glance the Alhambra looks very expensive and it's true that it is priced according to the going rate for such a large MPV. It's questionable as to whether it is really worth the money, given how few updates it receives over its predecessor, and there are a number of very strong alternatives out there for similar prices. Discounts may therefore become available. Fuel economy is acceptable, road tax is modest too, and it shouldn't break the bank for insurance, either.
Space and practicality

Still being able to fit a generous grocery shop into the boot with the rear seats raised is potentially extremely valuable to some buyers. With the two seats lowered flat there is a van-like boot that can swallow all manner of large items, from furniture to a spread of large suitcases. Lowering the middle row of seats will allow extremely large items to fit, making the Alhambra a very practical ownership proposition.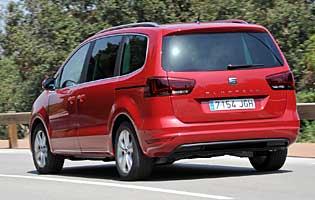 There is a boot that remains useful even with the rear seats upright
Controls and display

Unsurprisingly, the instrument layout is very similar to most other Seat and Volkswagen Group types. Simple black dials with white numerals give effective at-a-glance readouts, and the small screen in between the speedometer and rev counter provides a multitude of useful driving data. The new, central touch-screen is larger and higher-resolution than before.
Comfort

Don't expect any degree of lateral support from any of the seats; the Alhambra is not built for corner speed. Instead it's built to carry large families wherever they need to go, and the available passenger space is more than big enough for that. Lots of legroom, headroom and shoulder room for everyone are the rewards for such a large body shell. Some people may find the seats a little too firm.
Car security

The alarm has both internal and external sensors, the former of which can be deactivated in the event of leaving a child or pet inside the car while it's locked. The alarm will activate if someone tries to tow the car away while locked, and should the siren be deactivated there is a back-up linked to the horn. The driver can control the child locks on the rear sliding doors. Remote central locking is standard.
Car safety

Seat belt sensors are fitted to all seats to make sure the driver is instantly informed when a child unbuckles themselves on the move or before setting off. An interesting option is the facility to add a camera that faces the rear seats and projects a live feed to the main screen - but the driver must be careful not to let this become a distraction. Other safety features include blind-spot monitoring and a tiredness recognition system.
Driver appeal

The Alhambra is by no means bad to drive, managing to hold its considerable body size and weight together with impressive composure through corners and over bumps. It remains tall and relatively heavy, though, and it's simply not possible to escape that altogether. The diesel engines pull well enough but all available options are likely to struggle when the car is packed full of people and luggage. The ride quality is very impressive and the car floats neatly over many normally problematic bumps.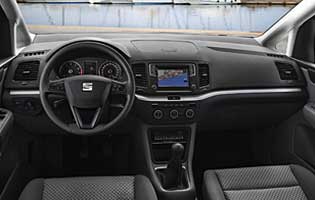 The dark interior theme features new trim inserts and a better infotainment system
Family car appeal

Parents are the primary targets for this car; either those with large families or generous mums and dads who regularly offer transport to their children's friends. The Alhambra excels at family life, where occupants will always welcome the many places to stash magazines, tablet devices and clothing accessories, for example. Grandparents will also like the plentiful headroom and the ease of access.
First car appeal

There is no logical reason why a first-time car buyer would choose a seven-seat MPV like an Alhambra. If they had several children already then it's unlikely they would not have bought a car previously. The size of the car would make it a bad idea for novice drivers either way, as it feels quite different to the usual superminis that learners tend to use.
Quality and image

The Seat brand has had some trouble identifying a self-image that works both for it and for the public, but that struggle is less evident in the Alhambra simply because it is so focused on space and practicality, leaving no room for sporty pretensions. Its owners are reportedly huge fans of the car's usability, which in turn means the model has impressive loyalty and repeat custom among owners.
Accessibility

The roof line is high all the way along the car so there is little need to have to duck on the way in. The front, hinged doors are broad and tall, and the front five seats are all set at ideal heights for simple ingress and egress. Sliding rear doors, which are electrically powered on higher trim levels, give a huge access aperture for rear passengers, and thanks to clever folding seats the third row is also easy to get to.
Stereo and ICE (In car entertainment)
There are no major changes here when compared to the previous Alhambra, so it maintains a CD player, DAB radio, USB inputs and the ability to link a device wirelessly by Bluetooth. Such a large cabin space provides good acoustics for the stereo to work in, and an even spread of speakers means everyone can enjoy the music. The new touch-screen is an immediate improvement on the outgoing interface.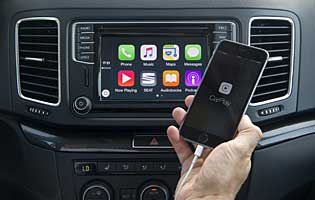 A huge boot can carry large luggage loads with ease
Colours and trim
Dark grey is the default colour choice as the only free option, but there is a range of low-key shades including dark blue, dark brown and a dark grey. All cars have alloy wheels, which gives an immediate visual boost versus steel alternatives. On the inside the cabin is built in sensible, entirely predictable Volkswagen Group fashion, so it's dark, sober but eminently good looking, with simple lines and a straightforward but practical layout.
Parking
All Alhambras come with parking sensors at the front and rear as standard, which will put many parents' minds at ease once activated in car parks. Nonetheless it is still a large and occasionally unwieldy thing in tight spaces, with a fairly mediocre turning circle thanks in part to a long wheelbase. On the other hand, sliding rear doors mean that even when space beside the car is limited, there is no chance of an over-enthusiastic child opening them into neighbouring vehicles or obstructions.
Spare wheel
Self-sealing tyres as standard.
Range information
Petrol engine options - 1.4-litre (148bhp). Diesel engine options - 2.0-litre (148bhp, 181bhp). Transmission options: six-speed manual gearbox, plus DSG automatic. Trim levels: S, SE, Style Advanced, SE Lux.
Alternative cars
Volkswagen Sharan Shares the same platform for a higher price, but adds a few quality comforts
Ford Galaxy Large, good-looking and practical, but the interior can feel a little flimsy
Land Rover Discovery Sport Compact body is easy to manoeuvre, fits up to seven people and excels off-road
Hyundai Santa Fe Quiet, well-equipped and high-quality MPV is an excellent choice
Over 1,200 more car reviews online
All the reports since 1990 are available on this site, just search by make and model below.
Other products & services
Related information
August 2015