Skoda Yeti 1.8 TFSi Elegance
November 2009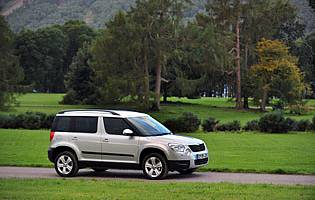 Unusual Yeti design shares some features with Roomster
Ratings
Overall rating
Value for money
Costs
Space and practicality
Controls and display
Comfort
Car security
Car safety
Likes
Distinctive and handsome design
Practical and sturdy interior
Wide choice of engines
Genuine crossover appeal
Gripes
Tall body is more sensitive to roll through bends
Only top-spec Elegance model has special 4x4 mode
Cabin is sturdy and practical but lacks flair
Easy to confuse speedometer with tachometer
Skoda has branched out of conventional model ranges with the introduction of the Yeti. Designed as a crossover between a regular hatchback and a small SUV, the Yeti aims to offer a combination of attributes that appeal to a broad range of customers. It also claims sufficient ability to be considered as a light off-roader.
Skoda claims that the Yeti will satisfy the needs of a range of drivers by combining the visual toughness of a 4x4 with the practicality and ease of use of a regular hatchback while avoiding the compromises of both. It is easy to see how this manifests itself in the Yeti's shape: it's relatively compact in length and width but it stands tall within its footprint with a clearly raised ride height, bold wheelarches and sturdy bumpers.
The overall shape sits somewhere between the two categories, as expected. There are hints of the Roomster in the way the front and rear doors meet and the nose and bonnet are car-like, despite the 4x4 elements. Towards the rear, the vertical tailgate and squared-off window lines maximise the available load space as well as adding to the visual toughness. There's also a large degree of flexibility within the cabin, with three individual rear seats that can slide, tilt, fold or be removed altogether.
Mechanically the Yeti covers most bases thanks to a combination of engine and transmission options. The most notable inclusion is the availability of two and four-wheel drive versions, allowing the buyer to tailor the car to their precise needs. There are two petrol engines and a diesel offering with three different outputs, although only the two least-powerful engines can be specified in two-wheel drive form.
On 4x4 models drive is taken to all four-wheels by the Haldex clutch system, which is a sophisticated on-demand layout. Drive is diverted to the rear wheels when accelerating from rest or in slippery conditions while at higher speeds or when parking, drive is mainly sent to the front.
Our verdict on the Skoda Yeti 1.8 TFSi Elegance
The Yeti may be short of genuine crossover rivals, but it takes on the competition in a variety of other sectors and wins. The Yeti is as easy and pleasurable to drive as a conventional car, yet the added practicality and go-anywhere ability give it a dimension that regular hatchbacks cannot offer. Add to that the traditional good value and reliability that the brand is well known for and the Yeti is a formidable package.
Costs

Depending on the engine and transmission choices the Yeti can deliver remarkably low running costs thanks to its overall efficiency. The on-demand nature of the four-wheel drive system helps to improve economy, while the option of a two-wheel drive version helps this still further.
Space and practicality

The Yeti makes excellent use of its footprint, with the tall body giving generous head and legroom for all passengers. The clever folding rear seats allow the full dimensions to be exploited if required and the cabin layout incorporates plenty of storage areas.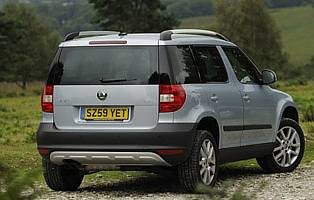 Squared-off rear end ensures maximum rear space
Controls and display

The layout of the Yeti is pure Skoda: simple, easy to understand and attractive. The subtle lighting and clearly labelled buttons make the Yeti a car that can be driven and operated with ease and without recourse to the handbook. One demerit is that the markings of the speedometer and tachometer are very similar, which means they can be confused at a glance.
Comfort

Given that the Yeti will spend most of its life in varying conditions, its comfort-biased suspension and high levels of refinement are well judged. It may have off-road ability but there are no comfort compromises on-road and the Yeti will happily swallow large distances and keep its passengers at ease.
Car security

All Yeti models are fitted with an alarm and immobiliser system as standard, including interior monitoring and a back-up horn, which should be enough to deter even the most determined thieves.
Car safety

As with the rest of the Skoda range, the Yeti has a comprehensive list of safety equipment, both active and passive. The security of automatic four-wheel drive and ESP are a great help in avoiding accidents in the first place but, if the worst should happen, six airbags are standard across the range, with a driver's knee airbag added on S models and above.
Driver appeal

The Yeti's humble underpinnings are no indication of its ability to mix decent off-road performance, on-road comfort and back-road ability. The suspension set up is well judged to blend performance and comfort, while the performance of the 1.8-litre turbocharged petrol engine is flexible, providing easy acceleration when required without sacrificing fuel economy.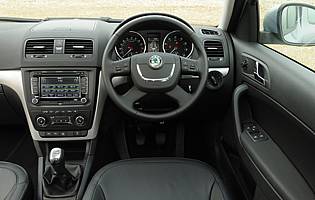 Functional and attractive cabin is well constructed
Family car appeal

The Yeti is perfectly suited to family life, with all the practicality that a family could wish for. For instance, the rear row of seats is slightly elevated above those in the rear, giving a better view for passengers. The Yeti is also relatively wide for its size, giving better elbow room and making it easier for passengers to climb aboard.
First car appeal

The Yeti has the style and ease of use that would make it appealing to a new driver and, even though it offers four-wheel drive and good performance, it's far from intimidating. It may be a little expensive for many first-timers however.
Quality and image

Like any Skoda, the Yeti feels a step up in quality over many of its price rivals. Fit and finish throughout the car is impressive and the use of chrome details and neutral illumination are smart touches. Skoda's image has come a long way in the last decade and the Yeti offers such a radical departure it will appeal to buyers outside of the normal Skoda demographic.
Accessibility

The whole design of the Yeti promotes ease of entry and exit, thanks to the high roof, large doors with a wide opening and tall tailgate. Loading the boot is also helped by the floor being at a sensible height.
Stereo and ICE (In car entertainment)
Even the entry level Yeti gets a radio/CD unit with an impressive level of sound performance. The clear dashboard display is easy to use, while higher specification models include features such as a CD changer, steering-wheel controls and MP3 compatibility.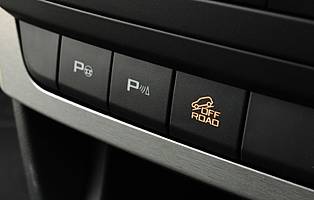 4x4 mode designed for more extreme off-road conditions
Colours and trim
The Yeti offers a greater choice than other Skodas in terms of interior colours, but the overall effect of grey and black is a little sombre in what is otherwise a more outgoing car. In terms of exterior colour, metallic shades work better against the black plastic of the body protection panels.
Parking
Thanks to the high seating position and a near-vertical tailgate, the Yeti is an easy car to park for its size. The addition of parking sensors fitted on SE models upwards are a further help, while the optional Park Assist system will physically park the car for you with almost no input from the driver.
Spare wheel
All versions get a tyre repair kit and compressor as standard.
Range information
Petrol engine options - 1.2-litre (105bhp); 1.8-litre (160bhp). Diesel engine optionss - 2.0-litre (110bhp, 140bhp and 170bhp). Transmission options: five-speed manual gearbox, six-speed manual gearbox, seven-speed DSG dual-clutch sequential manual gearbox with automatic mode. Two and four-wheel drive available depending on engine. Trim levels: E, S, SE, Elegance.
Alternative cars
Nissan Qashqai Only true crossover rival is fun to drive and practical
Peugeot 3008 Mix of practicality and style is matched by capable chassis
Ford C-Max Conventional MPV is a great drive with usual Ford value
Vauxhall Astra Refreshed hatchback is handsome, practical and well-equipped
Over 1,200 more car reviews online
All the reports since 1990 are available on this site, just search by make and model below.
Other products & services
Related information
November 2009