Mazda 2 1.4 Antares
January 2006
Though neat, the Mazda 2 lacks individuality
Ratings
Overall rating
Value for money
Costs
Space and practicality
Controls and display
Comfort
Car security
Car safety
Likes
Estate-style boot is simple and effective
Mazda reliability comes as standard
Roofline good for taller drivers
Doors offer better than expected rear seat access
Gripes
Design restrained to the point of anonymity
Cabin plastics far behind best in class
Can be tricky to find comfy driving position
Performance figures reflect lack of involvement
When it replaced the decidedly dull Demio as Mazda's smallest offering, the Mazda 2 seemed fresh and likely to cause a stir in the market sector traditionally dominated by the Ford Fiesta and Vauxhall Corsa. It hasn't quite taken off as expected but remains a decent proposition as a do-it-all small car.
The reasons for the Mazda 2's limited impact are several, but perhaps the main one is that it is a fairly conventional small car launched just before some far more radical alternatives arrived. On the one hand, micro-hatches like the Toyota Aygo and Citroen C1 are smaller and significantly cheaper, while on the other MPV-influenced small cars such as the Renault Modus and Mitsubishi Colt maximize interior space. All of that makes the Mazda 2's straightforward approach just a tiny bit predictable.
Stylistically, the Mazda 2 is considerably more conservative than the rest of the Mazda range. A 2005 facelift attempted to inject some extra interest into the design but was not extensive enough to be convincing. Nevertheless the exterior is presentable and its very anonymity means that it ages more gracefully than many self-consciously trendy rivals.
The car's greatest asset is its considerable interior space. The high roofline makes it particularly suitable for tall passengers who would otherwise struggle to fit into a car of this size, and the estate-style rear tailgate is great for placing large objects in the load area. With rear seats folded, carrying capacity is considerable. Some of the materials used to form the dashboard, switchgear and other interior elements are disappointing.
Matching the car's reasonable but unexceptional looks are its perfectly acceptable but generally uninspiring driving characteristics. Steering and pedal feedback is neutral, but the quality of ride is good. Unexpectedly, the smallest engine in the range is the most satisfying to drive by some margin.
Our verdict on the Mazda 2 1.4 Antares
The Mazda 2 suffers in comparison with the rest of the Japanese company's product roster. With cars as excellent as the 3, 5, 6, RX-8 and MX-5 on display, it's hardly surprising that the 2 rarely features in dealers' windows. But all Mazdas are associated with reliability and manageable running costs, which counts in the Mazda 2's favour.
Costs

Keen competition in the small car sector means that buyers should be able to negotiate significant discounts from the list price. The good security package helps to keep insurance grouping impressively low for all models bar the 1.6, and the diesel is the clear front runner for anyone wanting to reduce their fuel bills. Mazda reliability should keep maintenance costs minimal.
Space and practicality

The rear tailgate is the ace up the Mazda 2's sleeve. Indeed, it's so simple and effective, it is remarkable that more small cars don't feature an equally large boot lid. With the whole rear of the car removed and the low loading floor exposed, placing large, heavy objects in the back is surprisingly straightforward. When rear seats are folded flat - easily accomplished with one hand - the Mazda 2 outdoes most rivals for carrying capacity.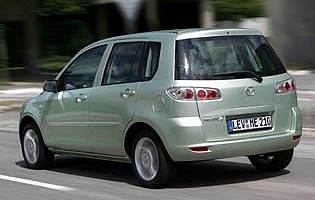 Large rear tailgate is great for loading
Controls and display

Again, the workaday controls and dials of the Mazda 2 suffer in comparison with the striking equivalents in other Mazda products. Some of the crucial contact points where your finger touches a button or switch just do not feel satisfying to operate. At least all information is easy to read and arranged in a straightforward manner.
Comfort

The roomy interior and high roofline produce a nice, airy feel in the cabin. Comfort levels are generally good, though it can be tricky to find a suitable driving position, an endeavour that requires a lot of knob twisting and ratchet sliding. The lack of reach adjustment on the wheel doesn't help. Noise begins to penetrate the cabin annoyingly at motorway speeds but in all other conditions is well suppressed. Soft damper settings absorb potholes and speed bumps very well.
Car security

All models are fitted as standard with remote central locking, dead locking, perimeter alarm and Thatcham approved engine immobiliser. Not a bad package, particularly for entry-level models.
Car safety

Driver and front passengers' airbags as standard with side and curtain airbags optional on Capella models. As you would expect, Isofix seat mounts are provided, too. All Mazda 2s have ABS, EBD and EBA - a commendable fact.
Driver appeal

Mazda provides the 2 with much less 'Zoom Zoom' than the rest of its range. That's a shame, and feels like a missed opportunity. Performance is decidedly middle of the road with very little feedback provided to the driver. Ride is geared towards comfort more than sportiness with the result that sharp corners and sudden changes of direction produce body roll. This is no hot hatch - in fact it's barely lukewarm.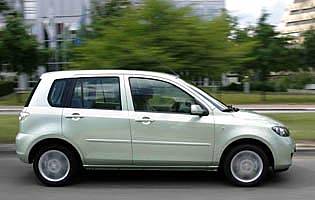 High roofline releases interior space
Family car appeal

Mazda has described the 2 as a fun, versatile family car, but that's pushing its claims rather too far. True, it could serve as the main vehicle for a family with very young children, at least temporarily, but it is really more suitable for singletons or couples. Grandparents might consider it a good choice in which to give the odd lift to grandchildren.
First car appeal

Theoretically, this should be a contender for first-time ownership, but it lacks the character necessary to promote it to the top of purchasing lists. Somehow it's just a bit too grown up and middle of the road. Novices are likely to gravitate towards smaller cars with a bit of pep such as the Peugeot 107 or something with a fashionable badge such as a second-hand VW Polo.
Quality and image

Despite being a relatively recent introduction and contributing to Mazda's revival, the 2 is probably the company's least interesting product. It is utterly conventional, lacking the glamour of the MX-5 and RX-8 on the one hand and the unexpected surprises of the Mazda 6 and Mazda 5 on the other. The quality of materials seems marginally lower than the rest of the roster, too.
Accessibility

For a small car, the Mazda 2 possesses surprisingly large doors, in both the front and the rear. As a result gaining access to the cabin is exceptionally easy. Indeed, the rear doors would do credit to many a family car. They are light, too and open almost to a full ninety degrees. Even better is the large tailgate, providing the easy-loading characteristic of an estate in a compact hatchback.
Stereo and ICE (In car entertainment)
In its favour, Mazda's audio controls are among the simplest to use among the mainstream manufacturers. Those of us who do not possess a surround sound home cinema system need not feel intimidated. It's straightforwardly laid out, even if some of the control knobs and buttons feel brittle. The controls mounted on the steering wheel are much better and will account for most usage. Sound quality isn't great.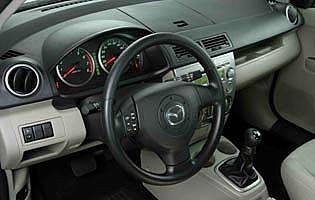 Interior layout is good, but let down by materials
Colours and trim
Entry-level S models are real bare bones efforts, bordering on the uncomfortable. The rest of the range fares better, gaining air conditioning, CD-player and electric front windows, but the specification isn't overwhelming in its generosity. The neutral exterior styling means the car will accept virtually any paint job without suffering.
Parking
A fairly tight turning circle, small wheels and a small on-road footprint, the Mazda 2 possesses great parkability. With a high seating position and a relatively low waistline, all-round visibility is good. The almost vertical tailgate lets the driver know precisely where the rear of the car is when reversing.
Spare wheel
A full size spare is accessible via a compartment under the boot floor.
Range information
Powertrain options are 1.25 (75PS), 1.4 (80PS) and 1.6-litre (100PS) petrol engines and 1.4-litre (68PS) common rail diesel. Five speed manual transmission as standard with Auto Shift automatic transmission an option on 1.4 petrol and 1.4 diesel models only. Range structure comprises S, Antares and Capella badges.
Alternative cars
Renault Modus Characterful shrunken MPV
Ford Fiesta Cheap parts, extremely common
Toyota Yaris Byword for reliability
Volkswagen Fox Coveted badge at budget price
Over 1,200 more car reviews online
All the reports since 1990 are available on this site, just search by make and model below.
Other products & services
Related information
January 2006