July 2007
Volvo XC70 SE Lux D5
Increased ride height and extra body protection differentiates the XC70 from its V70 cousin
July 2007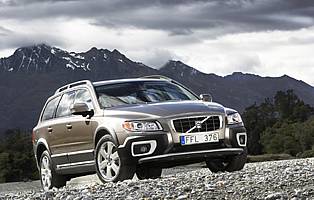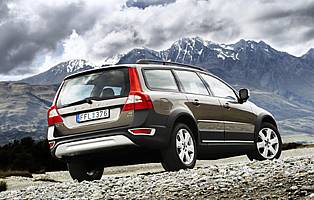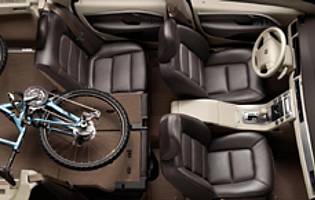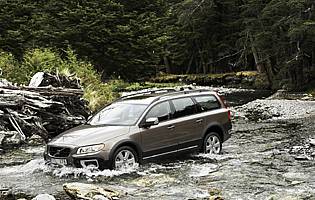 Overall rating

Likes:
Sturdy, 4x4-like exterior styling cues
Surprisingly capable off-road
Usual Volvo estate qualities
Spacious cabin boasts many premium touches
Gripes:
D5 diesel engine can sound gruff when driven hard
3.2-litre petrol engine-powered XC70 doesn't feel that quick on road
Driving dynamics won't excite the keen driver
Some exterior trim items look vulnerable to damage when off-roading
In a car market that's been fragmented by the arrival of countless niche vehicles, one sector has been left largely untouched: the executive estate crossover market. Admittedly a mouthful, this niche is mainly the preserve of Audi's Allroad and Volvo's XC70. Essentially it's for premium estate cars boasting four-wheel drive, raised suspension and a little 'go anywhere' attitude.
The 'other' car in the executive crossover sector alongside Audi's Allroad, since its launch Volvo's XC70 has been something of a sleeper hit. Not as showy or in your face like the Allroad, the XC70 offers all the familiar benefits of Volvo ownership alongside a rugged exterior and a four-wheel drive system.
Clearly aimed at the more adventurous sections of the Volvo demographic, the XC70 has become renowned for its ability to traverse tricky terrain, tow caravans and trailers with ease and generally make the life of the stereotypical active family easier and more enjoyable.
Based on the more restrained-looking V70, the XC variant gains some welcome extra protection on the outside and the all-important increase in its ride height. While not in the same league as a conventional lifestyle off-roader such as Land Rover's Freelander, it's more capable than you might imagine. Along with four-wheel drive, the XC70 comes with a Land Rover-inspired hill descent control for added safety.
Factor in a solid handling on and off the road and a pair of decent engines - especially the D5 diesel unit - and you've got a car that's ready to tackle most things that an active family would throw at it. This generation of car borrows its platform from the conventional executive S80 saloon, which in real terms means more cabin space and improved safety measures.
Our verdict on the Volvo XC70 SE Lux D5
For some time now it's actually been cool to own a Volvo. After many years on the wrong side of the critics, the Swedish firm decided to focus on light, airy interiors, better driving dynamics and bold styling to claw its way up the acceptability ladder. With the XC70 the firm has an almost unique vehicle: posh on the inside yet adventurous on the outside. Capable of doing most things an executive SUV can do but in a less conspicuous manner, the XC70 is the thinking person's lifestyle 4x4.
Costs
As with any premium car, you can expect to pay premium prices for servicing. Opt for the petrol variant and you will have to dig a little deeper for fuel, too. The D5 diesel is better, but it won't compete with the economy performance of a regular family hatchback.
Space and practicality
A big car, the XC70 can be loaded up with all manner of items easily. The adjustable boot dividers make the act of securing belongings safe and straightforward. Extra space under the boot floor is a welcome bonus, while the option of a powered tailgate should prove useful when you're loaded down with shopping. In the cabin, storage space is generous and located in easy to find places.
Controls and display
Sound cabin ergonomics have been a critically acclaimed feature of Volvos for years. The XC70's controls are modern, easy to understand and most of all feel durable. The central fascia space houses all the major ones: ventilation, audio and optional telephone functions. Depending on the model, the fitted sat-nav display rises and fails smoothly from the top of the fascia, ensuring it's always in you sight line.
Comfort
Volvo is famous for designing comfortable and supportive seats, and the chairs in the XC70 live up to this reputation. The range of adjustment available is generous, with electric adjustment for the driver a real boon (passenger electrical adjustment is model dependent). Noise levels are low in the cabin, and there's plenty of space up front for two adults to spread out.
Car security
For a car of this value, it's good to see that you get all the usual anti-theft measures. Remote central locking is an expected convenience feature, but it also serves as part of the alarm and immobiliser system. Being an estate car, contents left in the boot can be vulnerable; thankfully the XC70's load cover is a sturdy item.
Car safety
Historically, safety issues and developments have been a strongpoint that no other manufacturer has been able to match. The Swedish firm's advantage might have been reduced in recent years by the advancing competition, but there's always that extra special feeling when in a Volvo. As such, you get numerous airbags, plenty of electronic stability aids plus the XC70's four-wheel drive system and hill descent control - the latter for descending particularly slippery terrain.
Driver appeal
There are two ways of looking at the XC70. It's not a driver's car in the traditional sense, which mean keen drivers will be disappointed by the Volvo's safe, secure character. However, when judged as a versatile go (nearly) anywhere family wagon, it's a success. The all-wheel drive system adds some welcome security for both wet and dry conditions, and could be seen as a plus when towing a caravan or trailer. Continuing on a positive note, the car's controls are light and easy to use.
Family car appeal
As a potential go-anywhere family station wagon, the XC70 should be a hit with Volvo-minded buyers. Its rugged looks, practical cabin - so long as you opt for dark interior materials - and driving talents all make it an unusual but, to date, an already popular proposition. The all-wheel drive element means the car is more capable than most in its sector when it comes to off-road excursions or towing duties.
First car appeal
There's not a lot to recommend the XC70 as a first car. It's a rather good car, but probably a little too big for a novice driver. It's also a premium product, which means running costs will be high, relatively speaking. With light controls and good visibility, at least it's easy to drive.
Quality and image
For a long time now Volvo has succeeded in ploughing a different furrow to its German executive rivals. This approach has proved successful, with the Swedish firm offering something less austere and showy. Build quality and overall durability have other strong qualities, as can be seen by the layout, design feel of the XC70's cabin.
Accessibility
There should be no problems getting in and out of the XC70, whichever door you use. Front seat occupants fare the best, but those in the back benefit from a little more room thanks to this XC70's use of the premium S80 platform. At the rear, the tailgate opens easily - it can also be powered - to reveal a load lip with no obstructions and a flat boot floor.
Stereo and ICE (In car entertainment)
Standard fit is an impressive radio and CD unit. Volvo-branded systems have always been impressive and this one is now different. Key to its attraction is the control layout: large buttons, bright display and convenient steering -wheel mounted controls. CD changers and more powerful amplification is possible, as is a handsfree telephone option plus sat-nav. The latter is particularly good because the display, which rises from the dash-top to nearly level with you eye-line, is crisp and clear. A joystick-like controller mounted on the back of the steering wheel allows you to navigate around the screen.
Colours and trim
Light exterior colours appear to better suit the XC70. Appealing more to its outdoors personality, the light hues also help disguise the car's size. As a bonus, if you go for this approach, the car's dark coloured bash-proof exterior cladding looks a lot more attractive. The light touch also works well inside; Volvo's long been an advocate of light, airy cabins and the XC70 is no different.
Parking
The XC70, like its V70 sister, is a big car. However, forward visibility is good and the car's power steering is light and responsive at low speeds. Assuming rear seat passengers aren't obscuring you sightline, the view aft is pretty good. Parking sensors make the job easier, although the car's straight-down tailgate makes judging distances straightforward.
Spare wheel
Full size spare fitted as standard.
Range information
Petrol engine options - 3.2-litre (238bhp). Diesel engine options - 2.4-litre D5 (185bhp). Transmission options: six-speed manual gearbox standard on D5 diesel, six-speed Geartronic auto standard on 3.2 petrol variant - optional on D5 diesel. Trim levels: SE, SE Sport, SE Lux.
Alternative cars
Audi A6 Allroad Polished performer boasts adjustable suspension and a more engaging drive
Subaru Forrester Petrol-only Forrester is good to drive but lacks the Volvo's premium cabin ambience
Land Rover Freelander 2 Excellent all-rounder, more upmarket than its predecessor but is a conventional SUV in this company
Honda CR-V Road-biased Honda SUV oozes quality despite its modest price tag. Lacks the driver appeal of a regular car, though