Volvo XC60 D5 Inscription
Excellent kit and good value for money
May 2017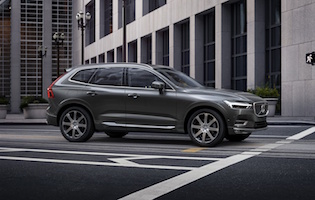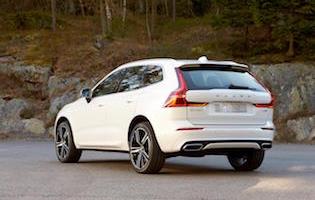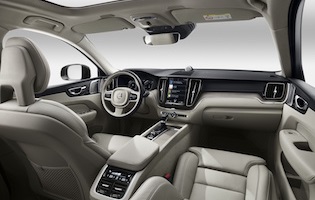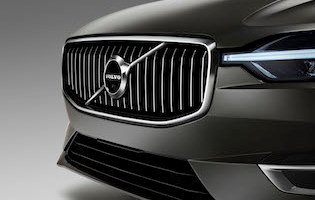 Overall rating

Likes:
Excellent kit as standard and good value for money
Stylish interior much more interesting than German rivals
Ride and handling on air suspension is very impressive
Hybrid option has low benefit in kind rating for business buyers
Gripes:
Infotainment system might be fast but isn't very intuitive
Some of the driver aids are too obtrusive
The standard rear suspension setup is quite old-fashioned
Exterior colour options fairly muted
The mid-sized SUV market is a massive money-spinner and in the XC60 Volvo has had a large slice of that pie – it's easily the Swedish manufacturer's best-selling model. You could forgive it for keeping the changes few and far between for the latest model, but Volvo has overhauled the XC60 to use its latest range of engines and chassis technology.
The most striking change is the styling, which has been totally overhauled. Gone are the soft features of its predecessor – now the XC60 gets the bold 'Thor's Hammer' daytime running lights Volvo has become known for, while the rear lights are now thinner and more striking.
But it's inside where you really get the sense that Volvo is trying to offer something strikingly different than the solid but often quite dull offerings from German manufacturers. It's refreshingly light and airy inside with modern design touches such as curved wood and aluminium trim – go for lighter colours for the full Swedish design effect.
Safety technology is always key for Volvo and it's no different on the XC60. There are senses all over the car connected to intelligent systems that can brake to avoid a crash and even help you steer around an obstacle quicker and safer than if you were left to your own devices.
This sector is full of premium rivals such as the Audi Q5 and BMW X3, but the XC60 is more calming to drive than all of them. Our test car was fitted with air suspension, which made the ride comfortable without being too floaty and added to the premium feel.
Our verdict on the Volvo XC60 D5 Inscription
There's a lot to love about the new Volvo XC60. Too many SUVs these days follow an identikit styling recipe, but the Swedes have managed to break free and offer something quite striking. The fact it's also relaxing to drive, comes with plenty of safety equipment and has a brilliant interior simply adds to the appeal.
---
Costs
There's a small but useful engine range available. There are two diesels that officially offer more than 50mpg, while the hybrid's figures are mighty impressive at 135mpg but will mostly benefit those who travel short distances and can recharge the battery at home.
Opt for the petrol and fuel costs will increase dramatically – that officially registers 38.7mpg on the combined cycle.
Space and practicality
Being an SUV, space and practicality are the XC60's forte. However, the boot is slightly below the class average at 505 litres – it'll still take a lot of effort to fill, though, with even the biggest weekly shop unlikely to cause any trouble. In the cabin, there's a light and airy feeling, while legroom and shoulder room is plentiful.
Controls and display
The Sensus infotainment system is so nearly brilliant. The design is perfectly minimalist and the speed with which it responds to your inputs is more like a tablet than an in-car system. The navigation is clear and easy to use, particularly with the portrait orientation of the display, which allows you to see further up the road. The only downside is that finding where options are within menus can be frustrating.
Comfort
Volvo has put an emphasis on comfort with the XC60 and it has largely succeeded. The armchair like seats have soft leather that's a pleasure to spend long journeys with. However, one potential downside is that in its attempts to build a driver-focused interior with everything angled towards the driver it can feel a little claustrophobic from behind the wheel.
Car security
Security is of equal concern to Volvo and as such the XC60 comes with the usual alarm and immobiliser systems to avoid theft. It also has the added advantage of flying under the radar, unlike more established premium marques such as BMW and Mercedes, which might be more likely to catch a criminal's eye.
Car safety
Volvo, as always, scores highly on the safety front. It wants to have zero deaths associated with crashes in its cars by 2020, and the latest City Safety system is a big leap towards that. It has the latest pedestrian avoidance technology and autonomous braking, but it now has a swerving aid, which improves how quickly the car reacts and stabilises it should you need to take avoiding action.
Driver appeal
SUVs such as this are not normally known for being particularly fun to drive. That's true of the XC60 to a certain extent – it hardly falls apart in corners but you get the sense it would rather take it easy. The upside of that is the general driving nature is very calm and relaxed. The ride is unfussy and irons out creases in the road with ease, meaning that you often feel more relaxed after a long journey than you did before.
Family car appeal
The XC60 has always been designed with families in mind and the new model is no different. A decent is not massive boot is ideal for family weekends away, while the various cubby holes throughout the cabin will take whatever detriment kids bring with them on a trip. However, some of the high-spec upholstery is rather luxurious, so you might want to reconsider if you have messy kids!
First car appeal
The XC60 has mixed first car appeal. On the one hand, the slew of safety equipment is ideal for an inexperienced driver who may find themselves hesitating in an emergency situation, while low running costs from the four-cylinder engines will also be appealing. However, the XC60 is quite large and could be intimidating to the inexperienced.
Quality and image
Volvo has been working hard to pitch itself as a more premium brand after earning a reputation for safety and bullet-proof build quality. Fortunately, it's merely adding premium to its core values rather than replacing the old ones, so you're left with a safe and secure car that doesn't scrimp on luxuries.
Part of this premium switch has come through improved styling – no longer are Volvos boring boxes. The classy design language immediately implies luxury.
Accessibility
The XC60 is easy to climb in and out of – its lightweight structure means that the doors are easy to open, while the door aperture is large. There's plenty of space for passengers of all sizes no matter where in the car they sit. Meanwhile, the boot can be opened from the key fob, making it easy to access if your hands are full or the vehicle is dirty.
Stereo and ICE (In car entertainment)
Volvo's Sensus system is excellent. The large central display behaves just like a tablet and is quick and easy to navigate. It also 'learns' which menus you use regularly and creates a homescreen with shortcuts in an attempt to reduce the amount of time spent looking at the screen. However, some functions are hidden deep within menus and it can take some time to get used to where they are.
Colours and trim
There are a range of fairly muted colours that befit the classy styling that Volvo is going for. The test cars were either brown or light blue, with the latter our pick from the range.
Even the lowest trim levels get LED headlights, hi-tech safety systems and leather interiors. Inscription is pitched as the luxury trim and comes with a larger central display, ventilated and perforated Nappa leather upholstery and a wood inly. R-Design models are sportier and get 21-inch alloy wheels, a 'sports suspension' and sporty seats.
Parking
Parking such a large car could be tricky but fortunately the XC60 comes with a top-down camera view and reversing camera with sensors to help squeeze into spots. The large doors do mean that it can be fairly tricky to get out when in a tight space, though the high ceiling means that slipping through a narrow opening is easier than it could be.
Spare wheel
Emergency tyre repair kit supplied as standard.
Range information
Petrol engine options: 2.0-litre (254bhp). Diesel engine options: 2.0-litre (190bhp, 235bhp). Hybrid engine options: 2.0-litre petrol-electric (407bhp). Transmission options: Eight-speed automatic. Trim levels: Momentum, Momentum Pro, R-Design, R-Design Pro, Incription, Inscription Pro.
---
Alternative cars