September 2011
Volvo V70 T5 R-Design
The V70 is very good looking from the front, with sleek lines
September 2011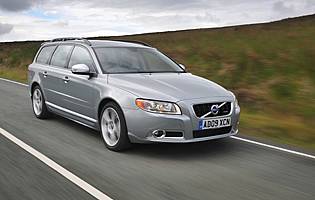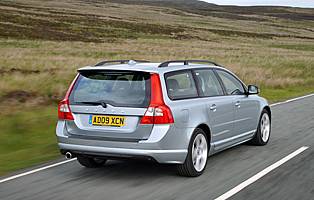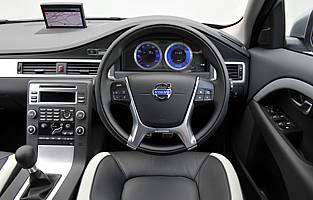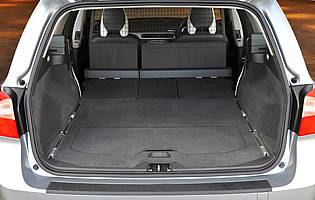 Overall rating

Likes:
Lots of space for passengers and luggage
Stylish inside and out
Excellent multimedia system
Good steering lock despite wide tyres
Gripes:
Ride quality is only average
Road noise is obvious especially on motorways
Adaptive cruise control can hinder more than it helps
Performance is lacklustre compared to rivals
The V70 estate is probably the Volvo people associate most closely with the brand, descended by virtue of its shape and size from models dating back to the 1980s. Down the years the V70 has changed a lot in some ways and very little in others, and although it still has a large boot it's much more stylish.
In R-Design trim, standard when choosing the T5 petrol engine, the V70 has an excellent balance of the sensible and the sporty, with stylish wheels and exterior trim complementing the simple, sleek lines of the body. From front to back it's one of the most stylish cars in the market sector, and crucially it looks noticeably different to any of its rivals. It's understated but good looking; a combination not often found among other large estates.
In this generation of V70, as across Volvo's range, the badges that used to refer to the particular engine installed in the car now define the car's position in the wider range. For example, the T5 engine is a 2.0-litre turbocharged four-cylinder in the V70, whereas it used to be a 2.5-litre turbocharged five-cylinder. The designation refers to the relative amount of power produced, so the T5 always sits below the T6 and above the T4, although it could potentially share engine blocks with both.
A combination of large wheels, low profile tyres and relatively low suspension means that this version of the V70 is compromised as a long-distance tourer, which is traditionally one of the car's strengths. Road noise is particularly noticeable, and potential buyers would be entitled to expect it to be quieter than it is. The engine doesn't feels as powerful as its figures would suggest, either.
It has very comfortable seats, lots of legroom and a very large boot that can accommodate a family of five's holiday luggage easily. Space is still a V70 strength, and there is also a temporary spare wheel under the boot floor in case of a puncture. The optional upgraded audio system is excellent, offering very good sound quality with the facility to connect an MP3 player.
Our verdict on the Volvo V70 T5 R-Design
This version of the V70 is something of a mixed bag, being neither as comfortable nor as fast as Volvo T5 cars before it. While it offers impressive amounts of space for passengers and luggage alike, its ride quality and performance in relation to its fuel economy mar the ownership experience. It would be best suited to a life of shorter, less frequent journeys. Volvo's own XC70 is a much more comfortable alternative if you're seeking a rounded load-lugger.
Costs
The claimed fuel economy figure is achievable with plenty of long, steady journeys but the 2.0-litre engine needs to be worked relatively hard to make good progress, which will drive costs up. Road tax is also expensive compared to other V70s in the range, but compared to some rival manufacturers' cars the T5 R-Design is good value.
Space and practicality
This remains for the most part a Volvo strong point. The V70's boot is very large, all seats benefit from a lot of legroom and it's easy to get luggage in and out. There are some small exceptions, like the front seat lumbar support adjuster wheels, which are fiddly to reach and operate. The coin tray is also difficult to reach behind the centre console.
Controls and display
Unlike most modern displays, the V70's is not lit from behind. Instead, two bulbs shine down from above the dials, creating an uneven spread of lighting that can make other areas of the display difficult to read. The controls for the media system are unusual too, with two dials needing to be used to change settings when just one would be enough.
Comfort
Interior comfort is very high, with supportive seats and lots of space. Leather-equipped high-end models are even more comfortable than the cheaper ones. Ride comfort is not as good as drivers might expect; the V70's doesn't cope with road imperfections as wheel as some rivals.
Car security
A key fob that pushes into the dashboard to the left of the steering wheel means that the ignition electronics are safely beyond reach. The standard security systems for cars of this type are also installed, including an alarm and immobiliser, with remote central locking and the facility to open just the boot, which works well with the optional electrically-operated tailgate.
Car safety
Volvo is a company that's well known for its safety advancements over the years. As well as ample 'passive' protection the V70 has lots of electronic systems, albeit many of them optional, for example to warn that a car is in the driver's blind spot, or that the car is leaving its lane unexpectedly. Adaptive cruise control is a good idea, but in practice could be more intuitive.
Driver appeal
The combination of a less than perfect ride and an engine that doesn't feel as strong as it should means that the V70 T5 falls behind some of its rivals in driver appeal. In trying to make the car sportier and more fuel economical, Volvo has compromised the two best features of previous models. It handles quite nimbly for its size, but doesn't offer much feedback or involvement.
Family car appeal
There are few cars that fulfil the requirements of a family car better than the V70, with its spacious interior, understated good looks and reliable nature. It would be ideal for a family with up to three children, but most families would probably prefer the considerably cheaper and more economical DRIVe diesel model, which would be a much better option financially.
First car appeal
First-time car buyers are unlikely to choose any V70, unless their first car comes later in life when families and luggage are more important considerations. The T5 is also an expensive car, so the financial difficulties for a first-time buyer would be as preventative as the likely insurance costs related to its large size and 237bhp engine.
Quality and image
Volvo has a unique image and while some people like it, others don't. It's a different style of car to the German alternatives, and build quality is generally very good. High-quality materials are used wherever possible, but this generation of car isn't immune to electrical gremlins.
Accessibility
Although the V70 isn't a tall car, it is still very easy to get in and out of. The doors open wide and the door apertures are well shaped. The relatively flat roof line allows rear passengers good headroom on entering and exiting the car. The boot is wide and well-shaped with a flat load area, making it easy to load and unload heavier items.
Stereo and ICE (In car entertainment)
There are various upgrades that can be made to the V70's in car entertainment system. The standard one is fine for listening to the radio, but the Premium Sound stereo and DAB radio facility add welcome sound quality on long journeys. The media control centre uses the satellite navigation screen, which allows it to display options and menus very clearly.
Colours and trim
The V70 shows its true colours with a selection of muted hues. The boldest option is a metallic red that looks appealing on the car, but the traditional dark blue, grey and silver work very well. The interior trim is very stylish and of a high quality, with colours complementing those of the exterior. In particular the leather trim is very luxurious.
Parking
Large wheels and low profile tyres mean that drivers should be wary of kerbs; even low ones. Rear parking sensors help to give extra confidence in bay parking, but the car ends up so close to the barrier or wall that the boot will no longer open. A good steering lock means that the V70 is surprisingly manoeuvrable in car parks.
Spare wheel
Space saver temporary spare wheel as standard.
Range information
Petrol engine options - 1.6-litre (178bhp); 2.0-litre (237bhp) and 3.0-litre (300bhp). Diesel engine options - 1.6-litre (114bhp); 2.0-litre (161bhp) and 2.4-litre (212bhp). Transmission options: Six-speed manual standard on 1.6 and 2.0 engines, automatic options available on 2.0-litre engines, automatic standard on 2.4 and 3.0 engines. Trim levels: ES, SE, R-Design, SE Lux
Alternative cars
Volvo XC70 A much more comfortable ride thanks to raised suspension
BMW 5 Series Touring Dynamically accomplished, but relatively expensive
Audi A6 Avant Lacks style, but made from very high quality materials
Skoda Superb Estate A popular and more affordable alternative - generous load capacity, too