June 2004
Volvo V70 T5
Refreshed design gives the V70 a sophisticated look
June 2004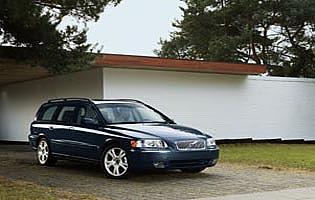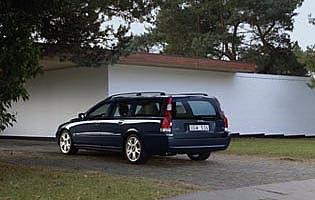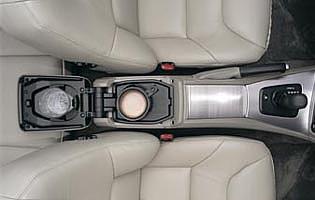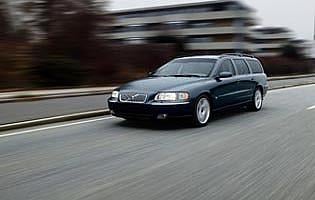 Overall rating

Likes:
Styling looks fresh with smooth, clean lines
Versatile central armrest offers stowage space and cup holders
Stereo is almost unsurpassed in terms of quality and usability
General feel of reliability and robust build quality
Gripes:
Dashboard mounted controls lack style
Sport and Comfort settings on the Four-C chassis are polarised and uncouth
Wood trim option on some models looks out of place
Non-EURO IV compliant diesel engines will increase cost for business users
The Volvo estate has been a part of our lives for more than 35 years. Modern day incarnations of the big boxy Swede are more refined and stylish than ever before, with the latest V70 even verging on good looking. However, with the likes of BMW and Mercedes offering similarly equipped workhorses, the Volvo can't rest on its laurels.
It seems strange that something as Scandinavian as the Volvo estate should become so indelibly etched on traditional buyers' psyche. The stereotypical image of the Barbour jacket-wearing, welly-clad horsy-type and their mud-festooned Volvo is as much a part of life anything else these days.
With the likes of the BMW 5 Series Touring and Mercedes E-Class Estate vying for the attentions of the premium estate buyer, the Volvo V70 won't be able to rely on good feeling or familiarity to notch up the sales. It will have to prove itself against this very stiff competition.
As you would expect from the manufacturer that is intent on saving us from ourselves, the V70 comes crammed full of safety kit. The newest device on offer is the Blind Spot Information System (BLIS). This is a system designed to alert the driver to other cars and motorbikes in his or her blind spot. It is certainly a selling point for the safety conscious driver, but it is far from infallible and there are a plethora of instances in which it will not work.
A second-generation version of the Four-C active chassis system is available as an option on the V70, which allows the driver to choose between 'Sport' and 'Comfort' settings. But will all these whistles and buzzers distract people's attention away from the bright and shiny world of the premium German brand, or is Volvo fighting a losing battle?
Our verdict on the Volvo V70 T5
Volvo's V70 is an attractive estate with plenty of nifty new safety innovations, but the Four-C chassis lacks any real bite and this won't help it tempt people away from the Audis, BMWs and Mercedes' of this world. The T5 engine continues to impress but is expensive and thirsty.
Costs
Prices for entry-level V70s are reasonable give the space and versatility of the car, but the 2.0-litre T engine supplied isn't the most engaging to drive. Insurance groupings of between 13E and 16E equal reasonable premiums for the over 25s. The lack of a EURO IV diesel engine will hit company car drivers, but 43mpg on the D5's combined cycle should soften the blow. Residual values of Volvos continue to improve as the firm moves upmarket, so expect to get a good price for the car when it's time to move on.
Space and practicality
With 745 litres of stowage space available with the rear seats up and 1641 litres with them folded, the V70 provides lots of space for luggage. There is plenty of room for the legs and heads of front passengers. However, taller passengers resigned to the back will suffer from a lack of legroom. The nifty central console/armrest provides stowage space for a few CDs or cups and there are several other pockets and cubbyholes dotted around the cabin.
Controls and display
No one could possibly accuse Volvo's switchgear of being difficult to use and complicated. However, functionality does tend to win out over style. A two-year old could easily fathom the central console's buttons and dials. Unfortunately, it does rather look like the same person had something to do with the designing of it as well. That said, all dials feel nicely weighted and connected and the pushing of a button is met with a reassuring 'click' sound. The main instrument binnacle is simplicity itself, with just two clear dials and a few other digital readings being displayed. An optional satellite navigation screen pops out from the top of the dashboard when called upon and disappears again discreetly when you know where you are going.
Comfort
Road and wind noise are well suppressed thanks to improved levels of sound deadening. The D5 engine is a tad rattley at idle, but once warm and up to speed the noise level dies down considerably. Lumber regions are well catered for by the seats and there are also plenty of armrests, making long distance driving comfort. As already mentioned, the ride can get a little bumpy in Sport mode, particularly over uneven ground. However, for the most part the V70 provides a civilised and nicely balanced ride on motorways.
Car security
Visible Vehicle Identity Number (VIN) plates will help with recovery if the worst should happen. In order to prevent this, however, V70s can with a standard remotely operated alarm and immobiliser.
Car safety
Safety: Volvo's middle name. There are numerous airbags fitted as standard on all V70 models. In fact, everything (with the exception of the Blind Spot Information System) in the Swedish firm's safety armoury is available at no extra cost. SIPS, WHIPS, ABS, DSTC, TRACS, IC, you name it. BLIS is definitely a good idea, but there are too many instances where it doesn't work. For example, if a car in your blind spot is travelling a fraction less than you it won't go off; the system will remain similarly inactive if you are travelling significantly faster than a nearby vehicle. Bizarrely, bicycle and moped riders are ignored but lampposts are not.
Driver appeal
Being a large estate, the Volvo hasn't been designed with racing around narrow country roads in mind. That said, all V70 models, including the two bi-fuel variants, manage the sprint to 60mph in under 12 seconds and top speeds range between 124mph and 155mph. The Four-C (Continually Controlled Chassis Concept) chassis with its Sport/Comfort switch is designed to give buyers the sense that they can choose between a sporty ride or a comfortable waft. This isn't the case though, as the choice is really between floaty or incredibly harsh. Even the T5 model in Sport mode pitches and rolls around tight bends, which can be disconcerting given its straight line performance capabilities.
Family car appeal
The Volvo estate has long since been a popular choice among family buyers due to its van-like stowage capacity and reliability. The only change the V70 is likely to bring is an expansion to the demographic catchment's age range. Younger family units will be tempted by the cars sleek lines and prestige feel in a way that they perhaps wouldn't have been a few years previously. Of course, the Volvo's trump card is its safety features, which are all but unsurpassed. If you have a precious bundle or two to ferry around then there are few safer cars in which to do it.
First car appeal
For the average first time buyer the starting price of the V70 is too high and an insurance grouping of 13E will scare away anyone under 25. There are many cars that are easier to park and manoeuvre around town. It's very unlikely that a young single person will need all of the room and space offered by the V70.
Quality and image
Volvo enjoys an image of robust build quality and impeccable safety credentials and the V70 does little to tarnish or detract from this. The interior is sufficiently well trimmed to help the V70 compete with the traditionally more luxuriant BMW 5 Series Touring and Mercedes E-Class Estate. If anything does spoil the party it's the car's basic-looking centre console, which could be more attractive if not more functional. From the outside the estate has a hardwearing and reliable look to it, which is backed up by the reassuringly solid thud heard when closing the boot or doors.
Accessibility
Front passengers are treated to plenty of head and legroom and easy access thanks to the wide door openings. The driver's seat adjusts electronically and most people should be able to find a position that suits them (an electronic passenger seat is a cost option). Steering wheel adjustability is also good, moving as it does to suit rake and reach. Gaining access to the rear seats isn't as easy as one might expect, though, with a wide sill and relatively narrow opening likely to hinder elderly or immobile passengers. Once inside, however, all but the tallest of people will find it spacious and comfortable.
Stereo and ICE (In car entertainment)
It isn't often that a car's stereo system is truly hi-fi, but the optional high performance audio pack with six-disc changer, four, 75-watt amplifiers and 11 speakers is truly awesome. There is little or no distortion at high volume and your eardrums will give out long before the speakers do. Steering wheel-mounted controls are intuitive and neatly laid out. Those on the fascia are equally functional, but they do look like they have been designed by a child and lack any real style.
Colours and trim
Silver and dark blue look particularly good covering the Volvo's nicely defined body. Buyers have the choice of either aluminium or wood trim detailing for the interior of their V70, which also features cloth-covered A-pillars and sun visors. 'Sovereign Hide' leather is available as an option on all models; with Sport trimmed cars featuring 'Vestborg' leather and 'Silverweft' trim.
Parking
Rear parking sensors are a cost option on all models for those who dread parallel parking manoeuvres. However, an elevated driving position and plenty of glass all round make the Volvo surprisingly easy to slot into tight spaces. Speed variable power steering means that despite wearing 17-inch wheels as standard, the V70's turning circle is easily utilised. The one fly in the ointment is the long, sloping bonnet - the tip of which isn't visible when driving.
Spare wheel
Space saver spare wheel fitted as standard under boot floor.
Range information
Volvo's V70 range comprises seven engine options: three petrol, two diesel and two bi-fuel. Petrol: 2.0-litre T (180bhp), 2.4-litre (with either 140bhp or 170bhp) and 2.5-litre T5 (260bhp). Diesel: 2.4-litre D5 with either two or all-wheel drive (163bhp). Bi-fuel: 2.4-litre LPG or CNG dual-fuel units (both 140bhp). Five speed manual or automatic gearboxes are available on all models. D5 AWD and T5 models are available with 6-speed manual transmissions. Trim levels: 'S', 'Sport' and 'SE' specs are available on all models.
Alternative cars
BMW 5 Series Touring Estate version of German uber saloon will be hard to top
Mercedes E-Class Estate Elegance offered as standard with this classy offering
Audi A6 Avant An accomplished cruiser with increasingly popular badge
Saab 9-5 Estate Fellow Swede is well made, but does it have enough style to compete?