October 2011
Volvo S60 ES DRIVe
The S60 is a stylish car on the outside, with an attractive 'face'
October 2011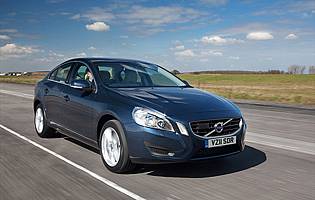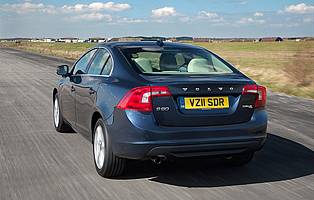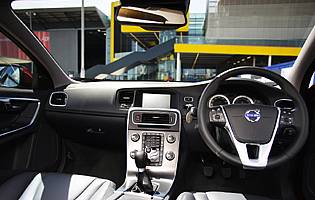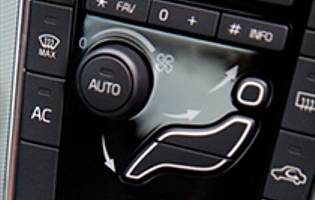 Overall rating

Likes:
Direct, positive steering
Comfortable cloth seats
Enough space for four adults
Simple user interface
Gripes:
Engine could do with more power and torque for a car of this size
Concentration required to achieve claimed fuel consumption
Low-key cabin ambience
Boot lid operation could be easier
The S60 DRIVe is designed as Volvo's most fuel-efficient small-to-medium saloon. Aimed at high-mileage motorway drivers and anyone looking for extra fuel economy to lower their running costs, along with the V50 it represents the company's attempt to combine its unique style with modern, mainstream sensibilities more closely than ever.
The S60 is a good looking car; both understated and stylish in typical Volvo fashion. In DRIVe guise it's fitted with smaller wheels than a typical model which doesn't do it any styling favours, but the tall, low-rolling resistance tyres are included to help lower fuel consumption. Other than the wheels and the DRIVe badges it looks like a perfectly normal S60, which will suit most buyers perfectly.
ES specification is entry level and many buyers will look at it as a way to maintain a cheap purchase price. The overall build quality is good and there appears to be no flexing or creaking fixtures. Basic cloth seats are functional but also relatively comfortable even over long distances.
The four-door S60 platform is large enough to accommodate four adults, although legroom could get restrictive for taller rear-seat passengers. The car also maintains impressive boot space, but the boot lid could be easier to close. It's a small point but there are better solutions out there.
On the engine front the diesel motors need to be worked hard to keep up with traffic - it could be a more relaxing experience. Overall, though, the S60 is a good steer, thanks to particularly direct steering and a good chassis. Keen drivers will still prefer a German alternative, however.
Our verdict on the Volvo S60 ES DRIVe
The S60 is a good car in the right specification, but the DRIVe model lacks the sparkle of its mainstream S60 stablemates that keen drivers will expect. In many ways it's a modest proposition aesthetically inside and out, which in reality is perfectly in keeping with its fuel saving character. Volvo's trademark bold interior trim options remain an option if you want to boost the cabin's appeal, however. Don't forget that this S60's USP is its fuel-sipping abilities - something it does rather well.
Costs
A gentle approach to driving should see real world fuel economy figures come close to that of the official number. As such, it shouldn't cost much to run this particular S60 variant. On the whole you can expect the ES DRIVe's long term ownership costs to be low, although you might be tempted to spend more on extras at the point of sale.
Space and practicality
There are few shortcomings here, with plenty of space for four adults and a large boot capable of holding an impressive amount of luggage. The four doors open wide and legroom behind a six-foot driver is still perfectly adequate for most people. The one niggle is that the boot lid takes a lot of force to close, and sometimes one hand isn't enough.
Controls and display
Volvo has two different types of instrument cluster; an excellent backlit one and one lit by traditional bulbs in the instrument cowl. ES-specification S60 cars have the latter, and it leaves clarity and style to be desired. The bulbs create brighter and dimmer patches of light across the dials, which don't help the driver to quickly gauge the readouts at a glance in the dark.
Comfort
Four occupants can sit comfortably in reasonably well-shaped seats. They strike a good balance of firmness and softness in the right areas, and for long periods in the car drivers and passengers will be satisfied. The ride comfort could be more polished, with the bumps and imperfections of poorly surfaced roads being transferred into the cabin more clearly than would be desirable.
Car security
A comprehensive alarm system is included as standard, and boasts an engine immobiliser, a volume sensor in case of any power tools being used, and a level sensor that will activate the alarm if the car is tipped up while it's parked. The remote central locking also locks the fuel cap, making the S60 very secure.
Car safety
Volvo's first priority in all their cars is safety, and the S60 is one of the safest compact saloons out there. As well as impressive passive safety features built into the bodyshell, there are many electronic systems that aren't often found in cars of this price. This is part of the family appeal that the brand has always had, and it continues to be a selling point.
Driver appeal
The DRIVe engine, a low-output 1.6-litre diesel, is modestly powerful given the size and weight of the car. There are times when it needs to be worked hard, which in turn can harm the fuel economy. Its steering is better than most, though, and that gives it some measure of appeal for the driver.
Family car appeal
There is no reason why this wouldn't make a good family car. It's spacious enough, safe and the interior seems to be hard wearing. In reality something like Volvo's own XC60 SUV would be a better choice due to its more flexible cabin and 'soft-roader' on and off-road potential.
First car appeal
Price is the main obstacle to the S60 ES DRIVe's potential as a first car. For some it'll be too expensive. It's an economical, cheap to tax choice, which helps make it more tempting. In terms of size it's not overwhelming for inexperienced drivers but visibility could be better.
Quality and image
Volvo has a good reputation for build quality and also a unique image, created with a combination of decades of sensible cars, a handful of more recent stylish models and unusual event tie-ins like the Volvo Ocean Race. As a lifestyle choice, the S60 range offers unusual styling features and a brand image that's hard to match elsewhere in the semi premium market.
Accessibility
While it's not especially difficult to get in and out of the S60, rear passengers need to watch their heads. Taller rear seat passengers might find it a little awkward and might need to twist their bodies a little to get out of the back seats. The boot is a familiar saloon type, with a reasonably wide aperture and excellent depth to allow maximum storage space for cases.
Stereo and ICE (In car entertainment)
The S60 has a useful standard USB media interface that will accept iPods and other MP3 players. The standard stereo isn't the most powerful and can't produce sound to match the optional Premium Sound system, but it's more than adequate for most people. Satellite navigation is not standard, but the small LCD information screen is nonetheless clear and easy to use.
Colours and trim
Sober colours are normal for this type of car and typical blacks, silvers and whites make up the bulk of the choices, but Volvo also has some more unusual metallic options for those of more adventurous taste. To get better quality interior trim that also looks more expensive, you'll need to go for SE specification as a minimum.
Parking
Parking sensors are not standard on base models. They're a useful addition and with them installed reverse parking is made easier. Drivers need to be more cautious reversing the ES-specification S60, thanks to a high rear window some people might struggle to visualise where the end of the boot is.
Spare wheel
Temporary tyre repair kit supplied as standard.
Range information
Petrol engine options - 1.6-litre (148bhp); 1.8-litre (177bhp); 2.0-litre (236bhp); 3.0-litre (300bhp). Diesel engine options - 1.6-litre (114bhp); 2.0-litre (161bhp); 2.4-litre (212bhp). Transmission options: 6-speed manual or 6-speed auto standard according to trim level. Trim levels: ES, SE, SE Lux, R-Design.
Alternative cars
BMW 318d SE More powerful and better to drive, but more expensive
Volkswagen Passat Bluemotion More rounded package than the S60
Hyundai i40 Does without an upmarket badge but is stylish, affordable and capable
Mercedes-Benz C 200 CDI BlueEfficiency Comparably expensive but a refined cruiser with an impressive engine