December 2006
Volkswagen Touran 1.9 TDI
Subtle exterior changes signal this as the 2007 model year Touran
December 2006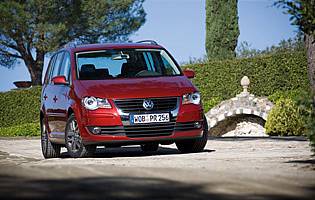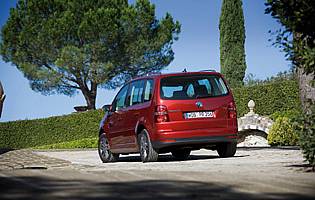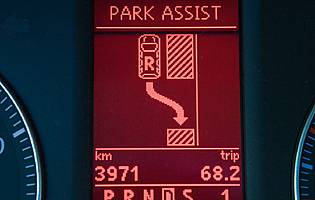 Overall rating

Likes:
The optional bi-xenon lamps that swivel around corners offer improved visibility for night driving.
ParkAssist - a welcome inclusion on a non-premium car.
Responsive steering, plus greater assistance at lower speeds.
The middle seat of the second row can be folded down and used as a table.
Gripes:
Boxy, van-like exterior not as attractive as some of its rivals.
Marketed as a seven-seater but more like a five-seater with lots of boot space.
Marketed as a seven-seater but more like a five-seater with lots of boot space.
Dark cabin lack character and an upbeat ambience.
Volkswagen's revised Touran is a capable family car with the addition of the sort of technology you could expect to see in a luxury model. New bumper, grille and lights (similar to those fitted to the Eos) are the main exterior changes, while the interior has received upgraded standard equipment and trim.
Volkswagen entered the compact MPV segment in 2003 - after many of its competitors. With an ever-growing share in the market, Volkswagen's Touran has received a fresh face, new engine line-up and has been chosen to debut new technology aimed at making parking easier.
Rear parking sensors are now available as standard on Sports trim models, while every Touran model is also offered with a ParkAssist option. ParkAssist goes some way to alleviate the difficulties of reverse parking. When engaged, the system judges the suitability of a space and takes over the steering for the manoeuvre.
The first Touran incarnation was noted for having a fairly poor standard equipment level. Among the improvements to its standard features is a fully comprehensive safety programme across the model line-up. Meanwhile sports seats, cruise control and rain sensors are among the standard package features for higher spec models, making the driving experience more akin to that of a luxury car.
In terms of driving and performance, a light touch of the well-positioned pedals gives a pleasing response, while the steering is neither too light nor clumsy. Indeed, the Touran drives like a car, its suspension ensuring the ride is neither too firm or light, with bumps adequately absorbed.
Our verdict on the Volkswagen Touran 1.9 TDI
The Touran is a quality package in terms of safety, style, ride and handling. It's ahead of many of its competitors in the compact MPV sector. As with most of the vehicles in this market, the diesel engines are likely to prove most successful, offering the best economy and car-like performance.
Costs
Despite a sometimes considerable purchase price, the Touran is quite a strong economical proposition when judged over the course of its lifetime. Fuel economy is good (particularly with diesel models), the strength of the mechanical components should ensure a high level of reliability and Volkswagen has a tendency to ensure its vehicles achieve competitive insurance groupings.
Space and practicality
The front two rows are extremely spacious but the third row is less so. The straightforward manner in which seats fold means the Touran can quickly be transformed into a roomy van. Volkswagen claim there are up to 500 different seating configurations. In the five-seater configuration, the luggage area is rated at 695 litres, increasing to 1,193 litres if the second row of seats is removed.
Controls and display
Volkswagen has paid particular attention to providing displays and controls that are ergonomically well designed, attractive and intuitive. Positioning of instruments is predominantly conventional and all the better for it, with VW's trademark blue and red illumination of the various displays and switchgear proving soothing at night.
Comfort
Front electric windows, air conditioning, and dust and pollen filters are standard across the range, with Sport models also featuring climate control. A multi-adjustable seat and a steering wheel with a large degree of adaptability make finding a suitable driving position extremely easy. A long journey should present few problems to Touran passengers.
Car security
All models have remote central locking and engine immobiliser, while SE and Sport models also have an alarm as standard. The large number of storage areas means that if valuables do need to be left in the car for whatever reason, they can at least be hidden from view.
Car safety
Aware that safety is a prime concern among buyers, VW has gone out of its way to provide a solid safety package. ABS, brake assist and ESP including traction control are standard. All seats barring one in the third row feature three-point safety belts, Isofix child seat preparation in outer seats of second row and curtain airbags for front and second row passengers.
Driver appeal
The Touran is arguably not as good to drive as Ford's S-Max in terms of ride and handling, however it is better than many of its other competitors, such as the Zafira. Diesel engines feel quicker than they actually are because of the huge amounts of low-down torque offered. The Touran generally avoids leaning through corners, which is often the downfall of cars in this class.
Family car appeal
Families will love the Touran. It is robust enough to suffer the knocks that come with family use, yet also classy enough to give the whole family a glow of pride seeing it parked outside the house. The ability to seat seven in comfort and safety is likely to a major attraction. Storage compartments and bins are also plentiful - even the warning triangle has its own space in the lining of the luggage compartment hatchback, accessible when fully loaded.
First car appeal
Because of its size and cost, the Touran is unlikely to be a suitable for a novice driver. The parking assistance feature is, remember, a cost option, which means you'll be on your own. That said, the Touran isn't a difficult car to driver, just one with a steeper learning curve than a supermini.
Quality and image
The VW badge still carries a lot of clout, but the Touran will turn few heads despite its accentuated lights, alloys and chrome radiator grille. The Touran is more of a practical, rather than fashionable, purchase.
Accessibility
Designed with quick and easy access in mind, doors operate easily. All are hinged rather than sliding, which is pleasing to the eye but can be tricky in tight parking spots. The driver and front passenger seats are height adjustable, while the steering column can be adjusted for height and reach. Combined with the Touran's well-positioned wing mirrors and high-up driving position most drivers should find a comfortable position with little difficulty.
Stereo and ICE (In car entertainment)
All models get a factory-fit stereo with CD player. The possibilities for customising the Touran's in-car infotainment systems include satellite navigation and a six-disc CD changer changer mounted in the driver armrest.
Colours and trim
The Touran has received fresh upholstery trim and materials, including a stainless steel finish to the central console dials and upgraded standard equipment. All models have, among other things, alloy wheels, CD player, air conditioning, remote central locking and cruise control. SE models gains body-coloured trims and Sport variants gain aluminium interior trim.
Parking
Well-designed side mirrors help in the Touran, while the 'square' design at the back also enables excellent rear visibility. The ParkAssist technology uses a series of sensors to plot an ideal manoeuvring path into a parallel space. Once engaged (a simple push button located next to the gearstick), the system carries out the steering inputs necessary, while the driver controls the throttle and brake.
Spare wheel
All models come with a tyre repair kit and no spare wheel as standard.
Range information
Petrol engine options: 1.4-litre (140bhp) and 1.6-litre (102bhp). Diesel units options: 1.9-litre TDI (90bhp and 105bhp), 2.0-litre TDI (140bhp), 2.0-litre TDI (170bhp) with diesel particulate filter. Transmission options: six-speed manual and five-speed manual. Semi auto six-speed DSG gearbox an cost optional. Trim levels: S, SE and Sport.
Alternative cars
Renault Grande Scenic One of the first and still better performers in the compact MPV sector
Citroen C4 Picasso Not as good to drive but well-equipped, stylish and boasting a spacious interior
Ford S-Max Offers the best drive of the compact MPVs and is competitively price
Honda FR-V Unusual Honda offers two rows of three seats plus a car-like driving experience