Volkswagen Scirocco GT 2.0 TSI
August 2008
Volkswagen Scirocco GT 2.0 TSI
Bold looks and the ability to impress keen drivers should ensure success for the Scirocco
August 2008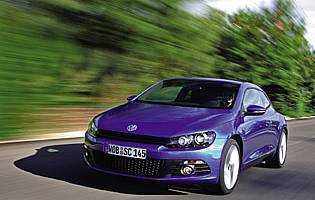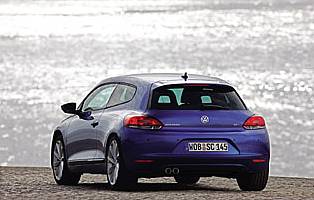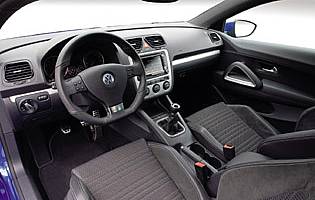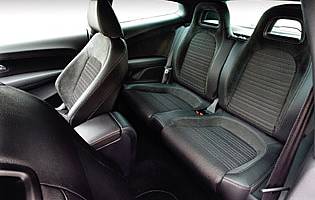 Overall rating

Likes:
Bold exterior design
Boasts the performance to match its looks
Promises to deliver real-world, acceptable running costs
Practical cabin despite the coupe-influenced styling
Gripes:
Cabin design too similar to the Golf - it lacks a bespoke feel
Tailgate and rear end design could be more appealing
Although clever, the DSG gearbox won't suit everyone's driving style
Boot might be a good size but there's a high load lip to contend with
It's been a long time since there was any talk from Volkswagen regarding a small, affordable sports coupe. The company obviously took note of what people would want from said car though, because this latest generation Scirocco appears to fit the bill: affordable, good looking and, on paper at least, quick.
You had better get used to the Scirocco's nose, because that look is going to appear on numerous VWs in the future, such is Volkswagen's confidence in the new design direction. In all other aspects, the Scirocco is very much a car with its own personality. It might share much a lot under the skin with the Golf, but that's where the comparisons stop.
Keen to impress and attract keen drivers, the Scirocco has been subject to a raft of suspension changes over the donor Golf. Furthermore, with the coupe's modified dimensions, the car's ride and handling characteristics are much sharper. And for the UK the car comes with VWs clever electronic damper control system - already fitted to the Passat CC - in a bid to make this front-drive car behave equally well on poorly surfaced urban streets as it does on challenging B-roads.
While the Scirocco's exterior is all new, the car's interior will be familiar to many VW fans. Using the Eos convertible's premium-looking fascia as the building blocks, the Scirocco's cabin is yet another example of a well built VW interior. Enhancements include bespoke trim accents and attractive and supportive sports seats. Although they match the fronts, the rear seats are small and legroom in the back is modest. VW's stunning looking coupe might want to be the only car you'll need, but the practicalities are a little different.
There are no complaints out on the road, however. With initial deliveries being powered by VW's familiar and well received 2.0-litre turbo motor (again, from the Golf GTI) before the range is expanded, the attractive coupe is not short of power. The combination of the raucous exhaust note, urgent power delivery and the option of the swift-shifting DSG auto-style gearbox all add up to a lively and fun driving experience.
Our verdict on the Volkswagen Scirocco GT 2.0 TSI
With the introduction of the third generation Scirocco, Volkswagen proved that it could deliver a fun, attractive and affordable sporting car. It did it before, but so much time has passed and critics are never anything but cynical in these matters. In truth it's hard not to like the Scirocco. Not only is it good to look at, but it's also fun to drive. The asking price is sensible - even by VW's standards - and it's practical enough to make the choice between this car and a Golf GTI an easy one if you want to stand out from the crowd.
Costs
Promising a similar performance to VW's Golf GTI, the Scirocco is unlikely to break the bank. Driven gently, the 2.0-litre turbo petrol engine is surprisingly frugal, while servicing and tax outlays should be manageable for a car boasting such a high level of performance.
Space and practicality
Volkswagen is keen to tout the Scirocco as a practical car, and one you could consider as your sole means of transport. As such, cabin space is reasonable, as is oddment storage space. The boot is a surprise - you don't expect something this good in what is basically a sporting car. The hatch tailgate lifts to reveal a deep load bay, although the high load lip could be an issue. Don't expect too many complementary remarks from adults sitting in the back, though.
Controls and display
It's all familiar stuff in the Scirocco's cabin, as the basic layout almost mirrors that of VW's other premium Golf-based car, the Eos convertible. Build quality is excellent and the various controls and switchgear feel solid and reliable. The various displays are clear and intuitive, while the optional touch screen sat-nav unit is easy to learn and simple to use.
Comfort
Once inside the Scirocco the car's sports seats do a good job of keeping you in place when you're having fun. Firm and supportive, they also look good. Road noise is low when driving normally, and is never obtrusive even when you're asking a lot from the engine. And while the Scirocco is a compact car, two adults can easily share the cabin without bashing elbows.
Car security
There's nothing flashy built into the Scirocco, but the usual VW security measures should do the trick. Remote locking and an alarm and immobiliser combo should be more than enough, even with the car's distinctive looks. You might want to invest in a visible deterrent such as a steering lock, as this will likely put off the casual thief.
Car safety
Being a Volkswagen, the Scirocco gets to benefit from the entire VW safety parts bin. Airbags and all the usual electronic stability equipment are present. Crucially for the enthusiastic driver, the various electronic aids don't cut in abruptly - that way you can still have some good, clean and safe fun.
Driver appeal
This is where most of the attention surrounding the Scirocco will lead to. It might share more than a wheel nut with the Golf, but changes to that car's basic dimensions and a revamp of the suspension have resulted in a responsive and enjoyable car. Comparisons with the Golf GTI will never cease, so when powered by the same engine (2.0-litre TSI) the Scirocco never feels short of puff, sounds good and is reasonably economical to boot - just like the Golf. With Volkswagen's clever active damper control on board, the Scirocco does a good job of smoothing out bumps and sticking to the road when pushed hard, putting it ahead of the GTI. Light but accurate steering completes the package.
Family car appeal
There's little chance of the Scirocco gaining ground in the family car market. Sure, it does come with rear seats, but access via the folding front seats is modest - think about the room you need when strapping someone into a child seat. And the boot, while a good size, probably won't be enough for the shopping and a pushchair. All is not lost, because at a pinch the Scirocco could take on some family duties as a second car, just not all of them.
First car appeal
With the Scirocco proving an easy car to drive, there's no reason why it couldn't be a car for a newly qualified driver. With its light steering and good forward visibility it should prove a straightforward experience. It is, however, very much like a Golf GTI, and that car is hardly a good choice for a novice. So, in reality, the answer would be no.
Quality and image
Even without the historical element, this latest generation Scirocco should appeal to keen drivers young and old. The Volkswagen badge and associated image will do the car no harm at all, while build quality is, as usual, first rate.
Accessibility
The car's two wide doors open to give occupants plenty of room to get in and out, although the Scirocco's low stance might deter those who are less than agile. Access to the rear seats isn't bad, but adults will likely think twice before accepting a lift. At the rear the car's boot is a good size for what is a compact hatch. You end of dropping stuff down into the space available thanks to the high load lip, however.
Stereo and ICE (In car entertainment)
It's hard to fault the Scirocco's standard fit audio unit. The combined radio and CD player works well, boasts a clear to read display and intuitive controls. More money will get a comprehensive touch screen sat-nav and multimedia player that's equally easy to use.
Colours and trim
Both ends of the spectrum work well on the Scirocco, although it's fair to say that bright colours - blues and greens, for instance - are the most successful in attracting attention. Inside, the car is very much in the traditional VW mould: dark plastics abound, and along with the dark headlining help to maintain a sombre, upmarket ambience.
Parking
Overall, this compact Volkswagen isn't a difficult car to park. It might be wide and squat, but parallel parking shouldn't cause any problems. With its light and accurate steering, the Scirocco can be confidently guided into a parking space. The car's mirrors are on the small side though, and the view out the rear screen can be limiting at times.
Spare wheel
Emergency inflation kit is supplied.
Range information
Petrol engine options - 1.4-litre (158bhp); 2.0-litre (197bhp). Diesel engine options - 2.0-litre (138bhp). Transmission options: six-speed manual as standard with six-speed DSG optional - not diesel variant. Trim levels: no specific trim levels. Note: 1.4 petrol and diesel variants available from early 2009.
Alternative cars
Mercedes-Benz CLC-Class Upmarket coupe is biased more towards luxury and comfort than driving pleasure
Vauxhall Astra Sport Hatch More like the Scirocco, yet boasting rakish looks plus the same affordable ownership proposition
BMW 1 Series Coupe More expensive, but promises to please enthusiastic drivers
Volvo C30 Blurs the line between hatchback and coupe; can be good fun with the right engine