February 2011
Volkswagen Passat SE 1.4 TSI BlueMotion Technology 4dr
Clean fuss-free design highlights conservative character
February 2011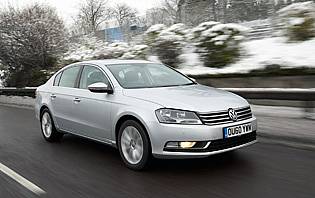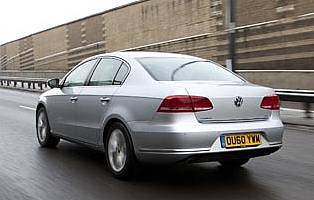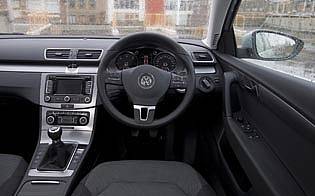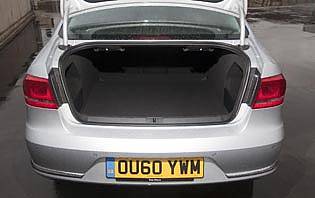 Overall rating

Likes:
Conservative looks should please Passat faithful
Remains an enjoyable car to drive
Diesel engine line-up is impressive - frugal and clean
Refinement levels are at an all time high
Gripes:
Some may find the car's looks too conservative
Sombre cabin ambience might be too much for some
Lacks the on the road sparkle of some rivals
Options list is long, and potentially expensive
The success in recent years of Volkswagen's Passat has a lot to do with its good looks, above average build quality and wide choice of engines and equipment levels. However, while rival makers have been making bold style statements, Volkswagen has chosen opted for a more conservative approach with its seven generation car.
Volkswagen used to be a conservative car maker making conservatively-styled cars, and this Passat - along with the Golf and Jetta - boasts a common family design theme. For many buyers it's what they want, as a flashy motor doesn't appeal.
With the Passat, that's exactly what the German car maker has done. Although a perfectly competent - and successful - car, the previous Passat possessed a little too much brightwork. With its new grille and sharper styling, a generous spread of standard kit, the focus is now on conservative refinement and on-road competence.
What this means is that the Passat can go head-to-head against the likes of Honda's Accord, Lexus' IS range and lower-order variants of the likes of Audi's A4, BMW's 3 Series and Mercedes' C-Class offering something a little different for more conservative buyers.
And in some important areas, the Passat comes out on top. With the car now bigger than ever, cabin space is no longer at a premium - something certain rivals still struggle with. And don't forget that, with the might of the Volkswagen Group behind the car, it can be had with some of the best diesel engines around.
Our verdict on the Volkswagen Passat SE 1.4 TSI BlueMotion Technology 4dr
There was nothing really wrong with the old car, but buyers have become more demanding in recent years. They wanted more standard equipment, better safety provision and cars with more cabin space. Factor in the need to reduce emissions and fuel consumption and it's clear that Volkswagen has worked hard to tick all these boxes.
Costs
Adding more equipment to the mix, this Passat can be viewed as good value for money. Opt for a diesel model and your running costs will be further reduced. In general, VW has a good reputation when it comes to reliability, and there is no outrageously fast variant so insurance should be affordable.
Space and practicality
VW clearly aspires to join the executive club only the firm is trying to offer something the others don't, namely extra space. Unlike some of its rivals, the Passat doesn't feel cramped when it's full of adults. It's not quite as practical as a hatchback, but it's pretty good for what it offers.
Controls and display
The car's various switches, knobs and vents operate with a smoothness that wouldn't feel out of place in a car costing twice as much. The fascia houses major controls like the ventilation and audio equipment, and everything is within easy reach. Commonly used audio controls are duplicated on the steering wheel, while the main touch screen display is intuitive point of contact.
Comfort
The variant strikes a decent balance between comfort and roll resistance - there's little roll but the odd severe urban imperfection can rattle through the cabin. The car's seats are supportive but a little firm in traditional Germanic fashion. Cabin noise is minimal, and the extra cabin room is welcome and instantly noticeable.
Car security
There's nothing especially groundbreaking about the Passat's security measures. You get the usual immobiliser and remote locking systems, although for extra peace of mind you could add a steering lock.
Car safety
A generous number of airbags is backed up by the usual ABS and electronic stability programmes. Back inside the cabin, and the rear seats get a pair of Isofix child seat mounting points.
Driver appeal
Despite its conservative image, this Passat is willing and able to take corners at speed with out upsetting passengers. This behaviour puts it surprisingly close to the likes of Ford's acclaimed Mondeo. Nothing has been altered at the expense of low speed refinement, however. Unsurprisingly the diesel engines are the pick of the bunch - although the petrol motors are closing fast. The firm's optional direct shift gearbox (DSG) is also worth a serious look.
Family car appeal
If you've got to have a Passat - a Touran would be a more practical option - then at least you've got size on your side. This Passat will swallow a few rowdy children and the boot is big enough for the weekly shop and then some. Alas, the flexibility of an MPV is missing, something which could cramp your style on day trips and holidays.
First car appeal
Any novice in the market for a new Volkswagen is more likely to plump for a Gol for Polo over a Passat, not just on cost grounds but because the Passat is a much bigger car.
Quality and image
Previous generation models were classy, well built and conservatively styled, ensuring that they appealed to a wide audience. This model continues the trend, as the basic elements - refinement, strong kerb appeal and solid build quality - are still present.
Accessibility
Access to the front is good and you slide onto the seats - not drop down into them. Rear seat occupants fare better than you'd expect, thanks in part to the car's generous dimensions. The Passat's boot opens with little fuss thanks to the remote release.
Stereo and ICE (In car entertainment)
The entertainment is good even at the lower end of the scale, with sound quality and ease of use both impressive qualities. Bluetooth phone operation works well, while the optional touch screen sat-nav is also straightforward. Certain basic functions can also be accessed from buttons on the steering wheel.
Colours and trim
This Passat looks rather good in light exterior shades. Darker colours tend not to be so flattering. The choice of materials for the Passat's cabin is wide and varied but it's best to stick to traditional combinations - darker trim options work best.
Parking
The Passat's mirrors are a good size and the various controls are light and easy to use at slow speeds. Parking sensors are available, and worth it for a stress-free life. VW's semi-auto parking system is also an option - drive past a space and the car will control steering input while you modulate the throttle.
Spare wheel
A standard size spare is located in the boot.
Range information
Petrol engine options: 1.4 TSI (122bhp); 1.8 TSI (160bhp); 2.0 TSI (210bhp). Diesel engine options: 1.6 (105bhp); 2.0 (140bhp, 170bhp). Transmission options: six-speed manual, six and seven-speed direct shift DSG gearboxes depending on the engine. Trim levels: S, SE, Sport.
Alternative cars
Vauxhall Insignia Upmarket Vectra replacement offers plenty of refinement
Ford Mondeo Default favourite for some. Lacks premium image but is well equipped
Skoda Superb Czech alternative is incredibly popular, good value and spacious
Honda Accord Japanese exec saloon is classy, refined, but outclassed in this company