Volkswagen Passat GTE Advance Saloon
Understated and comfortable with loads of room
August 2017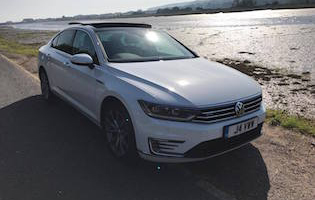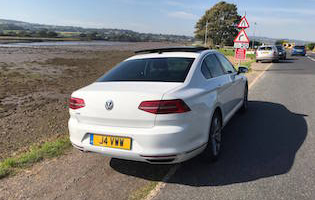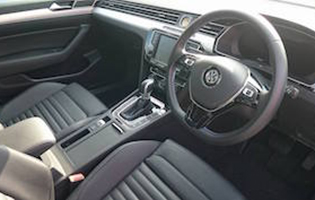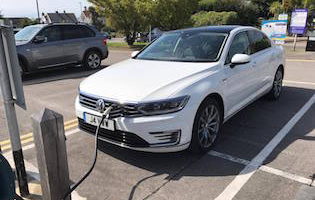 Overall rating

Likes:
Extrovert styling makes it looks like a race car
Uprated parts are all very high-spec and do a fantastic job
Addresses all of the standard car's grip issues
A worthy addition to BMW's lightweight track car legacy
Gripes:
Expensive to buy, even with £5,000 grant
Electric power runs out too quickly
No boot light
Suspension too hard and wallowy at times
The Volkswagen Passat GTE Advance is a plug-in hybrid version of the ever-popular Passat saloon. It combines a 1.4-litre petrol engine with an electric motor.
The result is a car that has more frugality up its sleeve than a supermini.
From the outset the GTE Advance looks like a sporty saloon, but doesn't stick out overly. Apart from some GTE badging here and there, and a blue hued line that encompasses the front grille, there is nothing to tell you this is a plug-in hybrid.
Even the charging port is well hidden – being located in a secret compartment within the front grille. However, delve further and you start to notice this is a top-spec car with fantastic build quality and lots of family appeal.
For a start there's the way it feels and looks inside the cabin. Lots of soft touch materials are used and the seats are nappa leather, which feels very premium. The technology is mighty impressive too, with radar-guided cruise control being a real highlight thanks to it being fully operational in stop/start traffic too.
The power delivery is also impressive. Put the car into GTE mode and safe overtaking of lorries is a doddle. The package you get with the Volkswagen GTE Advance is impressive
Our verdict on the Volkswagen Passat GTE Advance Saloon
It looks good, it feels premium and has tonnes of tech on board. However, it isn't without its faults. The looks are a tad bland and niggles such as no light in the boot really shouldn't exist on a car that costs more than £40,000. Use the car in electric only mode and it only lasts 30 miles, although on our car it seemed to last much less than that. Despite its foibles, the Passat GTE Advance is a very capable, very practical and comfortable family cruiser that delivers quality in spades.
---
Costs
This is where the GTE falls down slightly. While it is economical and feels solidly built, it comes at a price - £44,540. This is a lot for a car based on a model that normally costs from £21,610.
However, the government does offer £2,500 towards the cost as it is a hybrid, but this is still an expensive car.
Space and practicality
This is something the Passat has always excelled at throughout its near 45-year history. The GTE version is exactly the same. It offers lots of legroom in the front and the rear, as well as ample headroom for all.
The boot is very impressive too, with suitcases looking lost in the vast space it offers, and there are plenty of other storage solutions too. The centre console has a cubbyhole, as do all four door bins. There's even a little drawer to the right of the steering wheel – handy for storing change for the toll.
Controls and display
The infotainment screen is very intuitive to use and has a very easy to read screen too. The steering wheel controls are also very easy to use and even as you drive along, everything falls to hand easily when being operated
Comfort
The seats feel fantastically comfortable. This is thanks to Volkswagen's ergoComfort seat that uses the lumbar support to roll up and down the back of the seat and massage you while you drive. Our car also had 14-way electrically adjustable seating, which made it extremely easy to find just the right position.
Car security
The Passat GTE Advance comes with keyless entry and keyless start and cannot be operated without the key in the cabin, which gives you piece of mind when leaving the car parked.
Car safety
The Passat was given a five-star safety rating and scores a very high 87 per cent for child occupants and 85 per cent for adults.
There are also lots of gadgets on-board to prevent a crash such as lane assist, radar guided-cruise control and pre-crash occupant protection that prepares the cabin for an imminent impact.
Driver appeal
This, sadly, is where the Passat GTE falls short slightly. Although its supposed to be the 'sportiest' Passat, it misses the mark. It doesn't feel quick enough to compete with rivals, nor does it engage the driver in the same way that other fast saloons do. Use the paddle-shifters while the car is in GTE mode and it is rather fun, but lacks the excitement you want.
However, if you look at it as a fairly quick economy car then it performs well and combines that sportiness with low fuel costs, especially on long journeys.
Family car appeal
This is where the Passat GTE Advance really shines. A huge boot, lots of legroom and headroom, ample cubbyholes along with plenty of tech are all big bonuses of this family-orientated saloon.
What makes it better than many of its rivals however is the simple fact it is a plug-in hybrid. It might cost more to buy in the first place, but it will cost a lot less to run and will be much more frugal on petrol if used in hybrid mode along with the electric motor.
First car appeal
If you have £40,000 or more to spend on your first car then you're doing very well. However, you would probably be better suited with an Audi A3 Sportback e-tron or Volkswagen Golf GTE as they are smaller, slightly faster and offer just as much appeal. They're also cheaper.
Quality and image
Volkswagen has been renowned for building quality cars for a very long time, and the Passat feels no different. The interior has some very high-quality plastics used throughout the cabin, with many soft touch materials too. The actual quality of the fit and finish is second to none, being almost comparable to an Audi.
Accessibility
The Passat GTE Advance is very easy to get in and out of for all occupants. This is thanks to wide opening doors and plenty of room to put your feet when entering and exiting the car. The doorsills are fairly low down, but the car itself is fairly high so there is no stepping down into or climbing up for people.
The actual seat bolsters are a perfect size and don't impede you when entering or exiting either, but are big enough to give you comfort and hold you in the seat.
Stereo and ICE (In car entertainment)
The infotainment system in the Passat GTE is excellent. It's very easy to use and has sensors that detect your hand approaching so that the advanced menu appears and you can look through options with ease. You can also use the steering wheel-mounted controls.
The adjustability of settings is also very simple with several sub-menus to operate every minor detail, from the brightness of the interior mood lighting to nine settings for the volume and tone of the parking sensor chime.
Colours and trim
There are two trim levels with the GTE, either a normal GTE or a GTE Advance. It comes in no less than nine colour options too, ranging from standard grey at no extra charge to a special Oryx white for £1,015.
Parking
Despite it being a rather long car, the Passat GTE Advance was surprisingly easy to park. Thanks to a rear-view camera and three others dotted on the sides and front you had a 360-degree view of everything around you. Visibility is also good and the parking sensors themselves are super sensitive to even the smallest object.
If there was one niggle it would be that the rear pillars are quite large, but the cameras really help out with this. Even the tightest parallel space was easy to manoeuvre into.
Spare wheel
The Passat GTE doesn't actually come with a spare wheel. This is due to a lack of space as the battery packs lie where the spare wheel well lies. Instead, you get an air compressor to pump up the tyres and a can of foam to plug punctures.
Range information
Petrol engines: 1.4-litre (123bhp), 1.4-litre (148bhp), 1.8-litre (178bhp), 2.0-litre (217bhp).
Diesel Engines: 1.6-litre (118bhp), 2.0-litre (148bhp), 2.0-litre (187bhp), 2.0-litre (237bhp).
PHEV: 1.4-litre (215bhp).
Transmission options: Six-speed manual, seven-speed automatic. Trim levels: S, SE Business, BlueMotion, GT, R-Line and GTE.
---
Alternative cars
Toyota Prius plug-in  One of the most popular hyrbids, Toyota now offers a plug-in version too.
Mercedes C350e A plug-in hybrid version of the C-Class saloon.
BMW 5 Series iPerformance Saloon A plug-in hybrid variant of the ever-popular 5 Series saloon.
Mitsubishi Outlander PHEV  A plug-in electric hybrid version of Mitsubishi's family SUV.