October 2014
Volkswagen Passat 2.0 TDI 150 DSG GT
Strong lines and sober shapes are Volkswagen hallmarks that the Passat wears well
October 2014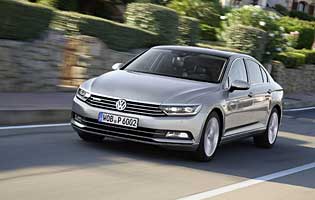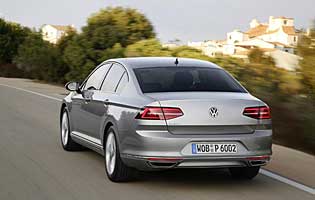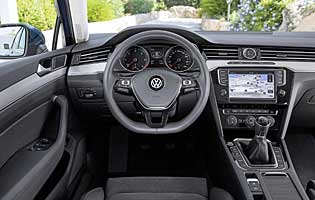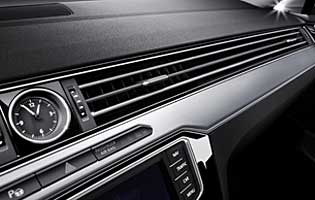 Overall rating

Likes:
Well-designed cabin is practical and easy to live with
Spacious boot and rear passenger areas are very useful
Torque-rich engine and sporty gearbox provide driving fun
Very affordable to buy in comparison with its rivals
Gripes:
Small wheels take some prestige away from the car's overall look
Large dimensions can make tight car parks more difficult
Relatively old-fashioned engine sounds coarse at times
Interior storage solutions could be improved
The Passat has always been a hugely capable all-rounder, whether its duties have been restricted to motorway mileage, carrying the family around town or even both. There is a simple elegance to its silhouette, and a refreshing honesty about the way it drives. The latest generation focuses on moving upmarket, though, where there is stiff competition.
Volkswagen is looking to consolidate the Passat's position in the market and move up towards a more premium point, so instead of competing against the likes of Ford's Mondeo the German firm wants it to be stealing sales from BMW and Mercedes. The development for this all-new model has focused on achieving that level of refinement and quality.
Fewer are sold than people might guess, which has been judged to be because of how the Passat sits between two tiers of the same class of car; too expensive for one tier and not premium enough for the next. Large-scale improvements to noise insulation and ride comfort should address the problem and help the Passat on to greater things.
Stealing a few styling cues from the Golf, the Passat fits into Volkswagen's ethos of premium sensibility. It's a few millimetres shorter and lower, but wholesale changes under the skin now allow a much longer wheelbase, which has created more interior space. The boot remains among the largest of any saloon in the class, and relative practicality is maintained.
For the first time, the Passat is being launched with no petrol engines for UK buyers to choose. Four diesel options have been judged as the best choices for buyers who have tended to ignore the petrol options in previous models anyway. Among the diesels is a brand new 2.0-litre bi-turbo option that replaces the old V6.
Our verdict on the Volkswagen Passat 2.0 TDI 150 DSG GT
Look past the car's visual incremental updates and it's hard not to be impressed by Volkswagen's attention to detail. In its bid to move the Passat family upmarket into premium rival territory, the car offers buyers a plush, refined and convincing ownership experience. The diesel-only decision remains a nod to the Passat's company car status, but should ensure that it remains an economical and affordable choice.
Costs
The diesel-only range is cost-focused, with low emissions creating tax-friendly options for business users. The entry-level 1.6-litre is not much more efficient than the 2.0-litre on paper, and only holds a significant advantage in terms of purchase price. The bi-turbo models, available with GT or R-Line spec only, are a significant amount more expensive than the next-best option, though.
Space and practicality
As a saloon the Passat gives away some practicality to the estate version, but there is still a huge space to use as long as the load in question doesn't exceed the maximum boot height. A family could easily go away for a week using the available luggage room, but smaller items will need to be secured to prevent them rolling or sliding around. The cabin has plenty of storage compartments, although the glove box is not as big as might be expected.
Controls and display
The biggest improvement seems to be the larger media screen, which has higher resolution, better graphics and the latest Volkswagen Group operating system. However, one look at the main dials and it's clear that the main story lies there. Traditional dials have been replaced with a 12.3-inch digital screen, which can display imitation speed and rev counter dials along with a host of other useful info. With 18 buttons on it, some drivers may find the steering wheel overcrowded.
Comfort
As per Passat tradition, the seat padding is quite firm. That, in combination with the lack of extra shaping on the rear bench can make it slightly uncomfortable to some people, but the front two seats are broad and blessed with many modes of adjustment. Legroom is not limousine-plentiful behind an average-height driver, but there is more than enough to seat four adults in comfort, or two parents and three children. Extra cabin width versus the old model helps in this regard.
Car security
Volkswagen includes an alarm, immobiliser and central locking with deadlocks as standard, and its cars are generally regarded as being difficult or impossible to drive away without the correct key.
Car safety
Safety systems pre-empt a crash and tighten the seat belts, among other things, to minimise the risk of serious harm. After a collision the brakes are applied automatically to prevent the car rolling off into other traffic, and Volkswagen also includes a first aid bag and warning triangle as standard. Front Assist includes a low-speed emergency braking function, which can stop the car before it hits a stationary object, or at least mitigate the impact.
Driver appeal
Quietness is this Passat's key strength from the driver's seat. Find a smooth surface and it glides along at steady speeds more quietly than any of its rivals. Its interior hush is such that even gentle acceleration makes the engine noise seem brash and unwelcome. It isn't, but in this context it could use more sound deadening. In corners the Passat displays huge reserves of grip and stays relatively flat. Its ride, however, is not plush enough in any drive selection mode other than Comfort.
Family car appeal
Parents will make up a significant portion of Passat owners, and with good reason. Its spacious passenger area and significant luggage capacity are perfect ingredients for a family car, alongside affordable running costs, ease of servicing and generally good reliability. Most folding pushchairs will disappear into the boot with no problem at all, leaving lots of room for bags of toys, nappies or even for storing a spare child seat.
First car appeal
Few people would try to argue that many first-time car buyers would actually want a Passat even if they could afford one. It's much bigger and harder to manage at low speeds than the typical superminis that learner drivers use to pass their tests. Young drivers might get on well with all the driver assistance technologies like automatic parking and they might appreciate all the space inside it, but even so, it would likely be too expensive.
Quality and image
The Passat has never been a fashion icon, and nor has it ever quite reached the heights of the likes of BMW's 3 Series, Mercedes' C-Class or even its sister company Audi's A4, and for good reason. The A4 already does that job, so the Passat simply has to make do with a notch less luxury and refinement. But despite being hemmed into a predictable corner of the market, the Passat never struggles to win fans. Buyers can be content that they don't need to explain their choice.
Accessibility
With a slightly lower roof and marginally dropped seats, this Passat is technically a fraction more difficult to get into than its predecessor, but in truth the difference is well below the threshold where anyone would notice. Jeans wearers will need to be careful if they specify cream leather upholstery because it can be difficult to slide into position without rubbing your trousers across the seat bolster. In the rear, the sloping roofline requires a ducked head but access is free enough.
Stereo and ICE (In car entertainment)
The Passat's media system operates in exactly the same way as it used to on the previous generation. A button to the side of the main interface screen selects the media sub-menu, or the same result can be reached via the steering wheel-mounted thumb controls. It avoids any new and potentially unintuitive systems, although tracks and albums can be selected through the touch-screen functionality as well, should a user choose to do so. Connectivity options include Bluetooth and USB, while digital radio is standard.
Colours and trim
There is a good selection of sensible colours, including silvers, white, greys and black, but the highlight is a deep wine red that looks especially good in sunlight. It gives the Passat's strict Germanic shape some extra warmth and character. For all the interior upgrades the environment still feels much the same as ever, with simple, unfussy design completed with good quality materials.
Parking
This generation of Passat is wider than the last, making it more of a squeeze getting into bay parking spaces. If its extra girth isn't noticeable when parking, it probably will be when it comes to opening the doors without hitting neighbouring cars or walls. Only the base S model does without parking sensors, but all others get front and rear proximity detectors for peace of mind. An automated parking system and a rear view camera are options.
Spare wheel
Emergency tyre repair kit supplied as standard.
Range information
Diesel engine options - 1.6-litre (108bhp); 2.0-litre (148bhp, 187bhp) 2.0-litre bi-turbo (236bhp). Transmission options: six-speed manual and six- or seven-speed automatic gearboxes depending on model. Trim levels: S, SE, SE Business, GT, R-Line.
Alternative cars
Ford Mondeo Once the default choice for many, the Mondeo is still a worthy option
Toyota Avensis Unusual styling hides a reliable and likeable all-rounder
Vauxhall Insignia Large, comfortable and generally good value means this is a serious contender
Peugeot 508 Stylish option with luxurious high-spec models often discounted