Volkswagen Golf BlueMotion 5dr
Bodykit improves looks still further
February 2010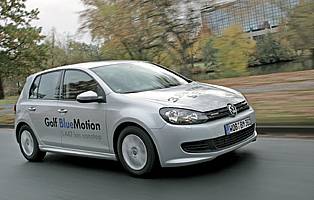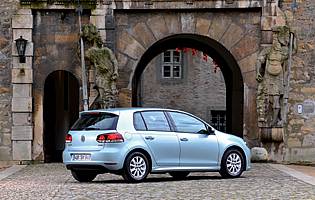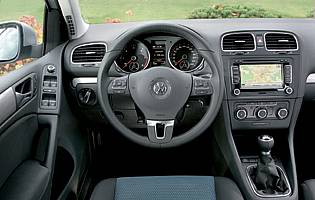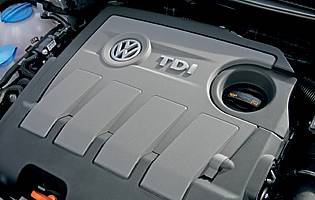 Overall rating

Likes:
Bodykit improves looks still further
Exceptional economy and emissions performance
Sharp handling better than standard car
Little compromise required for improved economy
Gripes:
Stiffer ride may not suit all buyers
Stiffer ride may not suit all buyers Further choice of trim would be welcome
Minimal weight saving from removal of spare wheel
Long gear ratios require careful selection to maintain progress
Following the successful introduction of the sixth generation of Golf, Volkswagen is broadening the range by adding several variants, one of the most important being the BlueMotion. Using numerous fuel saving technologies, the BlueMotion brings even greater savings than the outgoing model and also substantially reduces its carbon footprint.

Now something of an established sub-brand, the BlueMotion tag has been applied to most of the cars in the Volkswagen range, but the sixth generation Golf is the first car to be designed from the outset with a BlueMotion model in mind. As with other BlueMotion models, the Golf is based on the existing 'S' specification car, with a number of technical and equipment additions.

The BlueMotion uses a 1.6-litre TDI unit used elsewhere in the Golf range, and makes efficiency gains through changes elsewhere. Longer gear ratios, lowered sports suspension, low rolling resistance tyres and improved aerodynamics (thanks to an attractive bodykit) all play their part, as does a weight saving by fitting a tyre repair kit instead of a spare wheel.

Under the bonnet the BlueMotion has a stop/start function, stopping the engine automatically when the car is stationary, the gearlever is in neutral and the clutch is released. Pressing the clutch restarts the engine immediately, requiring no extra effort on the part of the driver but improving fuel consumption significantly in city traffic. Regenerative braking also helps to reduce drag on the engine when under power, while a gearshift indicator keeps the driver informed about when to change up or down for maximum efficiency.

Although the Golf BlueMotion commands a reasonable premium over the standard model, this is easily recovered through road tax savings and with reduced fuel consumption. It is also exempt from the London Congestion Charge, which can represent a substantial saving, especially as the Golf BlueMotion is the first Golf to slip under the required 100g/km threshold.


Our verdict on the Volkswagen Golf BlueMotion 5dr
The Golf BlueMotion is a perfect example of how fuel saving technology can be implemented without impacting on the car's practicality, driveablity or fun factor. The BlueMotion is really gaining an image of its own and, thanks to the sportier suspension, it's arguably more fun to drive than the regular car. All this also comes at a modest price premium.