Volkswagen Golf Alltrack 2.0 TDI 184
Cabin has a luxurious atmosphere
May 2015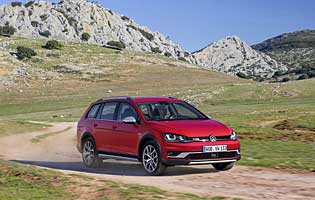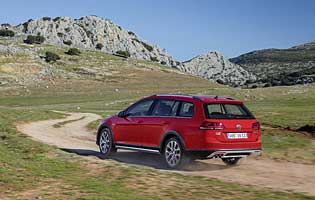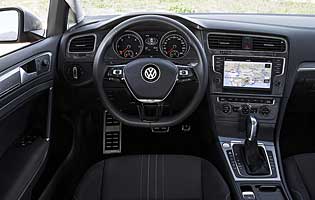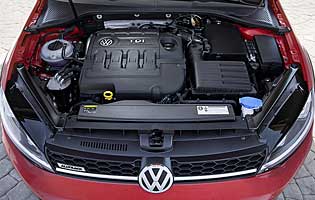 Overall rating

Likes:
Familiar Golf cabin uses premium materials for a luxurious atmosphere
Strong yet frugal diesel engine gives versatility and performance
Genuine off-road ability useful in slippery conditions and when towing
Good value compared to SUV alternatives
Gripes:
Large and attractive alloy wheels could be vulnerable off-road
On-road driving experience lacks engagement
Costs a lot more than other excellent Golf estate models
Some interior materials could be damaged by everyday family life
The Golf Alltrack follows a growing trend for estate cars with light off-road capability. The successes of the Audi Allroad series, the Skoda Scout series and of its own Passat Alltrack has prompted a move to create this; effectively a more premium, higher-riding Golf estate.

The defining feature of the Alltrack is its advanced four-wheel drive system, which, unlike earlier versions of the same setup, can send power to the wheels with more grip even before the other tyres give up traction. This faster-reacting arrangement means that the Alltrack has an impressive everyday ability to overcome slippery getaways.

Of course, the model is defined visually as well. Dark grey plastic wheel arch and side skirt extensions give the recognisable appearance of an off-road capable estate car and follows a pattern established by previous successful cars of this type. The Alltrack also benefits from 20mm of extra ground clearance compared to a standard Golf estate, and electronic differential locks.

It is marketed as a premium model and priced as such, eclipsing the similar but two-wheel drive golf GTD, which also lacks the styling enhancements and rides somewhat lower. It is expected that most will be bought with high-powered diesel engines and DSG twin-clutch automatic gearboxes; a pairing that suits the car's character very well.

Caravan owners may see the Alltrack as a viable alternative to a full-size SUV. The most powerful model is rated to tow loads of up to two tonnes, which when combined with its raised driving position and four-wheel drive could make it a very capable alternative to larger, less wieldy and potentially more expensive cars. It faces close competition, though, from sister cars the Skoda Octavia Scout and the Seat Leon X-Perience.


Our verdict on the Volkswagen Golf Alltrack 2.0 TDI 184
The Alltrack feels almost like any diesel Golf estate when on the road, but its ability to traverse obstacles off-road would leave many drivers surprised. The addition of extra go-anywhere practicality to the estate boot, automatic gearbox and strong diesel engine makes the Golf Alltrack an incredibly versatile option. It's not exciting to drive, but it's extremely capable for everyday use, and even for towing.