May 2014
Volkswagen Golf SV 2.0 TDI 150PS GT
Bolder, more mature styling separates the SV from the old Golf Plus
May 2014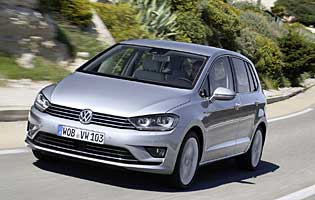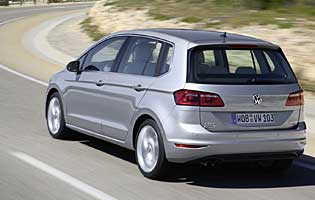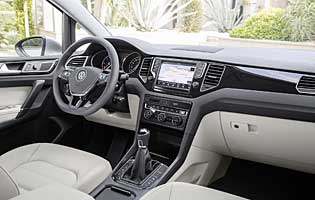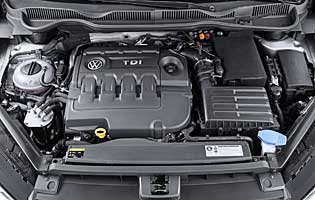 Overall rating

Likes:
Bold exterior styling on high-end models is immediately assertive and mature
Spacious passenger area offers impressive space for all occupants
Stable chassis offers an unruffled ride and composed roadholding
Satellite navigation and interface screen is first-rate
Gripes:
Detached steering does not inspire confidence at higher speeds
High list prices compared to some alternatives
Main boot area is smaller in real terms than quoted figures suggest
Overall looks could be heavily trim dependent
The small MPV market has, in years prior to the release of the Golf SV, taken a bruising from newer model concepts like compact SUVs and crossovers. But Volkswagen isn't content with its Tiguan and has completely renewed what used to be the Golf Plus, turning it into something much more attractive against the competition.
The Golf Plus always had something of an image problem, being seen more or less only as a frumpier, less wieldy Golf designed for people with no interest in cars whatsoever. The Golf SV, whose name is shortened from Sportvan on the Continent, is much easier on the eye and has much broader appeal.
The new car is longer, wider and has wheels pushed further out into the corners to create a better-handling chassis and more interior space. It is built on a development of the Golf's chassis, and benefits from the latest Volkswagen Group engines to bring its emissions and fuel consumption down.
It is lucky for the SV that it's so much better looking than the Golf Plus, because there are myriad desirable compact SUVs and crossovers that are well worth a look. The sharper, bolder look with lovely bodywork detailing helps to make the SV look very premium compared to the rounded, dumpier Plus.
With the Tiguan already in the range and the SV being limited to five seats, the SV has to appeal in a distinct way. If the seating position is a fraction lower than the Tiguan's, it's a better-looking car and offers a lower boot lip for easier luggage loading. It also used a brand new chassis, while the Tiguan sits on old technology.
Our verdict on the Volkswagen Golf SV 2.0 TDI 150PS GT
The Golf SV is immediately more appealing than the Golf Plus on every level bar price. The asking prices have shot skyward and buyers shouldn't expect to net an SV for a bargain rate, but the car has better comfort, build quality and engines with which to justify itself. Its quoted luggage capacity is slightly misleading, but on the whole the SV is very appealing, even against the latest crossovers.
Costs
This high-end model, with the popular options it has been fitted with, reaches a dizzying final recommended retail price that steps very much into premium brand territory. Compared to certain rivals the SV looks extremely expensive and under-equipped, but it should at least hold on to its value well. Road tax is only slightly higher than the Golf hatchback, too.
Space and practicality
While the passenger cell contains many practical features including a good and varied supply of open and covered storage compartments and a modest glove box, the boot is not as big as the figures would have you believe. Volkswagen's quoted 500 litres includes an under-floor compartment that may not always be practical, and the main compartment is more like the regular Golf's. A handy feature is being able to slide the rear seats forward to make more room in the boot.
Controls and display
A set of instruments carried straight over from the Golf will make previous Volkswagen owners feel instantly at ease. They are clear, sharp and easy to read, if a little uninspiring in design. The real benefit comes with an optional upgrade to the sat-nav interface screen, which is an expensive choice but provides a larger, clearer screen and fresher graphics, not that the standard system is especially bad.
Comfort
This is a very comfortable car, for two main reasons. The first is that noise is impressively well damped and whispered conversations remain possible beyond motorway speeds, unless the surface is exceptionally coarse. The second reason is that Volkswagen has spent significant amounts of money developing the suspension to be comfortable without being overly soft. Passengers will find lots of room in all seating positions, too.
Car security
The standard equipment complement consists of an alarm, an immobiliser and remote central locking with deadlocks. Keyless entry is optional. One standout feature is the availability of an optional tracking system, which can be activated in the event of the car being stolen to aid the police in a quick recovery. Dark-tinted glass around the rear of the car helps to block any loose items from general view.
Car safety
Several clever safety features are standard-fit on this car. An automatic post-collision braking system stops the car from rolling onwards after a crash, potentially into other traffic. Even more impressive is PreCrash, which in the event of an unavoidable accident automatically closes the windows and sunroof, leaving a small gap to allow the best possible protection from the airbags. Adaptive Cruise Control, Front Assist collision warning and City Emergency Braking are also standard on this GT model.
Driver appeal
Such is the competence of the engineering under the surface of the Golf SV that it will, if forced, tackle a winding country road with all the vigour you dare to use. There is a seemingly endless supply of grip, and the body rolls much less than soft, under-damped MPVs of old. However, the steering is entirely devoid of feel and feedback, and the more likely source of driving pleasure from this car is its quietness and driver-friendliness.
Family car appeal
The SV has considerably more room across the rear bench seat than the Golf hatchback, which will make a notable difference to families with three young children. There are Isofix child seat mounts on the outer two rear seats, and the front passenger side airbag can be switched off for when carrying a rear-facing child seat. The standard materials feel durable and hard-wearing enough for family life, but the upgraded leathers might be more vulnerable.
First car appeal
Unless a first-time car buyer had passed their test later in life after the arrival of children, it is very unlikely that someone would deliberately opt for the Golf SV as a first motor. It's stylish and easy to drive, but its relative size, price tag and insurance demands would be likely to prevent a young buyer choosing it anyway.
Quality and image
Whereas the Golf Plus never looked to be the premium product that Volkswagen wanted it to be, the SV is very different. Its striking lines, especially in one of the brighter colours, convey a strong image of quality. The brand maintains an image of sturdiness, but it lags behind even its own, cheaper subsidiary Skoda in reliability surveys, perhaps owing to the greater prevalence of new technology on Volkswagens.
Accessibility
There are no tricks or clever bits of engineering here; just five doors that are tall and broad enough to make getting in and out easy. Although the roof line looks quite low thanks to clever styling, it's actually high enough to excuse some people from needing to duck much at all on the way in. The boot load lip is low enough to make most loading duties easy enough, but the tailgate itself can sometimes prove heavy.
Stereo and ICE (In car entertainment)
This model, with its high-resolution media interface screen, has a real advantage over cheaper models in the range when it comes to the stereo. A touch-screen interface is easy and intuitive to use when the car is stationary, and although on the move the bouncing motion of the car does make it more difficult to use, there are audio controls on the steering wheel. Bluetooth and wired inputs are available.
Colours and trim
While it is expected that most buyers will stick to sober colours out of habit, Volkswagen, to its credit, offers the SV in several bright shades that look fantastic on its mature but stylish frame. The metallic orange and red shades are by far the best fit and lift the car even further into premium territory. The interior trim is very familiar Volkswagen fare and offers no real identifying characteristics, but is nonetheless well designed and appealing.
Parking
Visibility is generally good, and parking sensors are standard on this model. More help is available at an extra cost if required. There is a reversing camera to improve the driver's available field of view, and for those who really don't like parking there is a Park Assist system that will parallel-park the SV with only throttle and gear change inputs from the driver. Its extra width over the Golf hatchback does count against it in car parks.
Spare wheel
Space saver spare wheel supplied as standard (except BlueMotion).
Range information
Petrol engine options - 1.2-litre (84bhp, 108bhp); 1.4-litre (123bhp, 148bhp). Diesel engine options - 1.6-litre (89bhp, 108bhp); 2.0-litre (148bhp). Transmission options: five and six-speed manual gearbox depending on model, plus DSG twin-clutch auto gearbox (except sub-100bhp engines). Trim levels: S, BlueMotion, SE, GT.
Alternative cars
Nissan Qashqai The benchmark in this class, the Qashqai is an excellent, if underpowered, all-rounder
Toyota Verso Unassuming styling and faultless reliability underpin good practicality
BMW 2 Series Active Tourer Higher price point but badge appeal and good materials
Suzuki SX4 S-Cross Superb value and lots of standard equipment, but lower interior quality