June 2015
Volkswagen Golf R Estate
From the front, only the subtle 'R' badge denotes the car's range-topping status
June 2015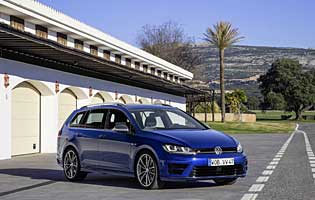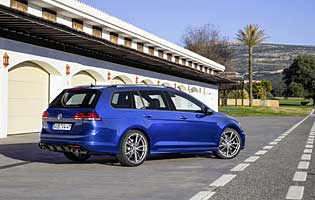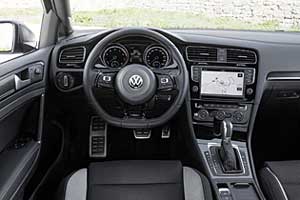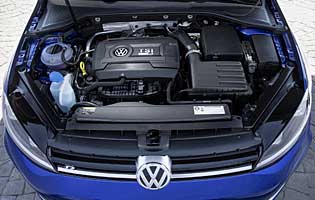 Overall rating

Likes:
Adjustable driving modes create multi-talented sports car
Spacious boot enables serious practicality
Exciting driving manners with unexpectedly aggressive noise
Costs relatively little more than the hatchback
Gripes:
Boot would benefit from load-securing features
Handling balance refuses to bias towards the rear
Fuel economy plummets with enthusiastic driving
Large wheels are vulnerable to kerb damage
With the Golf R hatchback already considered one of the best all-rounders money can buy, adding an estate variant to the range with no penalty in driving dynamics and little extra financial outlay is likely to be popular. The first hot estate in Volkswagen's history is one of its finest cars to date thanks to its breadth of talents.
Estate cars are traditionally seen as the hatchback's boring cousin, built for practicality at the cost of weight and driving fun. More recently there have been a number of style-focused estates based on slightly awkward saloon designs, creating 'Shooting Brake' models that, however stylish, still don't hit the mark dynamically.
The Golf R Estate fits neither of these categories, being every bit as sharp and capable along a winding road as its hatchback cousin and able to match its striking styling with the dynamic prowess it deserves. It creates a car that can be infinitely enjoyable to drive while easily being able to carry large items like washing machines.
Drivers in the UK and Europe have long harboured significant affections for fast, practical estate cars and the four-wheel drive Golf R's sterling reputation among keen drivers and the motoring media means that the estate is practically guaranteed modern classic status.
It is largely identical to the hatchback but with a longer rear overhang and a significant boost to its boot space, from 380 litres to 605. This, along with the continuation of a high roofline right to the tailgate, gives the fastest Golf Estate impressive furniture-moving capabilities while still dispatching the 0-62mph sprint in less than five seconds.
Our verdict on the Volkswagen Golf R Estate
Any car as fast and multi-talented as the Golf R Estate is sure to win fans, among those unable to buy one just as much as among people with the necessary means. This will be called the perfect car for a one-car family where a parent or parents don't want to give up their fun car or cars yet. Few other cars offer so much fun with so practical an outlook for this price.
Costs
The biggest question mark raised over the Golf R Estate is the significant price increase against front-wheel drive alternatives. It will take a determined driver to achieve more than 40mpg on average. That said, driving in such a way would waste the car's key talents so buyers should budget for significantly worse fuel economy. Road tax is very reasonable relative to the car's performance.
Space and practicality
For a relatively small extra financial outlay the estate version of the Golf R adds a great deal of physical space and making room to carry loads that, in the hatchback, would need the rear bench seat to be lowered. The boot could use some form of standard load restraint options, though, because as it stands buyers will be forced to invest in luggage nets or Velcro-based boxes to stop luggage sliding.
Controls and display
This model uses adapted versions of the GTI's main instruments, with slightly different numbering to reflect the R's higher performance. But by and large the control layout and feel is identical to that of any other Golf. It's easy to navigate around, easy to adapt to even if a driver is used to a different system, and depending on specified options some functions can even be left on an automatic setting, like headlights and windscreen wipers.
Comfort
Volkswagen has spent good money on the suspension of the Golf R family and it shows, with decent ride quality the reward even on the large alloy wheel options. It is firm but rarely crashes uncomfortably over bumps, and drivers used to the rocky rides of many cars fitted with 'sports suspension' will find the Golf presents no hardship. The straight-backed rear bench seats could be shaped a little more comfortably, though.
Car security
The alarm features the option to deactivate the interior sensors in case a child or pet is left alone inside for a short period. An immobiliser links the key to the car to prevent so-called 'hot-wiring' theft. To keep prying eyes at bay there is privacy glass all around the rear half of the car; a feature that also reduces the amount of ultraviolet rays that directly hit the rear seat occupants.
Car safety
As well as active safety systems including stability control, the Golf R Estate has features like an electronic locking differential, which helps reduce understeer, and wide, premium tyres that stick extremely well to the road. Along with four-wheel drive these extra qualities makes this car very sure-footed in most weathers. Front, side and curtain airbags are installed to offer protection to all occupants who are adjacent to bodywork.
Driver appeal
The Golf R is not just better to drive than the GTI; it's a completely different experience. Extensive acoustic tuning makes it sound fantastically raucous as it uses its four-wheel drive system to pull hard out of bends and through the gears, via loud exclamations from the four exhausts at each high-rpm up-shift. The automatic DSG gearbox suits a car with this prodigious ground-covering capability, and the only black mark against its strongest area is the handling balance, which refuses to reach beyond neutral and into a slight, but more engaging, rearward bias.
Family car appeal
Mums and dads who want a big boot without sacrificing genuine driving pleasure will love the Golf R Estate. Its extra capacity represents a huge improvement on the hatchback and comes without the loss of any of the driving enjoyment that has turned the R into such a hotly-desired all-rounder. Provision has also been retained for Isofix child seat mounts on the outer rear seats, as well as the potential to install a rear-facing unit on the front passenger seat. However, some bulkier child seats may not fit due to the R's enlarged front seat bolsters.
First car appeal
A sporty Golf is an aspirational car for many young drivers, and this is the king of them all. But while there's a strong emotional pull there, it's not likely that a first-time car buyer would be able to secure insurance, which is sited some 30 or so groups higher than a typical city car. The purchase price is also an obstacle for those without wealthy and generous parents, for example, and in any case it wouldn't be wise to entrust a car with this performance potential to an inexperienced pair of hands.
Quality and image
The R Estate, like its hatchback counterpart, enjoys high esteem from the motoring press and those who have driven it. Only people who've never driven it still openly criticise because they are ignorant of how different it is from the tamer, softer and less exciting GTI version. A pinnacle Golf is a car that never needs to be explained to anyone, which is a huge part of the high-grade Golf 's appeal.
Accessibility
As with most sporty versions of ordinary cars the Golf R Estate sits lower than the car upon which it's based. That inevitably has a small impact on its ease of access for anyone with restricted movement in their knees, and with sports seats as standard there are deeper bolsters to negotiate a way past. Most drivers will not regard these as obstructions, though. The boot is manually operated but opens to reveal a low load lip.
Stereo and ICE (In car entertainment)
Bluetooth connectivity is standard, and owners are likely to want to use it because the media unit containing CD and SD slots is inconveniently hidden out of sight inside the glove box. Selecting media sources and playback options is easy thanks to a dedicated media system shortcut button beside the touch-screen interface, or via the steering wheel-mounted controls. DAB radio is standard along with traditional AM/FM reception.
Colours and trim
A choice of flat white or flat red as the standard options offers some degree of free choice, but black, special white, silver and two blues are also available for varying extra costs. Most Golf Rs are sold in blue and for good reason, with the estate suiting the colour better than any of the alternatives. That said, even this model can only spice the sober Golf lines up so much before reaching a limit. On the inside there are additional R badges to identify the range-topping car's status, but the cabin is identical to the sporty but welcoming hatchback's.
Parking
As a high trim grade the Golf R Estate comes with parking sensors as standard both at the front and the rear of the car. A reversing camera can be added for a very reasonable fee to add an extra dimension of confidence to rearward manoeuvres. Semi-automated parking via Volkswagen's Park Assist technology is not available on this model. Rear visibility is slightly restricted by the rising shoulder line but remains better than other cars of this type.
Spare wheel
Emergency tyre repair kit supplied as standard.
Range information
Petrol engine options - 1.2-litre (84bhp); 1.0-litre (113bhp); 1.4-litre (123bhp, 138bhp); 2.0-litre (296bhp). Diesel engine options - 1.6-litre (89bhp, 108bhp); 2.0-litre (148bhp, 181bhp). Transmission options: five and six-speed manual gearbox depending on model, plus DSG twin-clutch auto gearbox available depending on engine. Trim levels: S, SE BlueMotion, SE, BlueMotion, GT, Alltrack, GTD, R.
Alternative cars
Seat Leon ST Cupra 280 Front-wheel drive alternative is much cheaper and superb to drive
Ford Focus ST Estate Hooligan driving manners in a simpler package with a very well resolved ride
Skoda Octavia vRS Estate The largest boot here with the option to add the Seat Leon's clever differential technology
Mercedes A45 AMG No estate option but ballistic straight-line performance and high interior quality