June 2009
Volkswagen Golf Plus SE 1.4 TSI
Similarity to Golf hatchback will be viewed by many as a good thing
June 2009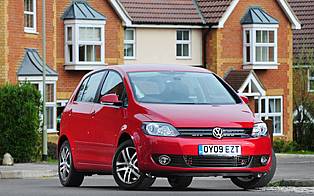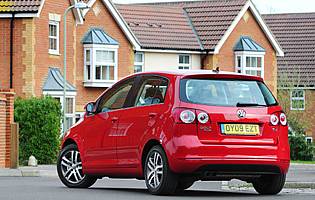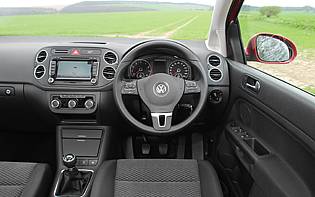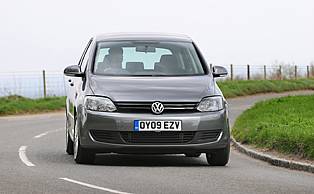 Overall rating

Likes:
Raised driving position enhances forward visibility
Cabin ergonomics up to Volkswagen's usual high standards
Rear seats fold easily to transform load bay and extend the car's carrying capacity
Overall impression of solidity is hard to beat
Gripes:
Slightly firm ride on some variants is noticeable on poorly surfaced urban roads
Raised front seats not the easiest to access if you're less than able bodied
Rear indicator lights difficult to see from some angles
Some hard-looking plastics are visible in the cabin
If you needed proof that you can't have too many cars from a particular maker, the Golf Plus is one of a vast array of models from German firm Volkswagen. A little bigger than a Golf but not as big the Touran, the Plus straddles the line between family hatch and compact people carrier.
When you see a Golf and Golf Plus alongside each other, it's easy to see where the 'Plus' moniker comes from. Offering a little more of everything but mainly size, it's a car that appears to sit uneasily between to already established models, the Golf and larger Touran.
The Touran is Volkswagen's default compact people carrier. So, why have a Golf Plus? Like the differences in size between the cars, the answer is a subtle one. The Touran not a precise tool in the driving department in the same way the Golf is. The bigger, boxy model might be spacious but it won't put a smile on dad's face.
The Golf Plus, on the other hand, is a compromise in the nicest possible way. It borrows all the good bits of the Golf - familiar looks, car-like refinement and driving characteristics - and adds a little more in the way of space and flexibility.
For some this compromise will be a happy one. You get all the good engines from the Golf line-up and the extra space, but without any compromise - the driving characteristics are up there with the regular Golf, for instance. And you also share the Golf's exceptional levels of refinement, build quality and safety provision.
Our verdict on the Volkswagen Golf Plus SE 1.4 TSI
The cynics will point out that there are three closely matched cars in this category: Golf, Golf Plus and Touran. What's forgotten is that, despite the VW badge, the Touran leans towards the utilitarian end of the spectrum, while the Golf lacks the extra space of the Golf Plus - hence the name. It will always be a personal decision, but the Golf Plus is the compromise car of the trio, and a happy one at that.
Costs
Priced competitively and equipped to a good standard, your choice of engine can make a big difference - high mileage drivers should consider the impressive range of diesel engines. Elsewhere, VW's reliability reputation should see you making only scheduled visits to the dealership.
Space and practicality
There's little doubt that the extra space available in the Golf Plus, if only a modest amount, makes a consider difference in the real world. Cabin headroom is good, while rear adult passengers are not sort of legroom. Further back and the car's boot is a good size, which can be expanded by folding the rear seats forward to create a larger, flat load space. Up front there's enough oddment space for all the family's belongings.
Controls and display
Volkswagen has never gone in for flashy, gimmicky controls and displays and the Golf Plus continues this trend. Everything is clear and easy to read or understand, while the audio unit is located high up on the fascia for ease of use. The manual gearshift is short and direct, while the steering offers plenty of weight and accuracy.
Comfort
With its sculptured seats provided a good deal of support, it's hard not to feel comfortable in the Golf Plus. Ample cabin space is another positive factor, although the car's ride isn't quite as supple as the experience of the stereotypical French compact people carrier.
Car security
There are no complaints here thanks to a comprehensive security package. It's what you would expect from a car at this price point; remote central locking and an immobiliser. There are plenty of covered storage places to keep belongings out of sight, also.
Car safety
With enough airbags for both front and rear passengers to feel safe, it's left to the car's comprehensive level of electronic stability aids to complete the safety package. As a general rule the Golf Plus feels stable and secure, while the brakes offer a good balance of power and pedal feel.
Driver appeal
With its Golf underpinnings, the Golf Plus is a stable, refined and enjoyable car to drive. The ride might be on the firm side for some, but this does mean a welcome lack of roll when cornering. Steering feels weighty and accurate, while the engine range is wide and talented. Particular praise must go to the 1.4 TSI family, which underpins a lot of the VW range and delivers ample performance and economy.
Family car appeal
Straddling the conventional hatchback and compact MPV sectors, the Golf Plus offers the best of the former - car-like handling - plus a little more space to boot. Not everyone wants or needs a full-blown people carrier, yet things like a high driving position, expanded load space and flip down rear seat tray tables allow you to cherry pick the best bits.
First car appeal
If family life came before the car, the Golf Plus would make an ideal addition to the household. Safe and predictable handling, a multi adjustable driving position plus good forward visibility and a choice of modestly powerful engines should ensure an easy life for the novice driver.
Quality and image
As a brand, Volkswagen enjoys a large and loyal following. With its practical, well built and sensible offerings, it's no wonder people keep coming back. The Golf Plus cleverly balances family hatch and compact people carrier attributes, which suits families seeking a practical but easy to drive car with few compromises.
Accessibility
With four wide opening doors plus and good-size tailgate, access is never a problem. The raised front seating positions will be fine for able bodied adults but might prove a stretch if you're not.
Stereo and ICE (In car entertainment)
The standard offering in the Golf Plus is an easy to use combined radio and CD unit mounted high up on the fascia. The LCD display can be hard to see in direct sunlight, although ordinarily it's easy to navigate through the various menus. An optional colour touchscreen sat-nav unit complete with music storage and Bluetooth phone function is available and is both intuitive and useful.
Colours and trim
Being one of the more sensible Volkswagen offerings, the Golf Plus looks best in darker colours. This also does much to flatter the car, as it's not the most adventurously styled. Inside, it's the usual sombre VW affair with plenty of dark plastic and upholstery.
Parking
The Golf Plus isn't a large car and the lofty driving position helps when parking. The car's light but accurate steering contributes to this, and where fitted the parking sensors prove accurate and trustworthy. Again, where fitted, VW's self parking function works well and proves to be more than just a gimmick. Once activated, drive past a space and, if the car's systems are happy, engage reverse and let the car steer while you modulate the throttle.
Spare wheel
Conventional spare wheel fitted as standard.
Range information
Petrol engine options - 1.4-litre (80bhp); 1.4-litre (122). Diesel engine options - 1.6-litre (90, 105bhp); 2.0-litre (110, 140bhp. Transmission options: five and six--speed manual gearboxes, six-and seven-speed DSG twin clutch automatic gearboxes depending on the engine chosen. Trim levels: S, SE.
Alternative cars
Ford C-Max Direct rival to the VW - keen drivers will prefer it to the Golf Plus
Toyota Verso Well built and refined alternative but lacks driver appeal
Skoda Roomster Lower cost choice boasts a spacious and versatile cabin
Citroen C4 Picasso Conventional compact MPV delivers space and refinement but not for the driver