July 2008
Volkswagen Golf Plus Bluemotion
Exterior revisions to the Golf Plus Bluemotion are subtle
July 2008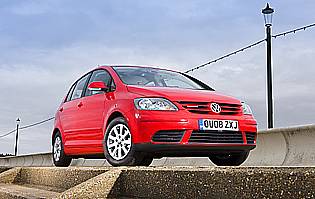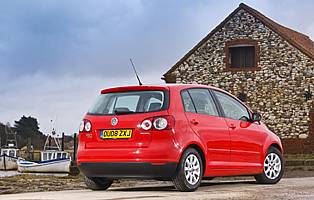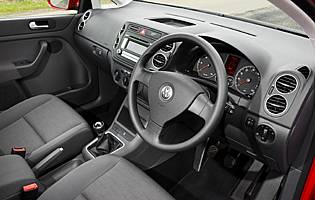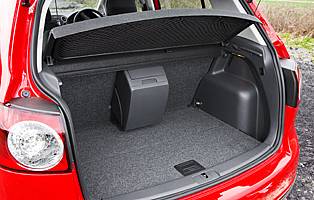 Overall rating

Likes:
Plenty of interior storage space
Looks not compromised by green leanings
Good driving position and visibility
Engine can be frugal and swift in equal measure
Gripes:
Long ratios make gear choice crucial
Driving experience considerably less enjoyable than regular Golf
Diesel particulate filter suffers from short journeys
Eco tyres noticeably under-perform in the wet
After starting with the congestion charge beating Polo model, Volkswagen has now extended its Bluemotion fuel efficiency package to various models in its extensive range, including the Golf Plus. The slightly larger version of the popular hatchback benefits from body, engine and transmission tweaks in the quest for greater efficiency.
By shedding unnecessary weight, maximising aerodynamic efficiency and adding some low rolling resistance tyres, Volkswagen has managed to considerably raise the mpg figures for its Golf Plus family hatchback model. The Bluemotion badge indicates the model's status as the most fuel efficient in the Golf Plus range.
It's not exactly that simple, however. Revisions have also been made to the 1.9-litre diesel unit to help reduce consumption. The engine is available elsewhere in the range, but tweaks including a revised engine management system with lower idling speed make the Bluemotion's engine more fuel efficient. A diesel particulate filter helps ensure the few remaining emissions are less harmful, too. The gear ratios have also been adjusted, with third, fourth and fifth lengthened to reduce engine speed while cruising. More obvious are the suspension revisions that mean the model sits lowers, creating less of a target for wind.
Key to the success of the Bluemotion range is the ability to increase efficiency without making too many sacrifices, an ethos continued in the Golf Plus. Available in a single trim level based on the popular Luna variant, the Bluemotion still features enough mod-cons to make it a comfortable every day family car. Air-con, electric windows and even auto lights and wipers are present.
It drives much like a normal car too. Drivers will notice the longer gear ratios, may feel a slight difference in the wet performance of the low rolling resistance tyres and will spot the gear change indicator incorporated into trip computer. From the passenger seats, the Golf Plus experience will remain largely unchanged, with the exception of a slightly firmer ride from the lowered suspension.
Our verdict on the Volkswagen Golf Plus Bluemotion
Already featuring a sensibly frugal line-up of engines, the Bluemotion variant adds a welcome extra dimension to the Golf Plus range. Performance is not unduly strangled by the quest for greater economy, meaning Golf Plus Bluemotion drivers can experience the benefits of the improvements with little in the way of sacrifice. It's not the most exciting of vehicles, but is an admirably competent and worthy one.
Costs
The Golf Plus Bluemotion's key feature is its environmentally friendly fuel economy, which translates into cheaper running costs. Driven sensibly, it's possible to achieve the high mpg figures quoted, but the diesel particulate filter does not care for frequent short journeys, which cause it to coke up and hamper efficiency until cleared by a long run. Insurance premiums should be low.
Space and practicality
The Golf Plus is designed to offer a roomier interior than the standard hatchback, something it does with a good deal of success. Despite not feeling much larger from the driver seat, the interior is noticeably roomier, particularly in terms of headroom. The extra space translates into increased practicality, with the body being able to carry a large amount with the seats folded flat. A row of fold down trays in the roof proves extremely useful for storing small items and the door pockets and glovebox are a good size.
Controls and display
Clear and concise, the Golf Plus packs a good deal of information into its well laid out instrument binnacle, including a shift indicator to inform the driver of the most economical gear choice for the speed and load conditions. A trip computer helps keep tabs on the vital statistics, and there's no overload of knobs and switches in the centre console thanks to a traditional three-dial climate control design and neatly incorporated sound system. The steering, pedals and gearshift are all slick in there operation, if a little lifeless.
Comfort
With air conditioning and automatic lights and wipers it would be harsh to call the Golf Plus Bluemotion 'no frills', but it fails to portray a luxurious image. It is, however, comfortable, refined and relaxing to travel in, particularly on the motorway where the sometimes clattery diesel engine settles down and the aerodynamic exterior and low rolling resistance tyres produce little wind or road noise. The rear seat backrests can be adjusted and the rear row can be moved back or forward for additional legroom or bootspace.
Car security
Naturally, there's an engine immobiliser to keep the model secure and remote central locking. Copious covered internal storage will help keep valuables out of sight, too.
Car safety
ESP is standard on the Golf Plus Bluemotion and ABS plus hydraulic brake assist add an extra dimension to safety. Front passengers are protected by front and side airbags, while rear occupants also get a curtain airbag system to protect them. Active head restraints are also built in, as are hazard lights that automatically activate under emergency braking.
Driver appeal
Despite its sportier suspension and low ride height, the Golf Plus Bluemotion is not a particularly involving car to drive. The handling is predictable and secure but not lively, with little feedback from the steering. The diesel engine is a good performer, with progress swift in the power band, but the long middle gear ratios mean it can run out of steam uphill. The real appeal is to be found in trying to squeeze as many miles per gallon out of the frugal performer as possible. The low rolling resistance tyres feel less capable at wet cornering than a stickier variety, however.
Family car appeal
The Golf Plus is an ideal family car thanks to its spaciousness, practicality and impressive fuel consumption. Capable of comfortably seating five, older children will find there's plenty of room in the rear. The hardwearing interior should deal with the trials and tribulations of family life well.
First car appeal
Unless they have a particular need for the additional room, first car buyers will probably be more interested in the Golf model than the Golf Plus. If it is the green credentials of the Bluemotion variant that appeal, then it's worth considering that Bluemotion versions of the Golf and even smaller Polo are available and possibly more suited to a first time buyer's budget.
Quality and image
Volkswagen's build quality is extremely good and the Golf Plus feels very solidly put together. The lowered ride height and stiffened suspension of the Bluemotion model would certainly show up any build quality issues. Fit and finish is very good, although some of the interior plastics are not of the highest quality. The Golf Plus isn't a model with a huge amount of kerb appeal, but the Bluemotion carries more favour than most thanks to its green credentials.
Accessibility
The Golf Plus features five good-size doors, making access easy. The seats are positioned at a comfortable height and the sills are low, while the doors open wide enough to allow trouble free entry. The boot door is large enough to make loading large boxes hassle-free, too.
Stereo and ICE (In car entertainment)
The MP3 compatible single slot CD player and radio are standard fare, but the Bluemotion only boasts four speakers, which seems a little stingy although sound quality doesn't appear to suffer a great deal. The system is neatly incorporated into the dash with large, backlit buttons that are simple to use.
Colours and trim
A full pallet of eight exterior colours is available for the Golf Plus Bluemotion. The choices are quite subdued, mostly variations on dark blue, black and silver, although they do suit the model's streamlined body. Standard interior trim is striped cloth in a grey that matches the dark plastics of the dash board and dark carpets. The light grey headlining brightens up the interior and outside, body coloured mirrors and bumpers plus alloy wheels keep the fuel efficient model looking stylish.
Parking
Despite its name, the Golf Plus doesn't feel any larger than a regular hatchback to drive and that helps when it comes to parking. Easily manoeuvred and with a reasonably tight turning circle it can slot into a standard parking bay with ease. Visibility is good thanks to a slightly raised driving position and there are minimal obstructions to the rear.
Spare wheel
Space saver fitted as standard.
Range information
Petrol engine options - 1.4-litre (79bhp); 1.4-litre (120bhp); 1.4-litre (158bhp). Diesel engine options - 1.9-litre (89bhp); 1.9-litre (103bhp); 2.0-litre (138bhp). Transmission options: five-speed manual gearbox, six-speed DSG twin clutch automatic, seven-speed DSG twin clutch automatic. Trim levels: Luna, SE, Sport, Dune, Bluemotion.
Alternative cars
Ford C-Max Stylish mini-MPV with respectable economy from 1.6 TDCi
Citroen C4 Picasso 1.6HDi is the most frugal option
Toyota Verso 2.2 D4D offers great performance and decent mpg
Fiat Multipla 1.9 Mulitijet is the most economical choice