March 2012
Volkswagen Golf GTI Edition 35
The sleek, aggressive bumper styling is unique to the GTI Edition 35
March 2012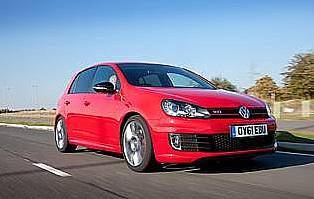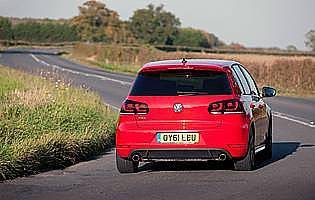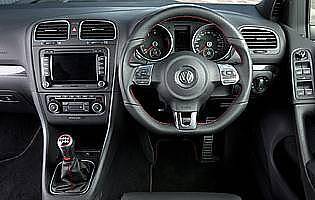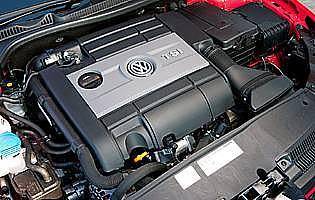 Overall rating

Likes:
Model-specific '35' detailing gives special identity
Extra engine performance noticeable above 5,000rpm
Leather-covered and red-stitched contact points look fantastic
Retains standard Golf practicality for luggage and passengers
Gripes:
Missing various items of kit that should be standard for the price
Large interior areas covered with hard plastics
Engine noise could be made more characterful
Sixth gear could be taller for quieter, more economical cruising
Volkswagen likes to celebrate the milestones the Golf reaches, and just like it released an Edition 30 in 2006, the 30th birthday of the Golf GTI, late 2011 saw the arrival of an Edition 35. It combines parts from the ordinary GTI and the range-topping Golf R to form a step between the two, with the benefit of increased exclusivity.
Although the Edition 35 is indeed a step up from the GTI, using a detuned version of the engine from the Golf R instead of the standard GTI unit, its overall power output and intended audience are closer to those of the ordinary GTI. It's distinguished visually by '35' logos dotted around the car inside and out.
The interior is slightly more upmarket than the GTI's as standard, and there are one or two improvements in specification. It's not an especially well equipped car, though, and considering its premium it seems rather expensive as a result. It has 235 horsepower, mimicking the Edition 30's 230 five years previously and linking to the particular anniversary.
There isn't really anything new or revolutionary about the Edition 35; it's more that it builds on the GTI's specification and adds more that's intangible than is written on the spec sheet. Slightly revised bumpers, its own wheel design and the '35' detailing reminds owners that it's a little more special than just an ordinary GTI.
The Edition 35 is positioned cleverly in the marketplace, as the spiritual successor to the successful Edition 30, a step up from the standard GTI and borrowing the engine from the R. It draws on the successes and kudos of these three other models to create an image superior to any it might otherwise have had.
Our verdict on the Volkswagen Golf GTI Edition 35
Following in the tradition of building a Golf for as many different kinds of people as possible, the Edition 35 targets a niche left otherwise untapped. It also never feels like marketing overkill, it being five years since the Edition 30. While its driving characteristics remain for the most part unchanged from the car on which it's based, the ownership experience is that bit more satisfying.
Costs
This is not the cheapest Golf to run, with a turbocharged petrol engine and claimed fuel economy figures that might prove difficult to match in the real world. Road tax is expensive but not too much so for the performance on offer, while the best news lies in residual values. The GTI is a desirable car and the more exclusive Edition 35 even more so, so high residual values are guaranteed at the end of any ownership term.
Space and practicality
There's plenty of rear legroom and a good-size boot, albeit with a high load lip that can make loading and unloading heavy bags more difficult than it could be. A handy adjustable cup holder in the centre console is a neat touch, while occupant space is also good.
Controls and display
The instrument cluster is very attractive in this model, with stylish red and white illumination. It's also very clear and overall is just about perfect. The simple standard digital screen showing music information is more functional than stylish, but the interior ambiance is lifted by the optional sat-nav package with its 6.5-inch colour screen. Navigation is clear and precise, with detailed maps and a very useful database of points of interest.
Comfort
Comfort levels for all occupants are very good for the type of car, but depend on the tyres and wheels installed. The standard 18-inch wheels offer more comfort than the optional 19-inch ones, while 17-inch options as part of Volkswagen's winter tyre programme are even more pliant. Electrically adjustable lumbar support is standard in the front seats, which helps make the Edition 35 comfortable over long distances.
Car security
Thanks to a very clever alarm and immobiliser system, vehicle security experts Thatcham rate the Edition 35 as five out of five for prevention of theft of the car. On top of that, this model has very dark security glass behind the front doors and at the rear, which helps keep prying eyes out. The alarm also has interior sensors that will detect movement if a window is smashed.
Car safety
Among the special safety systems employed by the Edition 35 are ESP stability control, an electronic differential lock and traction control for when the power overwhelms the front wheels. The XDS electronic differential lock is meant to function like a mechanical limited-slip differential, but doesn't function especially well. There are plenty of airbags including curtain airbags for rear passengers, and active head restraints do the job of preventing whiplash injuries.
Driver appeal
The driving appeal of the Edition 35 is undoubtedly higher than that of the standard GTI, boasting more power and noticeably more performance in the upper reaches of the rev range. It's also still very easy to drive, having a broad spread of torque and a tractable character even from very low engine revs. It handles with stability in most conditions, although its XDS electronic limited-slip differential doesn't work as effectively as a mechanical one.
Family car appeal
The Golf is a very popular family car and the GTI Edition 35 is an ordinary Golf at heart. It has Isofix child seat mounts, a five-door option and superb versatility. By contemporary standards it's not the biggest family car, though, and if there's a need to carry pushchairs or large accessories, a bigger boot might be needed. Some of the more expensive interior materials would be the worse for extended contact with young children, but others are more utilitarian.
First car appeal
Even though it's far more powerful than a typical first car, the Edition 35 is still very easy to drive. Nonetheless, the performance potential on offer would likely be too much for new drivers to handle safely, and since the car is in a very high insurance group it's unlikely that drivers with so little experience would be able to obtain a quote at all. The purchase price is also prohibitive for first-time buyers.
Quality and image
Volkswagen has done well in recent times to separate itself from the other mainstream car brands with a more premium image. The Golf is viewed as a higher-quality option than other rival cars, and the GTI is iconic; a car that doesn't need to be explained to anyone. The Edition 35 is even more special and, thanks to the extra badging and wheels, more outwardly noticeable. It's built very solidly, too, with no rattles or creaks.
Accessibility
The Edition 35 comes in three- and five-door bodystyles, and although the five-door is clearly the better option for outright accessibility, thanks to long doors it's easy enough to get into the back of the three-door. Those long doors do make the three-door much more difficult to park in tight spaces, however. Boot access is the same on both cars, with a relatively large load lip sometimes getting in the way of loading and unloading heavy bags.
Stereo and ICE (In car entertainment)
As standard the stereo controls are taken care of by traditional buttons and dials, which work well and intuitively. Upgrading to the touch-screen satellite navigation system on offer migrates some of the functionality to within the device, leaving only some main menu options as buttons. The split can be confusing at first but is relatively quick to get used to. There is plenty of adjustment on offer to tailor sound output to different preferences.
Colours and trim
One of the GTI's main attractions since the fifth generation model, which arrived in 2005, is its classless looks. The Edition 35 is of the sixth incarnation, arguably the best-looking yet in the car's traditional white, red or black paint. Inside, the red stitching on the steering wheel, gear stick and handbrake looks fantastic, and the only let-downs come in the unexpected hard textured plastics on the doors and lower dashboard.
Parking
The Edition 35 has no standard parking aids, so drivers need to be confident they can judge their manoeuvres without them. They are a popular addition, though, and when specified at both the front and rear provide a useful optical on-screen display of how close objects are. Three-door versions are harder to park effectively in bay spaces because of their longer doors, which make it harder to open them wide enough to get in and out.
Spare wheel
Space saver fitted as standard.
Range information
Petrol engine options - 1.2-litre (84bhp, 104bhp); 1.4-litre (120bhp, 158bhp); 2.0-litre (207bhp, 232bhp, 266bhp). Diesel engine options - 1.6-litre (89bhp, 104bhp); 2.0-litre (138bhp, 168bhp). Transmission options: five and six-speed manual gearbox depending on model, plus DSG twin-clutch auto gearbox option on some models. Trim levels: S, Match, Bluemotion, GT, GTD, GTI, GTI Edition 35, R.
Alternative cars
Renaultsport Megane 250 The driver's choice in the segment, but lacks interior class
Ford Focus ST An excellent drive, characterful and looks fantastic
Vauxhall Astra VXR Famed for being a handful but lacks the Golf's classlessness
Audi S3 A little more expensive but has more power and prestige