July 2015
Volkswagen Golf GTI 2.0T 200PS 5-dr
Fifth generation GTI is an impressive good all-rounder
January 2005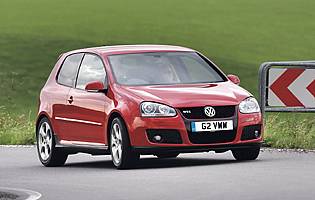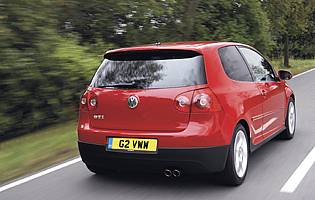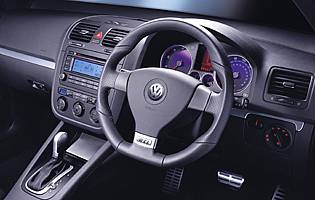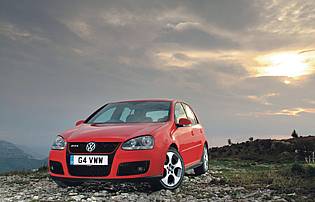 Overall rating

Likes:
Impressive all-rounder; refined but also rapid
High levels of VW build quality evident everywhere
Powerful engine emits a suitably fruity exhaust note
Hatchback versatility makes the GTI a great family car
Gripes:
'Pressing on' will reveal the engine's considerable thirst
Base price isn't cheap, pushing the GTI above some key rivals
The front seats, while supportive, might prove too narrow for some
Although fun to drive, keen pilots will notice the lack of feedback from the steering and brakes
The Golf GTI is an important car for Volkswagen. It kick-started the hot hatch sector, and set the tone for a considerable length of time. Complacency followed success however, and recent GTI generations lacked the sparkle of the iconic Mk1. The Mk5, complete with powerful turbocharged petrol engine and distinctive styling, has been tasked with reclaiming the ground lost to its rivals.
Ever since the first car's launch in the late 1970s, the Golf GTI has been held up as the benchmark in the hot hatch sector. But while this was the case early in the car's career, the most recent variants failed to live up to their ancestor's abilities.
With increased competition from within the Volkswagen Audi Group (VAG) and from external rivals, the Golf GTI was in danger of being left behind. This Mk5 variant is VW's attempt at clawing back some of the ground it lost to the likes of Honda's Civic Type-R, the Seat Leon Cupra R and even the Mini Cooper S.
Key to establishing the GTI once again as a force to be reckoned with was VW's decision to focus on driver enjoyment. As such, the car comes with a potent 197bhp turbo petrol motor. This new direct injection FSI unit is common to many VAG cars, but only a few get the turbo variant.
Along with more aggressive styling, the GTI's ride and handling has been improved to deliver a more exciting experience. The results are, on the whole, successful. Hardcore fans will still bemoan the lack of an 'edge' to the GTI's behavior, but for the rest of us the car is sufficiently quick to make you concentrate hard, and changes direction with plenty of enthusiasm. That it is also a practical hatchback car is merely a bonus.
Our verdict on the Volkswagen Golf GTI 2.0T 200PS 5-dr
Anyone expecting a raucous, rough-edged, boy racer-style performance from the Mk5 Golf GTI will be disappointed. Don't despair though, because this Golf is an impressive all-rounder. One minute you can be trundling around town, the next you can be racing up through the gears on your favorite back road. All this ensures that the GTI's appeal is broad, but not at the expense of driver involvement.
Costs
Depending on your point of view, the Golf GTI is either good value for money or overpriced. It's true that you can get more performance for less money, but if you view the Golf as more of a rapid all-rounder it makes sense. Factor in VW's above par build quality, positive image and sound residuals and the asking price is not so bad. The only downside - especially for young drivers - will be the inevitable but high insurance costs. And while the GTI's on-paper fuel economy is commendable, drive it hard and you'll be making frequent stops for the recommended diet of super unleaded.
Space and practicality
Anyone serious about space will probably be considering a compact people carrier. It's worth noting, however, that the Golf is more than up to the task of transporting a family or making trips to the DIY store. Visibly bigger than its predecessor, there's enough head, leg and shoulder room to satisfy most people. Granted, there's nowhere near the same number of cubbyholes in the Golf as in an MPV, but the VW's glovebox and door pockets still prove useful for drinks, maps and mobile phones. As you'd expect, the car's rear seat splits and folds to liberate more boot space.
Controls and display
In recent years VW has built up a deserved reputation for building cars boasting clear, well laid out cabins and controls. The Mk5 Golf's instruments are exactly as you'd expect - easy to use and all in sensible locations. Welcome improvements over previous Golfs include the switch from fiddly buttons to large, chunky ventilation dials and an oversize stereo display. Not so good is the average tactile feeling of certain switchgear such as the column stalks and the numb throttle and brake pedals. At least with the GTI an effort has been made to jazz up the cabin, with the inclusion of a sports steering wheel complete with a racecar-style flat bottom.
Comfort
For a car with such overt sporting pretensions, the Golf GTI copes well with poorly surfaced urban roads. Occupants will be treated to a noticeably firm ride, but not so much so that a journey will prove uncomfortable. The car's front seats are heavily bolstered to provide extra lateral support, which does mean that anyone wider than average might find them a little restrictive on long trips. That said, for everyone else they do a fine job and the driving position offers a wide range of adjustments. And unless you're using all the engine's potential, noise levels are pleasingly low.
Car security
A car like the Golf GTI will always attract attention, although it won't necessarily be the right kind. This car is, thankfully, equipped with the usual array of security measures, such as remote central locking, a security coded stereo, immobiliser and alarm. The standard-fit alloy wheels come with locking bolts as an extra precaution.
Car safety
The GTI is no different from other high-spec Golfs as it comes equipped with a generous level of safety kit. Twin front, side and curtain airbags are standard, along with Isofix mounting points for the outer rear seats. Electronic safety aids run to the usual ABS and ESP. In the Golf's case ESP is merely an umbrella term for a number of systems such as traction control and electronic brakeforce distribution. Although optional, the more powerful xenon headlamps are a worthwhile addition.
Driver appeal
Unlike most other Golf variants, the GTI is all about the driving experience. The past two generations failed to live up to buyer expectations, but this Mk5 model is much closer to the original GTI ethos. Easy to pilot quickly, this hot Golf engages the driver more in the experience than the previous iteration and should please the enthusiasts. Grip is also good, which is all the more impressive as almost 200bhp is channeled through the front wheels. And, crucially, when you're not in a hurry, this Golf is a pleasingly docile beast.
Family car appeal
The fundamental hatchback concept has served the Golf well over the years, and the Mk5 continues the trend. Although the GTI - like so many Golf variants - is available in three-door form, it's the five door that will prove the most versatile if you're buying with a family in mind. The model range also boasts a split-fold rear seat, sufficient space fore and aft to accommodate most people and a decent size boot. Cabin storage space isn't, predictably, on a par with compact people carriers, but there's always VW's (slower) Touran.
First car appeal
Despite the Golf's practical and family orientated aspirations, the GTI variant is possibly not the best introduction to the range. Novice drivers will likely be priced out on in insurance terms, but if any do have deep pockets the car's abilities could prove intimidating.
Quality and image
The Golf is no longer just a VW model but an important brand in its own right. Recent years have seen the car being pitched more towards the premium end of its sector, and it's now viewed by many as a credible alternative to entry-level BMWs, Audis and the like. The GTI variant adds a new dimension to the analysis. From its origins as a gritty, involving hot hatch, recent generations softened and lost their performance way. The Mk5 attempts to redeem the GTI brand's once iconic status, through a serious of driver-focused improvements to the basic model and more aggressive styling.
Accessibility
In basic terms the Golf is an easy car to live with. Access and egress is straightforward thanks to wide opening doors. Of course, the three-door variant is better for front seat occupants but anyone aiming for the rear seats will need to be reasonably agile in order to slide past the folded front seat. Overall, access is good and this is further illustrated at the rear. The car's loadspace includes a low loading lip and an easy to manhandle tailgate.
Stereo and ICE (In car entertainment)
Being the flagship Golf model, the GTI comes with a quality sound system as standard. The ten-speaker radio-CD unit can be upgraded with the inclusion of an armrest-located CD changer for a small premium. The other option is a colour screen sat-nav system. Although it's based on a CD rather than a faster DVD map, the unit's display is clear and easy to read and use. Alas you'll also have to pay extra for a multifunction steering wheel if you want audio controls immediately to hand.
Colours and trim
Of the exterior colours available for the Golf GTI, red has to be the most appealing. It also does a fine job of complimenting the GTI's restyled nose - complete with black radiator grille. For anyone wanting to cut a more discrete dash, black works well. Inside, the cabin layout will be familiar to all Golf fans, but with the GTI you get sports seats and a few extra subtle touches. The seats themselves are trimmed in a fabric reminiscent of the original GTI, and do a good job of lifting the otherwise dark ambience.
Parking
Boasting a slightly loftier driving position than its predecessor, despite the inclusion of sports seats, low sped maneuvering and parking proves to be an easy task. Helping out is a power steering system that increases assistance as your speed drops. However, the car's thick windscreen pillars can obscure your peripheral vision. Rear parking sensors are offered as a cost option.
Spare wheel
Space saver fitted as standard.
Range information
Petrol engines - 1.4 (73bhp); 1.4 FSI (88bhp); 1.6 FSI (113bhp); 2.0 GT FSI (147bhp); 2.0-litre FSI-T (197bhp). Diesel - 2.0 SDI (73bhp); 1.9 TDI (103bhp); 2.0 GT TDI (138bhp). Five and six-speed manual gearboxes come as standard across the range, with six-speed automatics offered on the 1.6 and 2.0-litre FSI models. The GTI can also be had with the firm's DSG (direct shift gearbox) auto a cost option.
Alternative cars
Seat Leon Cupra R Getting on a bit but rapid and good value for money
Renault Megane Renaultsport 225 Interesting looks, blistering pace but lacks feedback
Honda Civic Type R Three door only and requires serious commitment when traveling at speed
Alfa Romeo 147 GTA Stylish Alfa is not short of grunt but the delivery is a little rough