July 2015
Volkswagen Golf GTD Estate
ubtle grille badge and aggressive lower bumper identify the GTD
July 2015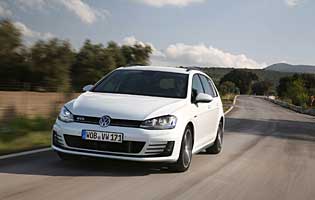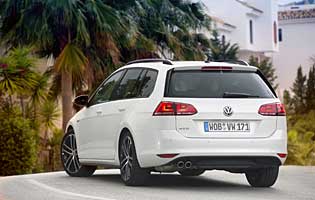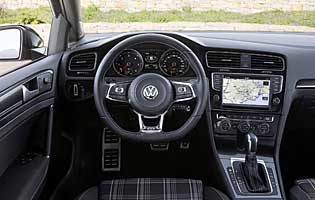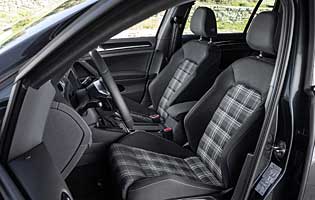 Overall rating

Likes:
Higher luggage-carrying capacity adds real practicality
Engaging driving experience puts most diesel estates to shame
Comfortable seats give all-day cruising ability
High desirability guarantees strong resale values
Gripes:
High purchase price compared to chief rival car
Lacks outright excitement versus petrol hot hatchbacks
Firm suspension can spoil ride quality on harsh surfaces
Cabin is perhaps a little too understated
The Golf GTD is regarded by many people as the best everyday Golf hatchback, so adding a significant extra amount of boot space can only be a good thing for its reputation as a sublime all-rounder. It shares the same cabin and the same running gear as the hatchback; the only difference is an extra 225 litres of space above the rear axle.
Volkswagen has really engaged with the premium Golf estate idea, unveiling bigger-booted versions of both the GTD and the R models alongside a new, higher-riding estate variant called the Alltrack. All three are flagship estates but where the Alltrack is for those looking for rugged style and off-road capability, and the R is for performance enthusiasts, the GTD is the everyman's sporty Golf.
It is separated from ordinary Golf estates not just by its powerful 2.0-litre diesel engine but by the inclusion of GTI-style trim features like tartan seat trim and a gear knob shaped like a golf ball. There is GTD-specific exhaust noise tuning as well, which makes the car sound very unlike a diesel and much more enjoyable on a fast drive.
The GTD Estate should also record good fuel economy while transporting the family and their luggage, thanks in part to advanced aerodynamic measures that lower drag. Being able to pull off the trick of balancing huge load capacity, traffic-decimating overtakes and fuel-sipping frugality makes this model singularly appealing.
There is also no perceptible difference or handicap in the way the estate version drives when compared to the hatchback. It is every bit as happy being driven hard along a twisting road, and it would even hold its own on a track day if an owner really wanted to try it. The fact that this version costs so relatively little extra makes it very tempting.
Our verdict on the Volkswagen Golf GTD Estate
There is almost nothing that the Golf GTD doesn't do well. It drives with precision and unexpected dynamism, sounds good when revved hard and can transport a chest of drawers home while the kids are in the car. Its only drawback is its purchase price, but strong residual values should ensure affordable finance deals. Many people will see it as the perfect everyday car.
Costs
The fee to upgrade from hatchback to estate is relatively modest for the extra space and, arguably, style it provides. The GTD can also be very efficient with fuel, too, when driven gently, and even when used aggressively it should still record acceptable figures. The purchase price is high but strong residual values should keep monthly finance payments down. Road tax is cheap for the level of performance on offer.
Space and practicality
Upping boot space by 225 litres makes a huge difference to the Golf's carrying potential, raising load volume to 605 litres below the sliding luggage cover. Within that boot is an easily adjustable boot floor, a sub-floor space to store the luggage cover when not needed and remote releases for the 60:40 split rear seats. They don't quite fold flat, but they come closer to it than some rivals'.
Controls and display
Volkswagen designs some of the best dials and instrument displays of any manufacturer. Well-damped control stalks join robust-feeling buttons and sensible but stylish readouts. This is a cabin that is never confusing, unless perhaps when it comes to delving into the many computer menus and sub-menus that are offered. The pedals are weighted similarly, which is great for drivers wanting to use the GTD's performance.
Comfort
Supportive tartan seats are a Golf GTI staple, so they feel familiar from the start. They don't look very supportive but prove to be more than adequate on the road. Like its hatchback brother the GTD estate runs on lower, firmer suspension than regular Golfs, but Volkswagen has spent sufficient money on making sure that the damping is progressive rather than harsh. Passengers will find no extra room in the estate, but the Golf's cabin is generally big enough for adult passengers.
Car security
This model is so subtle that it's tough to tell it apart from other well-specified Golfs, which does put some potential buyers off but means that it shouldn't attract any special amount of attention when parked publicly. An alarm and immobiliser are standard, but while the Golfs R and GTI are at the top of the Volkswagen thief's list, the GTD will also be a target to those criminals who know what to look for.
Car safety
Like any high-end Golf the GTD Estate runs on wide, premium tyres that provide first-rate grip for braking and cornering in wet and dry conditions. Stability control integrates many sub-systems that actively monitor the behaviour of each wheel, correcting what the computer brain sees as aberrations in the car's handling, for example in an unexpected slide caused by a patch of black ice.
Driver appeal
The GTD is a surprisingly quick car with strong acceleration and gearing perfectly suited to fast on-road driving and overtaking. It also sounds excellent thanks to extensive exhaust modifications that make it sound quite unlike a typical four-cylinder diesel. It turns sharply and grips extremely well, covering ground with composure and speed. It's only on longer straights where its performance limits become apparent. The longer boot has no noticeable impact on the car's dynamics.
Family car appeal
This Golf is big enough for most two-child families. The estate adds significant boot space, making it easy to fit folding prams and the like in, many of which won't fit in a Golf hatchback. There is no extra cabin width though, and squeezing three children across the rear bench seat might be a step too far. The quiet cabin is a boost for letting children sleep more easily, but the expensive materials will be more vulnerable to damage than in lower-spec Golfs.
First car appeal
While the GTD Estate is undemanding to drive thanks to typical Volkswagen sensibilities in the way it is designed and set up, the estate is even more expensive than the hatchback, which is already a prohibitively expensive car in the eyes of most first-time car buyers. Aside from that, the GTD is a very quick car relative to a typical learner's supermini, so could leave an inexperienced driver in trouble if they get carried away.
Quality and image
As one of Volkswagen's new premium estates this version of the GTD has to emanate an aura of quality, and it does so thanks to generally good design and no weak areas of fit or finish. It feels solid rather than simply tight, and while perhaps outright build quality isn't as high as for the heavy and often-maligned fourth generation Golf, this one is predicted to be the most sought-after version since those days.
Accessibility
Anyone who finds it difficult to get into or out of a Golf probably has significant mobility problems, but it must be said that the seats are noticeably lower here than in crossover or compact SUV-style cars. The GTD sits slightly lower than a standard Golf Estate and features seats with larger side bolsters that some people may think of as intrusive. Rear passengers will notice the base of the rear door aperture is actually not that broad, so a twist of the foot may be needed when getting out.
Stereo and ICE (In car entertainment)
The array of music playback options is quite comprehensive, covering Bluetooth, CD, USB and auxiliary inputs. UK cars feature DAB radio as well as an FM/AM receiver. With playback controlled both through a large touch-screen in the centre console and via buttons on the steering wheel, the user has a large degree of audio freedom. Media and radio options are selected separately via buttons beside the screen.
Colours and trim
There are no new colours for the GTD estate, meaning it gets the same selection of generally sober hues as the hatch. The brightest do the most favours for the Germanic shape, lifting the straight lines and flat panels out of anonymity somewhat. The interior is blessed with tartan seat cloth just like the GTI, and the inclusion of a golf ball-type gear knob is a nice nod to heritage.
Parking
With the extra length of the estate boot to consider, this may feel more difficult to park for some drivers. However there are parking sensors at both ends and steering that proves light and easy to get the best from at low speeds. A reversing camera is also part of the available specification, but is not really necessary. Only drivers who frequently have to parallel-park will notice the GTD estate being any harder to park than the hatch.
Spare wheel
Emergency tyre repair kit supplied as standard.
Range information
Petrol engine options - 1.2-litre (84bhp, 104bhp); 1.4-litre (120bhp, 138bhp); 2.0-litre (217bhp). Diesel engine options - 1.6-litre (89bhp, 104bhp, 109bhp); 2.0-litre (148bhp, 181bhp). Transmission options: five and six-speed manual gearbox depending on model, plus DSG twin-clutch automatic. Trim levels: S, BlueMotion, SE, GT, GTD, Alltrack, GTI, R.
Alternative cars
Ford Focus ST Estate diesel is billed as being more dynamic, drives very well but cabin lets it down
Seat Leon Shares the same high-power diesel engine in flagship estate, but not the extra dynamic touches
Vauxhall Astra Good diesel engines, but no overtly sporty diesel estate option
Skoda Octavia Performance aplenty from diesel estate, with a very large boot and loads of passenger room