Volkswagen Golf GT BlueMotion Technology 2.0 TDI 150PS 6spd manual Review
Can be lively or sedate - a pleasant drive
November 2012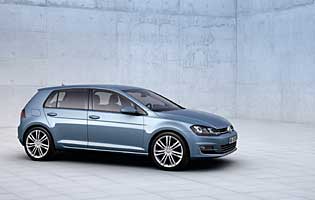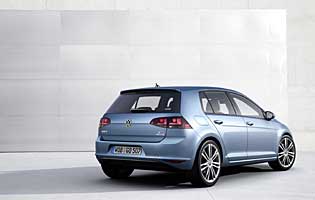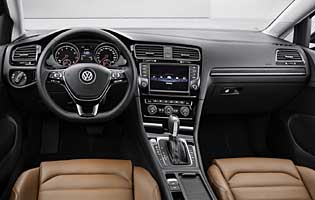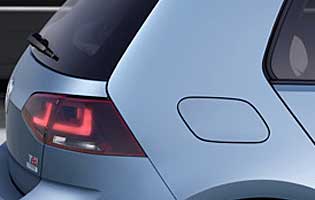 Overall rating

Likes:
Solid build quality makes the car feel substantial
Longer wheelbase gives more interior space
Economical engines help lower running costs
Better to drive thanks to weight reduction
Gripes:
Options and spec can quickly rack up the price
Purchase price is high compared to rivals
Relative lack of advancement in styling
Delayed introduction of BlueMotion and GTI variants
Volkswagen hit on a compact family hatchback formula that worked perfectly with the fifth-generation Golf, and from then to the sixth and now seventh generations the car has kept its looks very similar. The newest model is much more different than it looks at first glance though, with a new chassis and new, more efficient engines.
The seventh-gen Golf is the latest barrage of proof that Volkswagen is peerless when it comes to combining family sensibilities with genuine desirability. Volkswagen has little opportunity to rest on its laurels as opposition manufacturers continue to turn out forward thinking and highly likeable cars in the ultra-competitive C-segment and Volkswagen clearly has no intention of falling behind.
As a result, the new version attempts to stretch its reach even further by consolidating the successes between 2004 and 2012. An all-new chassis with a longer wheelbase for more interior space forms the base of the new car, and by introducing improvements in terms of refinement Volkswagen hopes to ensure the Golf not only continues to appeal to traditional C-Segment car buyers, but can also attract customers who traditionally drive larger vehicles and are keen to downsize to reduce running costs.
With this in mind, the latest line-up of engines has been made available to Golf buyers with different model levels having different engines available from launch. Turbocharged small-capacity petrol engines suit the Golf well and offer smooth, powerful driving characteristics. The 2.0-litre diesel units at the top end of the range have been revised, with more power and lower emissions.
The most economical models are 1.6-litre diesels, making them the ones to watch for company car users. A reduction in overall car weight for this generation of Golf helps them to achieve new best efficiency figures for the model. The various engines usually come with a choice of gearbox partners; either a six-speed manual or a seven-speed automatic DSG unit.
Our verdict on the Volkswagen Golf GT BlueMotion Technology 2.0 TDI 150PS 6spd manual
---
In almost all ways the Golf is all the car the vast majority of drivers would ever need. Classy but sensible, the Golf bridges more qualities than any of its rivals as long as money is not a prime concern. It's refined, extremely capable and better to drive thanks to its weight reduction, and the only sticking point is the price. The Golf is expensive compared to some rivals, but there are few regretful owners to report.
Costs
New engines have made the Golf even more efficient, and with impressive economy from the entire initial range of engines the Golf represents a cost-effective car to run. Insurance groupings are low thanks to good security and safety measures. The arrival of the BlueMotion version in due course will see potential savings increase further, too. However, although reasonably priced at the bottom of the range, adding options can soon see prices escalate.
Space and practicality
A roomy interior has made the Golf one of the most practical cars in its class since the MkV, particularly in five-door form, and thanks to the longer wheelbase on the latest model there is more interior space than ever. The boot is large and square with little wasted space, leg- and in particular headroom is excellent in the rear and there's plenty of storage in the front. The glove box is also chilled, a useful function for long road trips.
Controls and display
The seventh-generation Golf shares the same familiar control layout as all Volkswagen Group cars, albeit linked to new dials. They are clear and easy to read at a glance, if a little uninspiring in design. The touch-screen display is more than good enough for general use and offers clear options, responding well to modest pressure. The central controls for air movement and the stereo are neatly packaged, with a minimalist approach that works well.
Comfort
To attain higher prestige in the family car market, comfort is key. Increasing it was the main focus of the latest Golf's development programme and big improvements have been made. a more steeply-raked windscreen creates less wind noise, and better aerodynamics mean less buffeting around the car. Volkswagen has even gone to the lengths of damping the pedals to limit vibration inside the cabin. Supportive, if firm, seats and climate control add to the comfort levels.
Car security
The Volkswagen Group likes to play its cards close to its chest as regards security system details, but an immobiliser is standard equipment, as is an automatic speed-sensitive door locking system that can be deactivated if required. Naturally, all models feature remote central locking and the lockable glove box is an additional benefit. The hatchback body means items in the boot are concealed from view by the parcel shelf.
Car safety
Volkswagen will not settle for less than the maximum score for any of its cars, and a five-star safety rating comes as no surprise. A raft of airbags including one for the driver's knee, a whiplash restraint system and seatbelt fastening detection for the rear seats are all included. A new feature is a pop-up bonnet to help reduce the risk of injury if the car hits a pedestrian. ABS with brake assist, an advanced ESP system with a differential lock and traction control and automatic hazard light activation ought to prevent many of the systems being tested, however.
Driver appeal
The main change that the all-new chassis brings with it is a longer wheelbase, which can make the car less eager to turn into corners than it otherwise would be, but it also means that the new model is a better cruiser. Significant weight loss has helped to transform the handling and has turned twisty roads into a genuinely enjoyable experience. But as per the Golf's famed versatility, it can be as lively or sedate as required and is very pleasant to drive.
Family car appeal
The Golf is built as a family car and so is a prefect fit for the role. Rear legroom is excellent, most materials are resistant to knocks and there is a full array of child-friendly features including Isofix child seat mounts, a switchable passenger-side front airbag and a capacious boot that can hold lots of luggage or a pushchair. Families on a budget may find the middle and upper reaches of the Golf range out of their price range, though.
First car appeal
While younger first-time car buyers are likely to choose something smaller and more manageable than the Golf, more people are waiting until later in life to pass their tests, especially those that live in big cities. For them, the Golf is a good choice for its versatility, efficiency, likely longevity and status. It's not the most affordable option to buy though, even if its emissions and fuel economy are both strong points.
Quality and image
As its higher price compared to its rivals suggests, the Golf benefits from one of the finest reputations in the family hatchback market. Quality has taken another big stride forward in the seventh generation, with an emphasis on refinement and road manners. The Golf's popularity means drivers won't particularly stand out from the crowd, but a Golf never needs to be explained to the neighbours; a trait worth an awful lot to very many buyers.
Accessibility
To aid aerodynamics this Golf has been made less tall than its predecessor, but not by enough to make it any harder to get in and out. Clearly, the five-door model makes accessing the rear seats easier, but doors open to a wide angle in all versions with a new system that is designed to allow the doors to rest at almost any position without falling into the car next door. The tailgate is large and wide, which means getting items in and out of the large boot is reasonably easy. A high sill does impede progress a little, however.
Stereo and ICE (In car entertainment)
Standard equipment on all trim levels is a single slot MP3 compatible CD player. An upgraded system can be optionally specified. Only the GT model comes with navigation as standard, but all cars have a standard colour touch-screen interface to allow easy control of music and other in-car functions. There are ports to allow the use of MP3 players as standard, and Bluetooth is also on every model.
Colours and trim
Just like models prior to this, although there are eleven shades to choose from, colour choices are limited to variants of silver, grey, black, blue, white and red. The Golf's familiar but distinctive shape looks good in all of them although it is the colours that seem to do it the most justice. Naturally, interior trim feel improves with the selected trim level, and in GT form there are modern fabrics on the seats and soft touch plastics almost everywhere in the interior.
Parking
Everyday usability is one area that the Golf has always excelled in, and parking it is extremely easy thanks to speed-sensitive steering, good visibility and restrained, easy-to-judge shape. Volkswagen's Park Assist system is available as an option on higher models, measuring the size of spaces and operating the steering to reverse the car into them, which might appeal to city drivers.
Spare wheel
Emergency tyre repair kit fitted as standard.


Range information
Petrol engine options - 1.2-litre (84bhp, 104bhp); 1.4-litre (120bhp); 1.4-litre ACT (138bhp). Diesel engine options - 1.6-litre (104bhp); 2.0-litre (148bhp). Transmission options: six-speed manual gearbox, seven-speed DSG twin clutch automatic gearbox with switchable sequential manual mode. Trim levels: S, SE, GT.