Volkswagen Golf e-Golf Review
Impressive performance and acceptable range
October 2014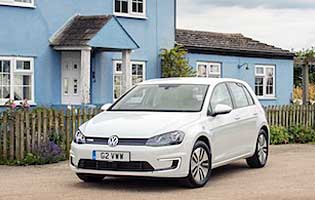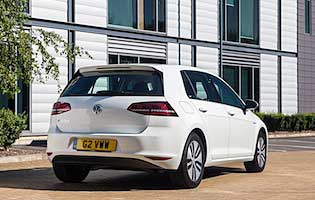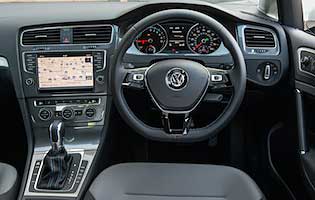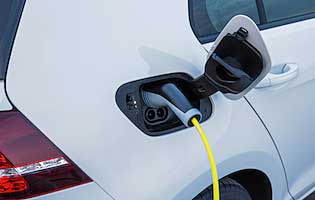 Overall rating

Likes:
Conventional approach to electric motoring is impressive
High level of cabin refinement
Excellent standard specification
Impressive performance and acceptable range in the real world
Gripes:
Lack of engine noise means tyre and wind noise dominate
Looks may be too conventional for some seeking to attract attention
Electric motoring not suitable for all
Higher purchase price than average diesel car will put some off
While this seventh generation Golf might, outwardly, look like any other, Volkswagen's foray into electric motoring has taken a different path from certain rivals. The German firm has taken a distinctly conservative approach, using familiar components, platforms and design language.
It might be a big company but Volkswagen is well known for wanting to save money and time where it can. This electric version of the firm's well-received seventh-generation Golf is a good example of this policy.
By utilising a platform that was designed to accommodate both conventional engines and electric power systems, Volkswagen's Golf is one of the most conventional pure electric cars available. The clever packaging of the powertrain and battery has resulted in no loss - in real terms - of load or passenger space.
But the e-Golf, as it's called, is also smart in the way it operates. The car's cabin will be a familiar environment to Golf fans. The electric-specific controls are well thought out but unobtrusive, while the auto gearbox-style gearshifter gives access to various driving modes that promote greater energy recovery and more aggressive battery charging strategies.
For all the car's clever technology, it drives and behaves like a regular, modestly powerful diesel Golf. The electric motor's instant torque delivery ensures brisk acceleration, while cruising and urban motoring require little effort. It still takes an overnight cycle to fully charge the car from a domestic socket, but faster options exist plus a rapid 80 per cent charge in just 35 minutes. Real world range is around 100 miles, while careful driving can get you close to Volkswagen's quoted 118 miles.
Our verdict on the Volkswagen Golf e-Golf
With the electric vehicle environment far from mature, only you can decide if it's the right choice to compliment your routine. For modest, planned journeys the e-Golf is a good option if you're not a fan of the wacky, futuristically-designed alternatives. And being a Golf, everything looks, feels and drives in a conventional way. Competitively priced within its sector and offering a sensible range, the e-Golf is a compelling alternative to the norm.
---
CostsSome might baulk at the upfront cost - subsidising grant notwithstanding - but think of it as paying for a considerable amount 'fuel' up front. It's the day-to-day costs that should prove minimal: recharging, servicing, lack of VED, London congestion charge exempt status and select business tax advantages.
Space and practicality
As you'd expect, the e-Golf is just as practical as a regular Golf, with good levels of head, leg and elbowroom for front and rear passengers thank to its generous sized cabin. There are also useful storage areas throughout the interior, while the rear seats easily fold to liberate extra rear load space when required. Boot space is still good despite the presence of a battery pack, the impact of which has been cleverly minimized.
Controls and display
This seventh generation car boasts a dominant touchscreen infotainment system plus clear and crisp dials for the driver. Everything operates with a reassuring slickness, and the touchscreen proves to be an intuitive interface. Displays and minor controls specific to the e-Golf prove intuitive and unobtrusive in equal measure.
Comfort
The basic Golf set-up is a good one and, in terms of the e-Golf, the car's ride is composed, leading to a comfortable ride. The car's cabin is a spacious environment, with ample room so occupants aren't rubbing shoulders. The only consequence of electric power is that tyre and wind noise is now more noticeable.
Car security
The usual suite of kit is present here, which means a convenient remote central locking system plus comprehensive anti theft protection in the form of an immobilizer and cabin intruder-sensing technology.
Car safety
No corners have been cut in this department, with the e-Golf benefiting from a comprehensive range of passive and active safety kit matching that of its petrol and diesel cousins.
Driver appeal
Apart from making progress in relative silence, the e-Golf proves especially brisk thanks to the electric motor's 'instant on' response to throttle inputs. Drivers can easily adjust the car's responsiveness and amount of regenerative braking to further boost performance and economy respectively. The latter can be tuned to almost eliminate the need for the brake pedal around town. In real terms this Golf drives much like a moderately powerful diesel variant.
Family car appeal
As with any modern Golf variant, an important attribute of the e-Golf is its ability to combine performance and practicality in one package. It's no SUV rival, but as a car of modest dimensions yet versatile enough to cope with a small but growing family, the e-Golf mirrors the regular car's talents.
First car appeal
Purchase price aside, the e-Golf would make a sensible car for a first timer. It's easy to drive, not especially quick and day-to-day running costs are minimal. It makes most sense as a car for modest journeys given the need for frequent charging, although domestic overnight charging is an easy and uncomplicated chore.
Quality and image
VW's solid reputation runs through its range, but the Golf's longevity has ensured it ranks high in buyer's minds. Basing an electric variant on a conventional model bucks the industry trend for designing left-field models, but for conservative buyers this electric Golf should tempt - not put of- prospective owners.
Accessibility
In five-door form the e-Golf is a simple vehicle to enter and exit from, for both front and rear passengers. Wide door openings are a big help, as is the relatively high roofline. At the back the car's tailgate requires little effort to operate.
Stereo and ICE (In car entertainment)
The standard audio unit is simple to operate and provides clear reception and good audio playback. Controls on the steering wheel and a display between the instruments also make the unit easy to operate on the move. The eight-inch touchscreen is responsive - making it good for accessing the sat-nav function.
Colours and trim
With the e-Golf's exterior almost identical to that of the regular Golf, everything should be familiar to VW fans. Externally there's a reduced choice of colours but inside the high-spec cabin boasts a premium ambience you don't get with a basic petrol model.
Parking
The e-Golf is no more difficult to park than a regular Golf, with only the thick rear pillars that restrict vision slightly worth noting. Parking sensors are a welcome addition fore and aft, with only VW's self-parking feature a cost option.
Spare wheel
Tyre mobility kit fitted as standard.
Range information
Electric motor options - 115 horsepower equivalent electric motor. Transmission options: single speed transmission. Trim levels: single trim level for e-Golf model.