April 2012
Volkswagen Caravelle SE SWB 2.0TDI 140PS
The boxy, van-derived shape offers significant advantages over a regular MPV
April 2012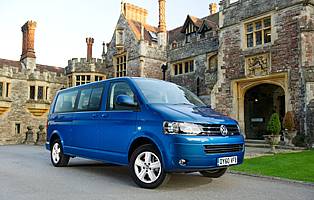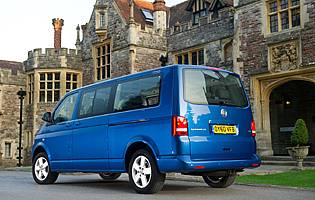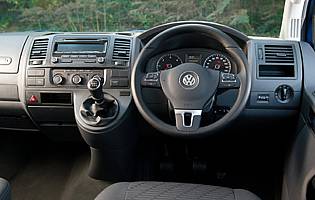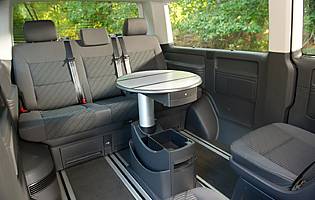 Overall rating

Likes:
Pleasant to drive with modern technology under the bonnet
Rear seating layout very effective for business-minded passengers
Large sliding doors make entry and exit easy for passengers
Can be specified with luxurious options to provide VIP transport
Gripes:
Manual gearbox has a very low first gear that can prove awkward
As standard there is little luxury equipment fitted
Relatively expensive list price for what the basic product is
Sixth passenger must sit separately from the other five
The Caravelle is one of Volkswagen's large people-movers, separated from the Transporter shuttle by the different seating layout. The Caravelle is the more business-orientated design with a three-seat bench and two individual seats facing each other in two rows. Another passenger seat faces forwards alongside the driver's seat, making it a seven-seater in total.
The Caravelle designed to cater for the executive and business chauffeur market, which includes picking people up from airports and taking them on to their destinations while allowing them to start or continue their meetings. The facing seats allow up to five of the passengers to talk as if they're sat at a table, although there's no table fitted as standard.
Based on the outer shell of the Transporter van, the Caravelle is large and spacious, providing an airy environment that's easy to relax in. It's available in short-wheelbase and extended long-wheelbase forms for extra luggage room behind the rearmost seats, and there are two trim levels. However, the more luxurious Executive level is not available with a long wheelbase.
It comes with a choice of two diesel engines and two gearboxes. The entry-level single-turbo version is powerful enough for typical use, but there is a 178bhp version with two turbos for a broader and more potent spread of torque that would be ideal for regular work with all seven seats filled or in particularly hilly regions.
The Caravelle has changed very little during its life, but in this generation more of an emphasis has been placed on efficiency, with the loss of the old 2.5-litre diesel engines. The same practicality is retained, though, with various options for door layouts and rear seats that can be moved and adapted to different spatial needs.
Our verdict on the Volkswagen Caravelle SE SWB 2.0TDI 140PS
Although the Caravelle is unashamedly just a tool built for a very specific job, it's well tailored to its purpose. Its combination of an effective seating layout, lots of space, efficient engines and luxurious options including leather upholstery and a smooth automatic gearbox make it an ideal business shuttle. The Volkswagen brand, which is slowly moving upmarket away from the mainstream, is also a pull for potential buyers.
Costs
Thanks to the smaller-capacity diesel engines, fuel economy is higher for this model than for the previous variants. Other running costs like road tax are also lower, and due to the smaller engine capacity this model might also be cheaper to insure. The lower CO2 output also means that benefit-in-kind costs for business users will be lower. This generation of Caravelle is an improvement in all respects in terms of running costs, but it's expensive to buy.
Space and practicality
The Caravelle's seats are deliberately positioned in such a way as to allow people to talk face to face, since business is much less personal between different rows of seats all facing forwards. It could therefore have more luggage space but in choosing to prioritise its primary function, it makes a necessary sacrifice. The long-wheelbase version has more room and can better accommodate large cases.
Controls and display
The main displays are standard Volkswagen equipment and are relatively basic. They're clear and simple, relaying all the key trip computer information. The ancillary stalks also follow the same layout and function as in other Volkswagen vehicles and so are equally as intuitive and sensible. If the optional touch-screen interface is specified with the sat-nav system, users will find it very easy to navigate around.
Comfort
With such a large and open rear passenger area there is inevitably some magnification of the road noise that comes through the rear wheel arches, but it's not too bad and certainly doesn't impede on any conversations. The seats themselves are quite firm in the Volkswagen tradition, which will suit some people more than others, but there is at least a good deal of head, leg and shoulder room for everyone on board. The ride quality is generally good, too.
Car security
Privacy glass is standard on the higher trim level, Executive, which will help keep any valuables in the passenger area and boot out of sight. The alarm also has tow-away protection and interior movement detection in the front passenger area. The key also has an electronic transponder that needs to be present to start the car, making the Caravelle very hard to steal without the key. There is also a 'breaksafe' steering wheel lock.
Car safety
ABS and electronic brake force distribution are standard in conjunction with ESP stability control. Traction control is also standard on front-wheel-drive models, and hill hold control makes sure that the Caravelle doesn't roll backwards during hill starts. The front occupants get airbags at the front and side, but rear curtain airbags are only optional.
Driver appeal
As a commercial tool, the Caravelle has been engineered to put function before form and it shows. It shares running gear with the Transporter panel van, and as such has quite a low first gear that can get frustrating as the Caravelle runs out of steam too quickly. Otherwise, cruising is comfortable and relaxed, with only a few notable intrusions from road bumps. The automatic gearbox is well suited to this task and improves the driving appeal.
Family car appeal
A family might well want to make use of the Caravelle's abilities as a more interesting alternative to a conventional seven-seater. The boot of the short-wheelbase version is still big enough for plenty of well-stacked luggage, and the facing seats would let children talk or play games instead of facing a headrest or a screen. The interior plastics are hard-wearing too, and will stand abuse.
First car appeal
Unless a driver has passed their test later in life and wants to immediately get into the executive chauffeuring business, it's extremely unlikely that the Caravelle will hold any appeal at all as a first car. Its sister car the Transporter shuttle is a more effective and significantly cheaper people-mover for those who need so many seats, and something so large and relatively unwieldy would make a very difficult first car to handle properly.
Quality and image
One of the strengths working in the Caravelle's favour in the executive taxi market is the ever-improving image and reputation of Volkswagen as a brand. The actual of the vehicle is good, if perhaps a little plain as standard. Volkswagen claims that its materials are all hard-wearing.
Accessibility
A sliding rear door that can be mirrored on the opposite side as an optional extra makes it much easier for passengers in the rear to get in and out even where there isn't much room. The front passenger and driver have to use traditional doors, but high seats make it relatively easy to manoeuvre in and out even for elderly or infirm passengers. The tailgate needs quite a lot of space behind it before it can open fully.
Stereo and ICE (In car entertainment)
Taken from Volkswagen's parts bins, the standard stereo unit will be familiar to most VW car owners. It's simple and intuitive to use with a basic combination of buttons and dials operating the key functions. Unfortunately, satellite navigation including a partially touch-screen media interface is not available in conjunction with DAB digital radio. The touch-screen system can be slightly less intuitive at first, but is clear enough after a little trial and error.
Colours and trim
The Caravelle boasts an unusually broad range of colours, Volkswagen's intention being that no matter what type of business might buy one there will be a colour to suit. The utilitarian body shape has a certain style and it looks good in most colours from the subtle to the bold. As standard the interior trim looks fine, if a little uninspiring, and some people might wish to smarten it up with options.
Parking
It is a sizeable vehicle to park, so there are some bay spaces that it may not fit into. Visibility is very good thanks to large windows all around, which is a good job because parking sensors are not standard. The flat, vertical rear makes it easier to judge when to stop reversing, and a respectable steering lock makes parallel parking simpler than it might otherwise be. Parking sensors are available for the front and rear as cost options.
Spare wheel
Steel full-size spare wheel fitted as standard.
Range information
Diesel engine options - 2.0-litre (138bhp, 178bhp). Transmission options - six-speed manual or seven-speed DSG twin-clutch automatic gearboxes. Trim levels: SE, Executive.
Alternative cars
Mercedes-Benz Viano An even more upmarket badge and little more expensive than the Caravelle
Ford Transit A traditional choice with good engines, but can't match up for prestige
Nissan NV200 Although reliable and with seven seats, the NV200 is smaller inside
Chrysler Grand Voyager An unusual and uneconomical choice with seven seats and lots of equipment