November 2004
Volkswagen Caravelle SE 1.9 PD TD 130
It might be based on a van but the Caravelle is pleasing to the eye
November 2004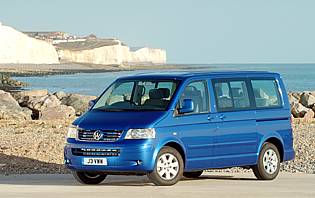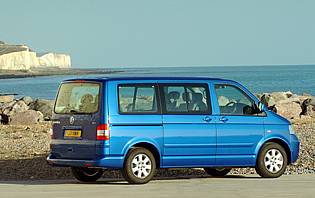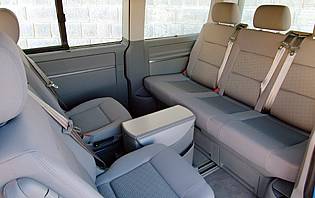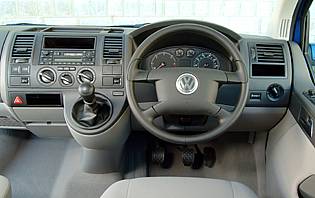 Overall rating

Likes:
Huge cabin ideal for big families or corporate activities
Driving experience more refined and accomplished than you might think
Diesel engines provide more than enough thrust
Various seating arrangements should suit most needs
Gripes:
Caravelle is big, making parking in urban environments a pain
Elderly and infirm will find the step up into the cabin a struggle
Tailgate is big and requires considerable effort to both open and close
Caravelle's high sides make it more vulnerable to crosswinds than a car
The market for super-size MPVs might be a small one, but that doesn't mean buyers should have to put up with substandard transportation. Volkswagen's Caravelle might look similar to its light commercial relative, yet it behaves more like a car on the road and could easily play the role of executive airport taxi.
When a conventional people carrier just isn't enough, few options remain open. One can go down the two car route with a conventional hatchback and big, bulky estate, or get an oversize off-roader such as a Land Rover Discovery or Toyota Land Cruiser.
Both options smack of a huge compromise, and neither can offer the space or flexibility of a van - if shifting bulky items forms as much of your routine as does transporting family, friends or even work colleagues or clients. And yet, essentially, it's a van with seats and windows that you need.
Enter Volkswagen's Caravelle, a vehicle with commercial roots but one that doesn't drive like an unrefined light commercial vehicle. Furthermore, the big VW delivers the kind of cabin and seating flexibility that so-called modern people carriers struggle to match.
Combining seven seats and sufficient room in which to stretch out in plus the flexibility to swallow large loads (although not at the same time), the Caravelle is a rare machine: one that does exactly what it says in the sales brochure.
Admittedly there isn't much competition in this sector, but Mercedes' Viano comes close to the Caravelle in terms of size and seats. Predictably it feels more of a prestige product, but sometimes that's the last thing you want when hauling refuse to the local tip or muddy children back from a school football match.
Our verdict on the Volkswagen Caravelle SE 1.9 PD TD 130
While Volkswagen's Caravelle might be considered by many to be an unusual contender for 'Best MPV', the big VW is the perfect solution for anyone seeking an abundance of space and flexibility. Unlike traditional vans with windows the Caravelle is refined and car-like to drive. Will only appeal to a limited number of buyers, though.
Costs
Like other VWs, the Caravelle boasts a variable servicing system, which means that the onboard computer decides when it's time to visit the dealership based on your driving habits. This takes the guesswork out of servicing and means that you can go for 18,000 miles and two years depending on driving style. Picking a diesel will also help keep costs down. The only petrol model, a thirsty V6, will be of limited appeal to anyone paying their own fuel bills.
Space and practicality
Space is not at a premium in the Caravelle. In fact, it's an ideal place in which to lounge about in. Most peoples' focus will, understandably, be on the rear cabin. The seats are on rails so they can be moved to where you want them; the clever, practical and standard fit table also slides and boasts a number of numerous cubbyholes - as does the cabin. You have the option of folding all the rear seats flat to form a bed and there are a trio of handy sliding drawers under the rear bench seat. The rear individual seats can be rotated through 180 degrees if so desired.
Controls and display
It's easy to dismiss the Caravelle on the grounds that it makes no effort to hide its similarity to VW's large van range, but the big MPV's cabin actually benefits from being related to the commercial sector. The few controls that occupy the Caravelle's fascia are big, clear and within easy reach of the driver. While the driving position may be a little too upright for some, there's no denying that the steering wheel and dash-mounted gearlever are perfectly positioned - the former allows a generous amount of adjustment and the latter's short and positive shift action is more like that of a car's.
Comfort
Aside from the Caravelle's suspension, which can show its commercial roots when asked to soak up particularly nasty road surfaces, the big VW is on the whole a composed performer. The result is a decent ride and little in the way of noise intrusion. The car's seats provide decent levels of support, especially when cornering, as the Caravelle does lean slightly more than your average MPV. Head and legroom is more than adequate throughout the cabin.
Car security
While it's unlikely that the Caravelle is top of a thief's getaway car shopping list, the VW's large and numerous windows makes it easy for an opportunist to see what's been left in the cabin. The optional rear window 'privacy' glass helps, as do the window blinds. Volkswagen should be commended for fitting the complete range of traditional security features - remote central locking, immobiliser, alarm and steering wheel lock - as standard across the entire Caravelle range.
Car safety
Despite the obvious perception by some that the Caravelle is more van than car, there's no need to feel second class where safety is concerned. Just like in a regular high-end people carrier, the big VW comes with twin front and side airbags plus curtain airbags. Rear curtain airbags are on the options list. The included active safety features are just as comprehensive, with ABS and traction control standard across the range, and brake assist plus VW's electronic stability system standard on all but the entry-level 104PS diesel variant.
Driver appeal
While you don't buy a Caravelle to go bombing along country lanes in, the big VW is a well-mannered people carrier that is stable at high speed and exhibits only modest amounts of pitch and roll. Even though a driving position as high as the Caravelle's will always exaggerate body movement, it's only when negotiating the tightest or corners or roundabouts will you find it necessary to brace yourself. Performance-wise VW should be commended for not saddling the car with only modest engines. The diesel line-up offers plenty of thrust - whichever unit you opt for. The only time you know you're in a van-derived MPV is when you traverse poorly surfaced roads, as it's then that the Caravelle's lack of sophistication makes itself known.
Family car appeal
The appeal of the Caravelle will be self evident if you are the parent of a large family, or one that is routinely tasked with transporting your own and other parents' children to, say, sporting events. Seven seat models will likely prove the most practical, as the rearmost bench will easily accommodate a trio of noisy teenagers. The Caravelle's sliding side doors will prove their worth each time said unruly mob disembark; this being a much safer way to egress the VW than having to open conventional doors into oncoming traffic.
First car appeal
A novice driver is unlikely to be attracted to the Caravelle, if not because of its size then probably because of its perceived lack of manoeuvrability. Granted the driving process requires you to be extra observant and sympathetic to the VW's limitations, but if forced to take the wheel a first timer would find the act of driving no different to that of steering, say, a Golf.
Quality and image
Over the years VW has worked hard to nurture the image of a car maker offering higher than average quality products. This has not always worked out in practice, but the Caravelle is not your average Volkswagen. While it cannot hope to compete against the likes of Renault's Espace, it's easily better than budget people carriers from Kia and Hyundai. As for image, any van-derived MPV is hardly going to have buyers flocking to showrooms and the Caravelle is not something that you'd lust after. Bought for a reason, the Caravelle is a car you learn to respect over time.
Accessibility
With one exception, the Caravelle boasts excellent access to its front and rear passenger compartments. The exception being that if you're elderly or infirm you will find it a struggle to access and egress the car - the van-like ride height is the only black mark against the Caravelle. Gaining access to the rear cabin is as easy as sliding back one of the car's pair of sliding doors, which are powered on Executive models. With the rear bench and the two individual seats on rails, moving them about is the work of a moment. And if you're nimble, you can walk through the entire cabin - even to the front, which can also be accessed from either side as there's no floor-level centre console to negotiate.
Stereo and ICE (In car entertainment)
The stereo unit fitted to the Caravelle will look familiar to most VW owners and does a fine job in most respects. Located centrally in the fascia, the only annoyance is the stretch required by the driver to reach the volume control - steering wheel-mounted controls are not available. As way of compensation, a CD changer comes as standard, which is more than you get in some regular full-size MPVs.
Colours and trim
The idea of being able to select something the size of the Caravelle in bright colours is an odd one, but to its credit VW does just that. Red is a particularly striking hue, if only because there's no chance of fellow road users saying that they couldn't see you coming. Inside, the Caravelle is more workmanlike. Hardwearing fabrics cover the seats, and the fascia is familiar VW black. The overall cabin ambience is a pleasant one, although some the credit must go the car's numerous windows, which let in an awful lot of light.
Parking
Make no mistake, the Caravelle is a big vehicle so be prepared to adjust your driving and parking habits accordingly. Surprisingly for a car of this size, parking sensors have been relegated to the options list - even on the top-spec Executive trim level - despite their obvious benefits. When suitably equipped, the Caravelle becomes much easier to manoeuvre, and aided by the van-size side mirrors and light power steering the only problem you'll have is finding a space big enough for it.
Spare wheel
A regular spare is fitted as standard.
Range information
Four engine options - 1.9-litre (104PS) turbo diesel; 2.5-litre five-cylinder (130PS) turbo diesel; 2.5-litre five-cylinder (174PS) turbo diesel; 3.2-litre V6 (235PS) petrol. 104PS diesel comes with five-speed manual gearbox, the two other diesels come with a six-speed manual transmission - with the option of a six-speed Tiptronic auto. Petrol V6 comes with the auto as standard. Equipment levels are SE and Executive
Alternative cars
Mercedes-Benz Viano Big Merc more luxurious than Caravelle but lacks the VW's flexibility
Toyota Previa Stylish Previa can't match the VW for space. More refined, though
Ford Galaxy Traditional MPV better suited to more modest family duties. More car-like to drive, though
Peugeot 807 Peugeot MPV one third of the alliance made that includes Citroen and Fiat. Similar to Galaxy in terms of performance