July 2008
Volkswagen Caddy Maxi Life 2.0 TDI
The Maxi Life is a large family vehicle
July 2008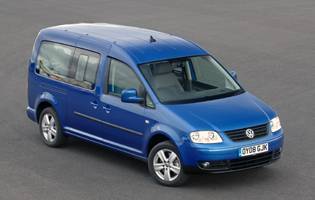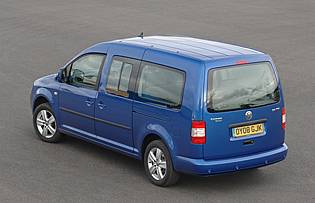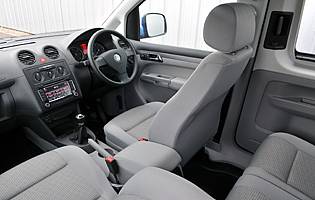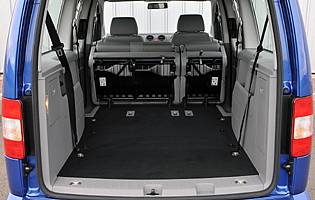 Overall rating

Likes:
Very roomy and practical
Economical but punchy diesel engine
Not bad looking for a van
Basic specification easily meets family needs
Gripes:
Rear seats awkward to access
Tall tailgate restricts opening
Removing rear seats is a clumsy operation
Lack of glove box door hints at van roots
Volkswagen's Caddy Maxi is an extended wheelbase version of the German manufacturer's popular Caddy van. The Life variant is a seven-seater MPV that also doubles as a van. Better equipped than most commercial vehicles, it's aimed at the private family market as well as business drivers.
Commercial vehicles turned MPVs can have a distinctly makeshift feel about them, which can turn-off the private buyer who prefers to spend his or her money on a car designed to do the job from scratch. However, in the Caddy, Volkswagen had a vehicle that was ideally suited to an MPV conversion thanks to its car-like driving characteristics and strong build quality. Seizing the opportunity, the German manufacturer has seen fit to add an additional row of seats to the Caddy Maxi window van to create the Caddy Maxi Life, a seven-seat MPV that attempts to combine van space with MPV versatility and a car-like driving experience.
The Caddy Maxi life is limited to a choice of two engines, but both are sensible diesel options. The high power 2.0-litre diesel comes with a six-speed manual gear box and offers performance on a level that competes with the purpose built MPV models from rival manufacturers along with an impressive level of refinement. Alternatively, a less powerful but equally competent 1.9-litre diesel is available with a choice of either five-speed manual or the dual clutch DSG gear box, a highly attractive feature for such a model.
Inside, efforts have been made to increase the luxury levels of the workmanlike Caddy interior. Electric front windows, air-con and full carpet are among the many tricks Volkswagen has employed to make the van conversion more comfortable for everyday family use. Electronic safety features also go a long way towards appeasing potential owners and practical sliding side doors are an attractive feature, but the most important element is the removable third row of full size seats.
The exterior has also been made less utilitarian with colour coded mirrors and bumpers plus the option of alloy wheels. From the outside, the bodyshape is the only real clue as to the Caddy Maxi Life's working class origins.
Our verdict on the Volkswagen Caddy Maxi Life 2.0 TDI
It's impossible for the Caddy Maxi Life to completely shake off its van attributes, but Volkswagen has done a good job of turning what is essentially a commercial vehicle into a family MPV. The driving experience is enough like that of a car to make the Caddy more than acceptable to drive and decent specification and safety levels mean it can pass muster as a family vehicle. It's highly practical, too.
Costs
The Caddy Maxi Life is not a cheap vehicle, comparable in price to some seven-seat MPVs, but it does offer a decent level of equipment as standard and should be as reliable as the rest of the Volkswagen range. Insurance cost should not be steep, while the economical diesel engine also helps reduce running costs.
Space and practicality
The Caddy's forte is its cavernous and adjustable interior. Passenger seats can be folded and the rears removed entirely, although it requires some heavy lifting. With the middle row folded forward the vehicle becomes a van, although the high roof means there's plenty of space available with the seats merely folded flat. Its seven seats plus boot status makes it an excellent people carrier and the strong diesel engines are ideal for pulling weight. There's lots of storage, too, with a large tray over the driver and front passenger's heads.
Controls and display
Clear dials and a trip computer mean there's no shortage of concise information being relayed to the driver. Volkswagen drivers will be familiar with the switchgear and controls as most of the same high quality equipment is used on the commercial range as the passenger cars. Switches are sensibly laid out and positioned, the gear change is precise with a very un-van-like short throw and the steering wheel is chunky and compact.
Comfort
Air conditioning and electric front windows are complimented by touches such as a combined front cubby hole and armrest and drinks holders for passengers in the rear and central rows. The seats, including the removable rear row, are supportive and comfortable although larger adults may find the raised rear bench less comfortable over longer distances. Masses of headroom adds to an airy feel inside the Caddy Maxi Life. Meanwhile an absorbent ride and strong sound deadening means it doesn't become tiresome quickly. The sliding rear windows can whistle when partially open, however.
Car security
The Caddy Maxi Life comes with remote central locking and there are child locks on the sliding rear doors. There's also an engine immobiliser. The down side is the open glove box and roof tray, which means covered storage is limited.
Car safety
All seven seats have a three-point seatbelt with the outer two seats in the central row benefitting from Isofix points. ABS and traction control are standard along with electronic brake force distribution and engine braking control. The model can also be specified with an advanced ESP system that features a trailer stabilising function. Front airbags are also included.
Driver appeal
Stable and secure on the road, the Caddy Maxi Life offers a very reasonable driving experience. Handling much like a large car despite its cumbersome body the model feels as responsive and nimble as you might expect from a vehicle of its type. The steering treads a good balance between manageably light and heavy enough to offer some communication with the road and the chassis only suffers with minimal flex. The 2.0-litre diesel engine is well suited to the model, giving it a surprising turn of speed and torque to make good progress while fully laden. A six-speed gearbox relaxes matters on the motorway, but rest assured there'll be no need to adjust driving styles if stepping from a car in to the Caddy.
Family car appeal
As a family vehicle the Caddy Maxi Life is a very sensible choice. Able to cope admirably in dual roles as a van and people carrier it could be of real benefit, particularly to large families. Its removable extra row of seats means it offers something extra compared with the majority of people carriers, although it's visually less enticing than some of the more attractive models available.
First car appeal
Practical and family friendly but with little flair or charisma, the Caddy Maxi Life is unlikely to appeal to young car buyers. Its large size it better suited to experienced drivers, too.
Quality and image
The Caddy Maxi Life is unlikely to inspire jealous looks from other road users but owners can take comfort in the usual extremely high Volkswagen standards of build quality. Despite its commercial roots the model doesn't squeak or rattle even over rough surfaces and doors shut with a hearty thud. Inside materials are clearly of a hard-wearing, cost effective nature but don't feel cheap and the finish is up to car standards. There are elements which hint at the van essence of the model, the lack of a glove box lid and sliding rear windows for example, but overall, these fail to detract form an impressive standard of quality.
Accessibility
It's a mixed bag for accessibility with the Caddy Maxi Life. The front doors offer easy access to the comfortably positioned front seats while sliding rear doors on both sides are hugely practical and make entering and exiting hassle free. However, to access the rear bench the middle row must be lifted out of the way - even then they are less than easy to get to - and the long rear tail gate cannot be opened unless a considerable gap is left between the vehicle or wall behind and the Caddy's rear end.
Stereo and ICE (In car entertainment)
The Caddy Life can be ordered with a touch-screen DVD sat-nav entertainment system, but standard fit is a single slot CD player with tuner and six speakers. The system does a good job of filling the large cabin with sound and rear passengers will not have to strain to hear thanks to decent quality speakers, but the Caddy's large body doesn't lend itself to top notch acoustics so don't expect concert hall quality sound. The system itself is easy to operate with well located knobs and buttons.
Colours and trim
Volkswagen has done its best to make the Maxi Life version of the popular Caddy can look as non-utility as possible. That means a wide range of vibrant colours in solid and metallic paint. Inside, things are less exciting, with grey cloth the order of the day, although a two-tone can be specified depending on exterior colour choice. Alloy wheels are an optional extra, but where specified they do a good job of making the Caddy less van like to compete with rival stylish MPVs.
Parking
The Caddy Maxi Life's long body makes it less easy to park than some of the more compact MPVs on the market, but it does have a good turning circle and is easily manoeuvrable. The mirrors are huge and extremely useful while visibility is impressive all round thanks to a large amount of glass. Parking sensors are an option, but the flat rear should mean there's little difficulty in judging where the Caddy ends.
Spare wheel
Full size steel spare wheel as standard.
Range information
Diesel engine options - 1.9-litre (102bhp); 2.0-litre (138bhp). Transmission options: Five-speed manual gearbox, six-speed DSG gearbox (1.9-litre only), six-speed manual gearbox (2.0-litre only). Trim levels: One trim level with optional extras available.
Alternative cars
Mazda 5 Clever seating arrangement and seats seven with ease
Renault Espace The original MPV is super-easy to drive
Chrysler Grand Voyager Spacious and well equipped
Ford Galaxy Cutting edge looks, very family friendly