May 2014
Vauxhall VXR8 GTS
The VXR8 is hard to miss and impossible to ignore
May 2014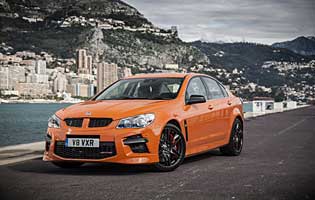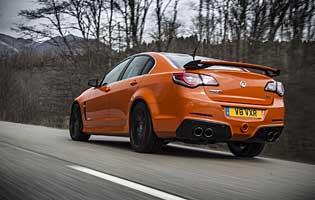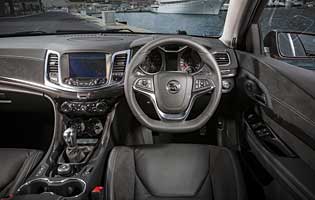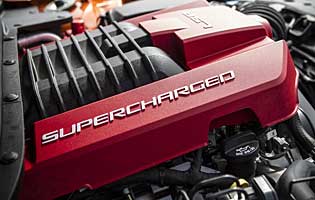 Overall rating

Likes:
Terrific engine is flexible, powerful and yet benign
Highly impressive ride quality and seat comfort
Friendly yet entertaining handling
Superb value for money despite the price tag
Gripes:
Looks might put off some buyers
Fuel bills will be high
Badge snobs won't appreciate the Vauxhall griffin
Automatic option blunts performance and economy
The flagship of Vauxhall's high performance VXR range is this, the VXR8. A very close relation of a HSV product from Australian relation Holden, the VXR8 has been thoroughly updated to give even more of the high-performance, high-value mix that puts it up against considerably more expensive and exclusive rivals.
Although there are Vauxhall badges front and rear, the VXR8 is based on an Australian counterpart from Holden, also part of the GM family. This new version sticks to the tried and tested recipe of a large capacity V8 petrol engine up front, rear-wheel drive and a large, capacious saloon bodyshell.
There are some significant visual changes to this latest VXR8, although the basic silhouette remains the same with a classic 'three-box' saloon layout. However at the front there is a new look with large vents to improve the flow of air, while at the rear there is a large spoiler and unique taillights.
Under the bonnet there is a supercharged V8 engine, again one that has links to cars elsewhere within GM, but most important is the fact that it is the most powerful engine ever to appear in a Vauxhall. As before it is linked to a six-speed manual transmission with a limited-slip differential, while there are high-tech magnetic dampers all round as well as a number of driving modes that adjust settings throughout the car.
Inside the VXR8 is packed with equipment. A comprehensive driver interface system offers lap timing, a G-meter and even data logging via USB. The VXR8 also benefits from a substantially updated interior that has some similarities with the Vauxhall Insignia, and is all the better for it.
Our verdict on the Vauxhall VXR8 GTS
The recipe is the same but the results are even better than before. Although the price tag is past GBP50,000 the VXR8 offers a huge amount for the money. Matching cars costing GBP20,000 more in performance and handling, the VXR8 also has an honest charm about it and is surprisingly comfortable when driven with restraint. The design may not be to all tastes and it can look brash in certain colours, but as an overall package it is near impossible to find fault.
Costs
There's no way of hiding the fact that the VXR8 is a costly car to run. Sure, regular servicing should be straightforward, but fuel, insurance and tyres will factor heavily in your table of outgoings. And the VXR8 will use a considerable amount of fuel; anything powered by a 6.2-litre V8 petrol engine will, but get ready for low teens mpg around town as it's very much the norm.
Space and practicality
As you would expect, the VXR8 is a pretty spacious vehicle. Cabin space is generous up front and rear seat passengers also fare well. At the rear the car's boot is huge and access is eased by the big bootlid. Inside the car there are plenty of storage options for mobile phones, maps and so on.
Controls and display
The VXR8 has a straightforward layout inside, the only complication being the touchscreen which has many functions and sub-menus, and so requires a little time to become familiar. The main dials and supplementary controls in the centre console are clear and intuitive respectively.
Comfort
Inside the VXR8 has some of the best seats available at any price, delivering superb support when driving hard but also excellent comfort. Elsewhere, cabin space is pretty good and rear seat occupants also get to experience supportive seats. The only downside is the car's road and tyre noise, which can be a little intrusive at high speed or on poorly surfaced roads.
Car security
Although hardly an inconspicuous car any thief targeting the VXR8 will have to live with its head-turning qualities. Factor in the car's exclusivity and it's fair to think that most opportunists will leave it well alone. Thankfully the car's defences are more sophisticated, what with the usual central locking plus alarm and immobiliser making an appearance.
Car safety
Like all big, premium saloons, the VXR8 is equipped with the usual safety features. From airbags to ABS and electronic stability control - a vital component considering the car's performance.
Driver appeal
Although enhanced in several areas the basic approach of the VXR8 remains the same, and it works. The big V8 is a pleasure to use, offering serious acceleration almost regardless of the gear selected. The suspension is superbly judged, providing grip and stability but without a crashing ride as a result. The steering is also faithful and accurate, if a little numb at times.
Family car appeal
Despite appearances the VXR8 makes a surprisingly good family car. There is plenty of space front and rear, although the back seat is ideally shaped for two rather than three people. The boot is also very large, and most children would be happy to ride in a car as quick and as rare as the VXR8.
First car appeal
Friendly thought it may be, the VXR8 is not a car for a novice. It's big, fast, rear-wheel drive and expensive to run. Even if you could afford the substantial fuel and insurance costs - the latter is likely to be particularly eye-watering - the car's brutish performance potential is best left to buyers with more experience of similar cars.
Quality and image
If any area shows where the price difference lies between this and its rivals, it is quality. The VXR8 achieves a good standard, but is still some way behind. Although the Vauxhall badge has low-key performance kudos, the VXR8 itself has genuine sporting credentials and will appeal to an enthusiast market.
Accessibility
Being a conventional four-door saloon, the VXR8 presents no problems for occupants. The front doors open wide, the rears better than you think and the design of the boot makes it easy to load and unload heavy objects.
Stereo and ICE (In car entertainment)
GTS models have a high-specification audio system with USB and MP3-player connectivity, Bluetooth and satellite navigation. The touch-screen system works well and the sound reproduction is of a high standard, although keen drivers will be more interested in listening to the engine.
Colours and trim
The VXR8 is hard to miss, but which colour you choose has a bearing on just how eye-catching it is. On the inside it's much more conservative with dark colours all-round, although the trim itself is of a decent quality.
Parking
The VXR8 is almost five metres in length, but with the help of good-size mirrors plus the parking sensors you shouldn't have a problem. The car's turning circle is surprisingly good, and the steering is light at low speeds.
Spare wheel
Space saver spare wheel fitted beneath the boot floor.
Range information
Petrol engine options - 6.2-litre (576bhp). Transmission options: Six-speed manual, six-speed automatic optional. Trim levels: GTS.
Alternative cars
BMW M5 Key rival is more sophisticated buy arguably less fun and much more expensive
Mercedes-Benz E63 AMG Sensational in a straight line, composed and comfortable but pricey
Audi RS6 Estate-only and all-weather performance, but again much more expensive
Maserati Quattroporte Left-field Italian is a visual delight but is over double the price of the VXR8