November 2005
Vauxhall Vectra VXR estate
Vectra VXR is an estate with real pace and performance
November 2005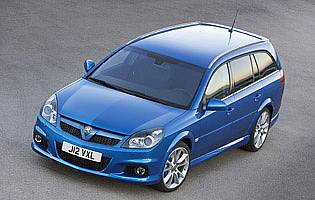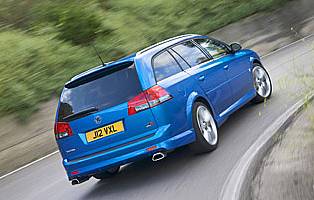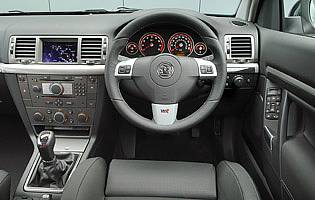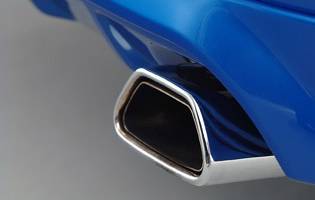 Overall rating

Likes:
An unexpected performance star
Tasteful design inside and out
Wonderful Recaro seats
Lots of legroom and loadspace
Gripes:
Fuel economy suffers when driven hard
Insurance could prove costly
May be too much of a handful for inexperienced drivers
Sometimes tricky to park
In its Vectra VXR estate, Vauxhall possesses the sort of car that gets knowing nods and winks from other owners. The Astra, Monaro and Vectra hatchback models bearing the VXR performance badge may be more obvious speed machines, but as a long-term proposition the VXR estate could well be the car to have.
The Vauxhall Vectra estate - hardly a phrase to get the blood pumping, is it? But while it may be devoid of charisma, it is a decent vehicle that serves an important purpose for thousands of motorists. However, add three little letters in scarlet and black - VXR - and the Vectra Estate instantly becomes far more than a reliable load-lugger. It is a genuine performance model that just happens to have a big, useful boot.
The VXR badge may be a fairly recent introduction, but it already has considerable credibility. To its credit, Vauxhall does not give the badge out lightly, and VXR signifies something even keener and less compromised than the enjoyable SRi and GSi cars with which many Vauxhall owners will be familiar. They've even got the look bang on with the VXR Estate's twin exhausts, subtle spoiler and restyled grille cleverly straddling the line between sportiness and subtlety. Look once at this car and it seems similar to any other Vectra estate. Look again and you start to notice all sorts of attractive additions and retouches.
The interior treatment is even better. Recaro sports seats come as standard. Far from being an excuse to buy in some extra sporty associations, these seats are the real deal, offering loads of support, particularly around the torso and outer thigh. They are some of the most impressive, comfortable seats we've encountered for many months. Only the slightly dull layout spoils an otherwise enjoyable cabin constructed from good quality materials.
One could make a convincing case for the Vectra VXR based on the large number of components it shares with other products from the General Motors stable. Peer beneath the skin of a classy Saab 9-3 Sportwagon or Vauxhall's own take on executive motoring, the Signum, and you'll actually be looking at the same basic platform as the Vectra. But the Vectra Estate is cheaper, quicker and more enjoyable.
Our verdict on the Vauxhall Vectra VXR estate
Perhaps unexpectedly, the Vectra VXR Estate should go straight to the top of the list of any buyer looking for a practical but very quick vehicle. And how refreshing it is that in a world full of 'sportwagons' and 'sport crossovers', Vauxhall sticks with the far more honest and descriptive 'estate' nomenclature.
Costs
List prices are at the top of the Vectra range but still some way below models from the premium segment. When you consider that the VXR estate is faster, more powerful and better specified than any entry-to-mid-level Audi, Mercedes or BMW estate, it almost looks like a bargain. VXR-badged cars should hold onto their value much better than workaday Vauxhalls, though they will also require carefully maintained service records to maximize their value. Insurance could prove costly, too.
Space and practicality
While the practicality of the large boot is perfectly obvious, it's easy to miss the impressive amount of rear legroom available - another product of the stretched chassis. The rear seats can split, fold flat, and include an integral ski hatch which is useful for transporting long loads. In short, the VXR will do anything a regular Vectra Estate will do. It'll just do it a lot quicker.
Controls and display
Standard Vectra dials are very dull, so it's good to see the VXR get far more attractive replacements. Pretty much all of the rest of the switchgear is carried over from the Vectra range, but at least the materials used are of good quality, particularly the rubber-effect plastic used for many of the cabin's contact points. The indicator stalks still annoy - it's far too easy to leave them clicking away after turning a corner.
Comfort
The Recaro sports seats up front must rate as some of the best on the market at present, offering ample support in all situations. Indeed, once you have become accustomed to their body-hugging properties, they become a positive incentive to press on with your driving. At cruising speeds noise and vibration are well suppressed. Floor the throttle and you'll hear a delicious dual note from the twin exhausts but nothing more.
Car security
In a classic case of swings and roundabouts, the VXR badge may be raising Vauxhall's profile, but it also tends to attract the criminal fraternity. VXRs will be infinitely more attractive to crooks and conmen than any normal Vectra, so take particular care if buying second-hand instead of new.
Car safety
Front, side and cushion airbags are all included, but perhaps the most reassuring safety features are the brakes yet again with their considerable controlled stopping power. There's no shortage of electronic safety enhancements including IDS-Plus with ESP and EBD.
Driver appeal
Only two tenths of second slower than the hatchback from a standing start to 62mph, the VXR Estate totally justifies the presence of the VXR performance badge. Because the latest version of Vauxhall's clever IDS-Plus chassis system is on board, body roll is minimal, even during tight cornering. Acceleration, power and speed may grab most VXR-related headlines, but equally significant are the brakes - the largest ever fitted to a production Vauxhall with 345mm discs at the front and 292mm solid discs at the rear. They are simply awesome. If you're in a really hardcore mood, press the Sport switch on the dashboard for even sharper responses.
Family car appeal
The VXR retains most of the family-friendly features of other Vectra estates, but in all honesty its high-grade interior and firmer ride probably mitigate against it as a genuine family wagon. After all, there's also the Zafira VXR to consider. Nevertheless, Vauxhall is convinced the load-lugger will find a market among buyers who simply don't want to consider buying a people carrier.
First car appeal
Many a callow youth lusts after a performance Vauxhall, but sadly a souped-up old Corsa is about as close as most will get. Estates aren't particularly fashionable - even performance estates - and in any case the combination of youth plus 250 horsepower is not likely to produce an insurable combination.
Quality and image
The VXR sub-brand looks to be developing nicely, garnering increasing kudos amongst those in the know and gradually becoming known to the mainstream. It's certainly a stronger association to have than the pallid 'OPC' badge given to the equivalent Opel models on the continent. As with all recent Vauxhall models, the improvement in the quality of materials and construction is noticeable. While it remains the case that Vauxhall as a brand is still perceived as rather dull, VXR cars are better regarded.
Accessibility
Doors open almost to ninety degrees and the rear doors in particular allow easy access thanks to the extended chassis. Perhaps more assistance could be given by the struts supporting the boot, which needs to be operated manually. People with a very large frame may struggle with the front sport seats, though the vast majority of the population should have no trouble at all.
Stereo and ICE (In car entertainment)
As befits its range-topping status, all VXR models come with a beefy sound system as standard. In this case it's a CDC 40 stereo radio with DAB, integral six CD changer and 356 watts per channel. Satellite navigation costs extra.
Colours and trim
Recaro sports seats come with leather-trimmed side bolsters, while a three-spoke steering wheel and VXR instrument panel create a fairly convincing sporty ambiance. In contrast to some Vauxhall performance models of the past, it's all remarkably tasteful and the build quality is impressive. Just four colours can be selected: red, blue, sapphire or silver. Sapphire looks by far the best.
Parking
The considerable power and rapid throttle response mean a light right foot is required when manoeuvring at low speeds. Because the chassis is slightly stretched compared to the Vectra hatch, judging distances to the rear can be tricky. Disappointingly for a top of the range vehicle, front and rear parking sensors are optional extras.
Spare wheel
Temporary space saver spare wheel is provided.
Range information
VXR is standalone sub-brand of Vauxhall. Vectra hatchback and estate offer a single engine choice: 2.8-litre (252bhp) V6 twin-scroll turbo petrol unit. Front wheel drive, six speed manual gearbox only.
Alternative cars
Saab 9-3 Sportwagon Based on same chassis with better interior ergonomics, but less fun
Renault Laguna Sport Tourer GT 200bhp but somehow lacking in personality
Mazda6 Estate Value plus a dash of style makes this a good all-rounder
Honda Accord Tourer Exceptionally roomy boot but looks slightly unwieldy. Well built