October 2005
Vauxhall Vectra SRi 1.9 CDTI (150PS) 5dr
More extrovert frontal styling has added a new and welcome layer of kerb appeal
October 2005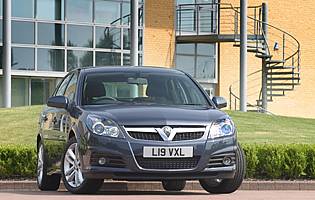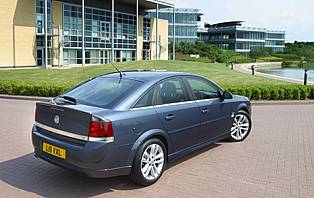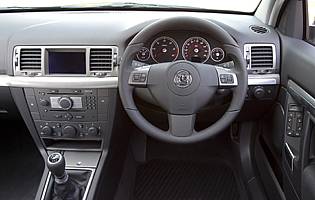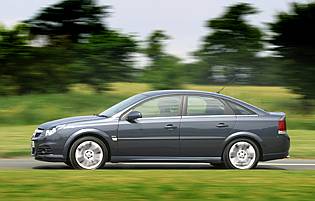 Overall rating

Likes:
New look helps boost the Vectra's image
More enjoyable to drive than its predecessor
Good value thanks to high levels of standard equipment
Cabin quality much improved
Gripes:
Not as sporty to drive as Ford's Mondeo
At the end of the day it's still a mass market hatchback
One-touch indicators can prove frustrating to operate at first
Question mark remains over the residual performance of all cars in this class
Vauxhall's Vectra didn't have the best start in life. Mauled by a certain Jeremy Clarkson for its inability to generate any excitement, the car was overshadowed by the more dynamic Ford Mondeo and Peugeot's 406. The criticism didn't stop it from selling, although to be fair the car's target market was the volume fleet sector. The Vectra's audience hasn't changed but the car has; it's more attractive, nicer to drive and the cabin boasts an upmarket feel.
As far as company cars go, Vauxhall's previous generation Vectra was one of the least offensive available. It stopped, steered and went but no more than that. In a desirability contest with Ford's more accomplished Mondeo, the Vectra didn't stand a chance.
Vauxhall has clawed back a lot of the deficit with a revised car. The restyled nose is the most obvious - and welcome - change, but the improvements also stretch to better levels of equipment, subtle changes to cabin trim and important revisions to the cars ride and handling.
The importance of the last improvement shouldn't be underestimated. The old Vectra was the butt of many jokes relating to how it drove, and although motorway cruising is hardly a taxing exercise, corners and urban undulations always troubled the Vectra.
That's no longer the case, making this Vectra a more accomplished and enjoyable car to drive. You'll appreciate exactly how important this is if you rack up the miles in the course of your work. Driving ability aside, the Vectra is also good value for money thanks to its generous equipment levels and - depending on the engine variant - economical to run. All of which will be of paramount importance to anyone charged with running a company car fleet.
Our verdict on the Vauxhall Vectra SRi 1.9 CDTI (150PS) 5dr
Visually the revised Vectra is a huge improvement, thanks largely to its bold grille. The changes inside are more subtle but no less important. As a result, the cabin ambience has been given a welcome lift. The Vectra remains predominately a car for the fleet sector, but with its improved appearance and ride, it's no longer the wooden spoon of the company car park.
Costs
Taken at face value, Vectra running costs are pleasingly low. If you do a lot of miles a diesel will make sense, while modest insurance groups and repair costs should reduce running costs to a sensible minimum. It is easy to spec up a new Vectra with lots of expensive toys though, and it's worth noting these won't boost the car's already modest residual values when it comes to sell the vehicle.
Space and practicality
More than room enough up front and more than adequate at the rear is how to describe the space available in the Vectra's cabin. Adult passengers will no doubt comment that rear legroom could be better, but the trade-off is a decent size boot. The cabin centre armrest is a good place to deposit small items, with the glove box a convenient backup. The car's door pockets are on the small side, though.
Controls and display
The Vectra might now boast a more upmarket feel but its various controls and displays remain modest and largely free from gimmicks. Save for the sometimes annoying 'one-touch' indicator and wiper stalks, the car's controls are instantly intuitive. The large, central display works well, and houses the colour sat-nav display on selective models. The main dials are easy to read, while the large rotary ventilation controls and steering wheel buttons don't require you to take your eyes off the road for long periods.
Comfort
Despite Vauxhall's belief that the Vectra could challenge more nimble rivals, the Vectra has always been viewed as a refined but primarily comfort-orientated car. While the same is still true of lesser models today, all cars roll and pitch less thanks to revised suspension settings. The car's generously proportioned and supportive front seats come with plenty of adjustment, and all-round head and elbowroom is good. Road and engine noise - even the latter from the diesel units - has been kept to pleasing minimum.
Car security
For all the Vectra's revised features, the security provision is modest but adequate. Remote central locking is the mainstay of the line-up, while an alarm and immobiliser provide further lines of defence. Although it's unlikely that you'll be targeted in the same way as a Porsche driver might be, fitting a visible deterrent such as a steering lock would certainly help to deter the opportunist thief.
Car safety
As you'd expect from a family-size, five-door car, the Vectra isn't short of safety kit. Standard issue includes six airbags, head restraints that reduce the effects of whiplash, ABS and convenience features such as steering wheel audio controls. Depending on the model, electronic aids include stability control, a similar system to aid people towing a caravan or trailer and adaptive headlamps that 'see' round corners.
Driver appeal
First generation cars were never that exciting to drive, but this revised line-up is much more enjoyable. It'll never compete with BMWs and the like, but the revisions to the car's ride allow for a more spirited approach to driving. In fact, unlike certain rivals, the Vectra strikes a successful balance between a sporty ride and long distance refinement. The car's steering is more communicative, while the high power diesel engines combined with slick-shifting six-speed manual gearboxes add an extra, and welcome, layer of performance.
Family car appeal
Vauxhall's own Zafira might offer a much better alternative for family motoring, but the Vectra won't be out of its depth if you start a family after the car arrives. Legroom in the rear is fine for growing children and the hatchback variant easily swallows bulky pushchairs. Of course, you don't get as much storage space as you would in a people carrier or a range of different seating positions.
First car appeal
It's unlikely that anyone would choose a Vectra as a first car as it's not the most exciting option around. However, it is easy to drive thanks to light controls and power steering plus good levels of visibility. An Astra would be a better choice unless the Vectra was your first company car.
Quality and image
Since Vauxhall took quality seriously - the starting point was the latest generation Astra - its newer cars have become much more appealing. The Vectra is the latest example and, on close inspection, its cabin is now closer in ambience and execution to that of cars from Mazda and Toyota. Image-wise the Vectra has suffered at the hand of harsh critics and dismissive buyers over the years, but mainly because the original cars were so lack lustre. Times have changed, though, and it's obvious that Vauxhall has raised its game.
Accessibility
The five-door hatchback format should be a familiar one, and front seat occupants will have no trouble getting in or out of the car's cabin - doors open wide and there's plenty of headroom. At the back, tall or infirm occupants will have to take care, as the open door's aperture isn't so generous. The Vectra's substantial tailgate does open nice and wide, although it does require a little effort to close properly.
Stereo and ICE (In car entertainment)
Standard fit on entry-level cars runs to a combined radio and single CD player complete with steering wheel audio controls. Further up the range the audio unit boasts a DAB digital tuner, which is rare in cars regardless of their sticker price. The fascia's central colour display is the main one for the stereo and, when fitted, sat-nav option. The navigation system is easy to use and responds quickly to route changes on the go.
Colours and trim
For a change, the Vectra isn't one of those cars that's terribly colour sensitive. The majority of options in the catalogue appear to work well, with bright hues such as red surprisingly attractive. Inside, Vauxhall designers have switched the unappealing textured fascia plastic for something more convincing and tasteful, while subtle chrome accents and quality seat fabrics successfully help lift the cabin ambience.
Parking
Although a big car, the Vectra is unlikely to prove difficult to park. So long as you're not sitting too low down in the driver's seat, forward visibility is good and the various mirrors provide decent coverage of the view rearwards.
Spare wheel
Space saver fitted as standard.
Range information
Petrol engines: 1.8 (122bhp); 2.2 (155bhp); 2.0 Turbo (175bhp); 2.8 V6 Turbo (230bhp). Diesel engines: 1.9 (120bhp and 150bhp); 3.0 V6 (184bhp). Gearboxes vary depending on model, but run to five and six-speed manual and five and six-speed automatic. Trim levels: Life, Club, Exclusiv, Design, Elite and SRi.
Alternative cars
Ford Mondeo Vectra's arch-rival more fun to drive but suffers from an over-firm ride
Peugeot 407 Rakish 407 is a good steer but lacks sufficient rear legroom
Mazda 6 Japanese alternative is good value, well built and well equipped
Citroen C5 An acquired taste but roomy and good value if you watch out for the many promotions