October 2004
Vauxhall Tigra 1.8 Sport
Tigra has a more masculine appearance than much of the competition
October 2004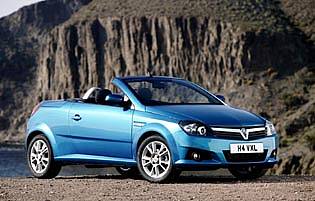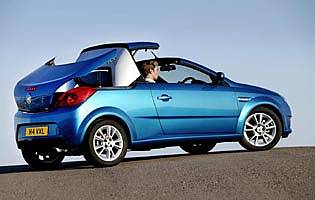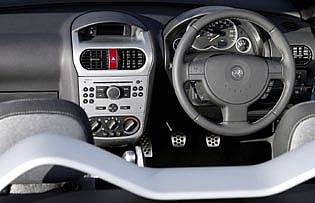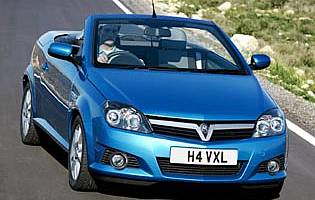 Overall rating

Likes:
Striking exterior styling and standard kit belie low asking price
1.8-litre Sport's exhaust throws out a meaty, aggressive engined note
Heated seats and air conditioning allow for autumnal open top driving
Handling and road holding are accomplished, even with roof folded
Gripes:
If wrong buttons are pushed then folding of roof becomes complicated
Look and feel of interior trim does little to enhance interior ambience
Presence of vibrations and rattles with roof up or down is irritating
Griffin badge still fails to evoke the kudos required by such a car
Gone are the days when folding metal roofs featured exclusively on expensive German sportscars. Peugeot was the first manufacturer to bring this technology to the masses. Subsequently, Renault, Daihatsu and Vauxhall have also jumped on the bandwagon, but how good is the Griffin-badged take on the folding metal roof theme?
The humble Corsa may not seem like the ideal starting point for a swoopy coupe/cabriolet, but Vauxhall has managed to pull it off rather well. The firm's second generation Tigra, which has little in common with the car that originally sported the name in 1994, is an out-and-out two seater with no shortage of style.
Its folding metal roof and chunky, modern exterior styling are likely to win over far more people than the UK's quota of 5,000 units per year will be able to satiate. Base models are a little cheaper than the Peugeot 206 CC, but, importantly, not the entry-level Mini One convertible.
However good the Tigra is to drive it will never be as desirable as the Mini because of its badge and the lack of kudos generated by it. The fact that it only has two seats is an honest, if slightly polarising move form Vauxhall. The Mini's rear bench may be all but useless, but the fact that it has one gives buyers the option of convincing themselves that it is at least a little practical.
The Tigra is slightly less effeminate than the bulk of the competition and the 1.8-litre powerplant sounds as good as it goes. There can be little argument that, all things considered, it is a fine effort and an attractive package. The only problem is that in a market place totally driven by image and street cred, the Griffin-badge is still at the wrong end of the scale.
Our verdict on the Vauxhall Tigra 1.8 Sport
Tigra looks good and is more butch-looking than some rivals. However, the Vauxhall badge lacks street cred and interior quality could be better.
Costs
A reasonable asking price, good levels of fuel economy, cheap servicing and sensible insurance premiums should help to keep the cost of Tigra ownership down. It will be significantly cheaper to buy and run than, say, a Mini convertible or Peugeot 206 CC. The fact that it is sold in limited numbers should also help maintain decent residual values
Space and practicality
The Tigra is a compact two-seater coupe/cabriolet and as such isn't the most practical of transport modes. As long as the car is used as a bit of fun at the weekends or by drivers without huge amounts of stuff or people to transport then its small dimensions shouldn't present any real problems. There are some convenient bins and nets dotted around the place as well as a 250-litre boot and 70-litre behind-seat stowage section. Unlike many folding tin tops, these load-lugging areas are eminently usable with the roof down, too. A custom made five-piece luggage set is also available as an option for those who intend on doing a bit of grand touring in the Tigra.
Controls and display
The controls and displays are utilitarian and bland in appearance. This wouldn't be such a problem in a fixed roof car, but given that when the top is down everyone will be peering in to have a look at your flashy motor's interior, it does rather let the side down. Everything works well, but certain items, the indicator stalks for example, feel flimsy and cheap. A leather-bound steering wheel compensates slightly, as do the flecks of chrome effect trim.
Comfort
There is a fair amount of wind noise with the roof up (those large A pillars are the main culprits). With the roof folded the lack of a wind deflector makes for a lot of buffeting, which can become irksome on longer jaunts. Steering adjustability could also be better, as the column only moves vertically. The optional air conditioning system is definitely worth splashing out on, as it does a good job of keeping your fingers ice-free when partaking in a little autumnal roof down driving.
Car security
Not featuring an old-fashioned ragtop makes the Tigra more secure right off the bat. Which is just as well given that the only standard security features on the base 1.4-litre model are an immobiliser and remote central locking. An alarm system does make appearance further up the range (Sport models) but this sort of equipment should really be standard fitment on a flashy coupe/cabriolet.
Car safety
ABS, driver, passenger and side airbags, active head restraints, seatbelt force limiters and a pedal release mechanism are all thrown in to help you out in the event of an accident. Those with young children will be disappointed to note the absence of a passenger airbag cut-off switch, making it dangerous to fix a rear-facing child seat in the front. The roll bars and strengthened A pillars should be more than strong enough in the event of a roll over. Steering wheel-mounted audio controls eliminate the need to avert eyes from road to fiddle around with the stereo.
Driver appeal
Sport suspension, low profile tyres and 15 or 16-inch alloy wheels afford the Tigra a surefooted and engaging ride. It's no sportscar, but performs adequately for a vehicle of this type, which is more about pose than performance. The 1.8-litre Sport, with its chrome tailpipe, has a pleasant sporty note under acceleration that heightens your enjoyment with the top folded. Most importantly of all, the Tigra passes the shop window test, roof up or down. The larger car's 125bhp and 0-60mph time of 9 seconds will keep your inner boy racer pacified.
Family car appeal
The only way a Tigra could be factored into the 'family car' bracket would be as a second, possibly even third, car or as a lavish gift for your favourite teenager. Its lack of space and practicality significantly reduces the car's versatility.
First car appeal
In many ways the Tigra would make an ideal first car. A majority of buyers are still likely to be female, despite the fact that the Vauxhall is less 'girly' than the 206 CC or Ford Streetka. Those image conscious young buyers who happen to be on a limited budget will no doubt be wooed by the Vauxhall's blend of style, personality and affordability. Insurance premiums will be quite high for the under 25s, but not as steep as a traditional ragtop.
Quality and image
Unfortunately for cars badged with the rampant Griffin, they are fighting an uphill battle with their image. Vauxhalls are by no means shoddily made; it's just that their products have developed a reputation for being a little dull and uninspiring. Cars like the Monaro, VX220 and now the Tigra coupe/cabriolet will doubtless change a few people's minds, but compared to the Mini or even the Peugeot 206 CC the Corsa-derived roadster is way off in terms of street cred. The quality of the interior does not help matters at all. Cheap and dull are the most accurate adjectives one could use. While it doesn't feel like things will be coming away in your hands within the first two weeks, it does already looks out-of-date and this will only become more apparent as time goes on.
Accessibility
The forward (and only) seats are wide and easily accessible. It may represent a bit of a climb down for the more elderly or less limber, but generally there shouldn't be any problems. The footwells are large and the driver's pedals don't intrude to deeply. The taller driver will perhaps find it easier to gain access with the roof down and the doors are surprisingly heavy - so take care of your shins when getting out on windy days.
Stereo and ICE (In car entertainment)
Even base models benefit from a CD player/radio as standard, which does a commendable job of drowning out the wind noise while open-top cruising. Sport trimmed cars gain MP3 compatibility, which is a bonus for all those techno fiends out there. Steering wheel mounted audio controls also make a welcome appearance.
Colours and trim
The side sections of the folding tin top are covered in a dusty silver plastic, which, when offset against either the blue or black paintwork, looks rather fetching. Its angular features and pert tail also cut a dash in red. The interior, however, is less attractive with its hard, shiny black plastic. Optional leather seats go some way to remedying this problem, but on the whole the little Vauxhall's cabin falls someway short of the standards set by the Mini and 206 CC.
Parking
A high boot level relative to seating position plus those roll bars hinder rearward visibility significantly. Reverse parking is likely to result in the odd minor scratch and dent until drivers become familiar with the dimensions. Parking sensors, even just as option, would have been a valuable asset, but sadly none are available.
Spare wheel
15 and 16-inch alloy wheels come with a full-sized spare wheel. Those who go for the 17-inch versions will have to make do with a tin of mousse.
Range information
Two engine options - 1.4-litre (90bhp) and 1.6-litre (125bhp) petrol. Both fitted with five-speed manual gearbox. Two trim designators available: Standard and Sport.
Alternative cars
VW Beetle Cabrio German is better built but larger and more costly
Ford Streetka Sporty Ford is both affordable and fun to drive
Mini Convertible Fashionable alternative is extremely hot property
Peugeot 206 CC Compact Pug boasts a similar roof and cooler badge