April 2006
Vauxhall Signum Design 3.0 CDTi V6 24v
Lifestyle hatch Signum boasts above average levels of refinement and cabin space
April 2006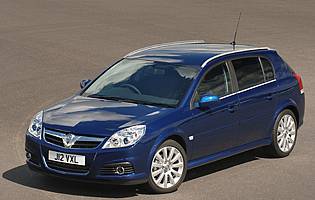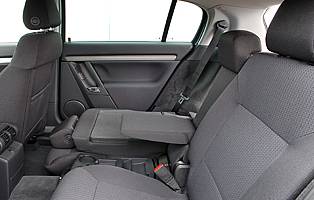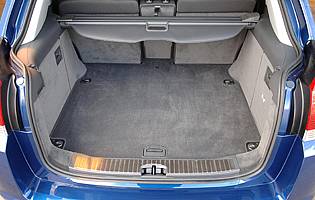 Overall rating

Likes:
Spacious cabin - especially the extra room afforded to rear seat occupants
Uncluttered fascia and easy to read main dials
Cabin refinement levels on a par with more costly German rivals
Impressive engine range, which includes outstanding diesel options
Gripes:
Lack of 'premium' badge hasn't helped the Signum's image
Centre console controls could be more intuitive and less fiddly
Cabin realistically seats only four
Extra rear legroom is at the expense of an only average bootspace
Slotting in between the Vectra hatchback and estate in Vauxhall's line-up, the Signum promises to offer something different. Attempting to capitalise on the demand for premium lifestyle vehicles, the Signum boasts a bigger focus on cabin space at the expense of luggage accommodation despite its quasi-estate car silhouette.
In recent times Vauxhall has been a car maker that's shied away from controversy or radical products. Then the current generation Vectra appeared, followed by the Astra. These two products showcased a new design language that was a world away from previous, dowdy offerings.
While radical they also showed that Vauxhall had regained the ability to make decent cars that drove well and were built to a high standard. And then there was the Signum. Pitched as an alternative to the traditional compact executive car and marketed with a lifestyle slant, the focus was definitely on the comfort of the occupants.
Borrowing the Vectra Estate's longer wheelbase chassis, Vauxhall sacrificed a little boot space to give rear seat passengers noticeable more room than in a traditional compact executive car. In practice the concept works well, especially as the rear seats can be individually reclined. There's a definite luxury feel to the cabin, and something that's absent from Vauxhall's regular Vectra despite the near identical cabin architecture.
2005 model year improvements have made the Signum more enjoyable and rewarding to drive, while build quality has been improved along with the amount of standard equipment. The car's nose has also received a welcome but subtle facelift. The premium ambience can't disguise one thing, though; the Signum doesn't wear a premium badge, and this hasn't done the car many favours with image-conscious buyers.
Our verdict on the Vauxhall Signum Design 3.0 CDTi V6 24v
Look past the image issues associated with the Signum - it's a premium quality car with a mainstream badge competing against some very big hitters - and it's an impressive package. Refinement and equipment levels are impressive, as is the amount of cabin space available for rear seat occupants. Thanks to 2005 model year revisions, the Signum looks better and driver better, too. And for some the Signum will be the perfect antidote to badge snobbery.
Costs
On paper the Signum offers a lot for its asking price. Standard equipment levels are high and the engine range - especially the diesels - make good financial sense at the pumps. Vauxhall's mainstream position in the market means servicing and running costs should be modest. Only the car's inability to mix it with genuine premium players counts against it, as residual values can't match the German competition.
Space and practicality
The Signum is first and foremost a people carrier - and four adults will fit fine in the car. It boasts a longer wheelbase than a Vectra, which means rear seat passengers get to experience limo-like amounts of legroom. The rear seats also fold flat when you want to expand the average-size boot. Elsewhere you get the usual Vectra-style oddment storage options, although a people carrier will offer more. At the back the tailgate opens wide to reveal a generous and flat load lip.
Controls and display
Like the Astra and Vectra, the Signum's instruments and main controls are clear and, on the whole, easy to use. The car's main dials are large and legible, while the centre fascia display is bright and clear. The column stalks are the nudge and forget' type, which take a little getting used to. The buttons to access the various features (audio, trip computer, sat-nav) are straightforward, but scrolling though the different menu pages with the large rotary dial isn't as quick or simple as it could be.
Comfort
In practise the Signum is really a four-seater car, with the centre rear space as either an occasional seat or more often used as an oversize armrest. Factor in above average rear legroom, good levels of headroom plus a general lack of engine and road noise, and the car easily rivals anything from the traditional premium sector.
Car security
For all the surprise and delight features elsewhere on the Signum, the car's security package is entirely predictable. Remote central locking is standard, along with deadlocking plus an alarm and immobiliser package. Although not a highly covetable car, adding a visible deterrent such as a steering lock won't harm the Signum's long term chances of survival.
Car safety
Like most cars in this semi premium sector, the Signum comes loaded with all the kit you would expect. Front, side and curtain airbags are all standard, while a raft of electronic stability and traction devices help keep you out of trouble. Isofix mounting points are present, too.
Driver appeal
The second generation Signum - and Vectra - have been transformed by a number of small but significant improvements, which has resulted in a car that's more willing to change direction and to deliver feedback to the driver. Although still biased towards comfort, even the cars with sports suspension boast an engaging driving experience. All the engine variants are equally impressive, although the diesel motors stand out, while the auto gearbox option is responsive when called upon to react quickly.
Family car appeal
If you're not a fan of the people carrier concept, the Signum could be a smart alternative. It only seats four, but the upside is that there's plenty of space for children - and leggy teenagers - to stretch out, and the boot is big enough for all the usual possessions.
First car appeal
While not an obvious first car candidate, the Signum is easy to drive and park. It's also affordable to run, although the initial purchase price might be a bit much for a new driver. It's not a slow car though, even in entry-level trim, which should prompt some self-restraint.
Quality and image
Vauxhall has made impressive steps in the quality department in recent years, and the Signum's solid-looking cabin and glossy paint finish are perfect illustrations of the progress made. On a negative note, the Signum has failed to ignite the passion of many buyers in the executive sector. It's neither a conventional saloon nor an estate car, while some people are incapable of considering anything but a BMW, Audi or Mercedes.
Accessibility
Predictably, front seat occupants won't struggle in terms access and egress to and from the cabin. What's surprising is that rear seat passengers receive an almost identical - and welcome - experience. You won't struggle with the tailgate either, as it requires little effort to raise and lower.
Stereo and ICE (In car entertainment)
In keeping with the Signum's elevated status over the Vectra, satellite navigation is available as standard across the range. Bundled with a single CD player and radio, the combination is a good one. The basic display option does the job well enough, but the full-colour screen is a huge improvement. Whichever one you opt for, audio and trip computer functions are also accessed through the screen. An added bonus are the steering wheel controls, which are some of the best available - simple yet intuitive.
Colours and trim
The Signum is a good example of Vauxhall's resurgence as a maker of stylish, quality vehicles. The Signum looks best when specified in dark, premium-looking metallic exterior shades. This look is strengthened by the presence of a modest amount of chrome trim. Inside, the car's fascia design is more radical; think high-end, minimalist home audio system. The Signum's seats (fabric or leather) are also a cut above the usual high-volume car fodder.
Parking
The Signum's hatchback shape certainly makes it easier to park than a conventional saloon - judging where the rear of the car ends is straightforward. That said, the car's wide rear pillars and privacy glass can make the rear three-quarter vision marginal when it's dark. Thankfully parking sensors are available. Elsewhere, the car's door mirrors are a decent size and the steering assistance is generous at low speeds.
Spare wheel
Space saver fitted as standard.
Range information
Engine options - 1.8 VVT (140bhp) petrol; 2.2i Direct (155bhp) petrol; 2.0i Turbo (175bhp) petrol; 2.8 V6 Turbo (230bhp) petrol; 1.9 CDTi (120bhp) diesel; 1.9 CDTi (150bhp) diesel; 3.0 CDTi V6 (184bhp) diesel. All engines bar 1.8 VVT and 2.8 V6 petrols come with six-speed manual gearboxes (the others come with five-speed units). Optional auto gearboxes available for 2.2i Direct, 2.8 V6 Turbo, 1.9 CDTi 150 and 3.0 CDTi V6. Trim levels: Elegance, Exclusiv, Design, Elite.
Alternative cars
Alfa Romeo 159 Sportwagon Charismatic Alfa 159 also biased towards lifestyle market
Ford Mondeo Estate Workhorse Mondeo a better load-lugger
Audi A4 Avant Stylish, upmarket A4 costly in this company but a popular choice for many
Mercedes-Benz B-Class Alternative lifestyle holdall is pricey but styled more like a regular hatchback