October 2005
Vauxhall Monaro VXR
Aggressive bonnet vents mark out the revised Vauxhall Monaro
October 2005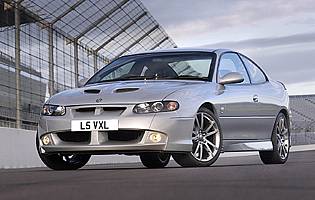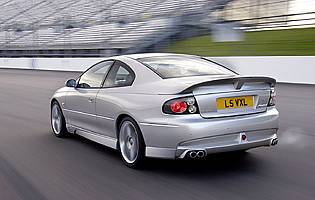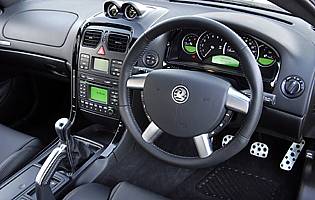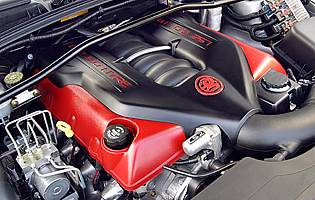 Overall rating

Likes:
Powerful and flexible engine is a delight to use
Good passenger room for four people
Fine mix of ride and handling
Excellent value for money
Gripes:
Heavy clutch and gearshift can be hard work in town
Small boot considering the car's size
Satellite navigation and an RDS stereo are not available
Economy not a strong point
Already crowning the Vauxhall range, the high-performance Monaro coupe has been given a new engine and exterior package designed to improve its desirability. Competing against well-established opposition the Monaro has a difficult job, but its unusual styling and high value approach make it a distinctive offering in this competitive sector.
With image being a key selling point for performance coupes, the Monaro has a great deal of visual impact, thanks to the curvy shape highlighted by large alloy wheels, deep side skirts and aggressive front and rear bumpers. The only potential demerit is the cache of the Vauxhall badge that may put off some buyers, but even so it is an undeniably eye-catching shape.
The Monaro has true performance credentials to back up its looks. Under the bonnet is a 6.0-litre V8 petrol engine shared with the latest Corvette, superseding the previous 5.7-litre version. With almost 400bhp on tap it can reach a reputed 180mph, putting the Monaro in the same league as cars at twice the price. Delivering all that power to the road is a six-speed manual transmission driving the rear wheels, with traction control and a limited-slip differential for better control.
Inside the Monaro also offers genuine four-seat capability, unlike some of its rivals. Based on a four-door saloon, the long bodyshell gives a generous interior, although the accommodation is not as good as more conventional cars of this size. Some buyers may also be disappointed with the lack of boot space, as it lacks enough space to carry luggage for four people.
Most buyers however will be focusing on the Monaro's performance and handling, which are its strongest attributes. Because of its weight and size it needs to be treated with a certain amount of respect, but the Monaro can be driven on fast and twisty roads in fine style, thanks to accurate steering, good grip and compliant suspension. It is certainly less sophisticated than some of its rivals, but its simpler approach to delivering thrills is a refreshing change.
Our verdict on the Vauxhall Monaro VXR
Many buyers will go for more conventional choices when spending close to GBP40,000, but for those willing to try something different, the Monaro has a lot to offer. Looks, performance and usability are all on offer, as is the backing of Vauxhall's comprehensive dealer network. Running costs may be high and the boot may be small, but these are minor flaws in what is a very appealing performance car.
Costs
The initial purchase price of the Monaro is very reasonable, although its performance does mean high costs in terms of fuel economy and insurance. Only a few individuals will be able to afford insurance cover, while low average fuel consumption means substantial fuel costs if used as your daily driver.
Space and practicality
The Monaro makes a good job of carrying the driver and passengers with room to spare, opting for two individual rear seats rather than a bench seat to make it a strict four-seater. That gives plenty of elbowroom front and rear, and decent legroom all round. Headroom is also acceptable front and rear. Unfortunately the location of the fuel tank has dramatically reduced the amount of luggage space, and with just 245 litres it is unlikely that the Monaro could carry enough luggage for its four passengers.
Controls and display
From the driver's seat the Monaro is clearly laid out and easy to use. Most of the controls are quite large and there are few fiddly buttons contend with. The stereo system has large, well-labelled buttons, with many controls repeated on the steering wheel for safer use. The instruments are large and have clear markings, with a comprehensive information display beneath which can be customised to display a wide range of data.
Comfort
High quality electric front seats in the Monaro make getting comfortable a breeze, and they provide excellent support on long journeys. The ride quality is also surprisingly comfortable for a sports car of this nature, with only the roughest roads causing any disturbance in the cabin.
Car security
With a distinctive and desirable shape the Monaro is more likely to attract the attention of car thieves, which is why it gets an alarm and immobiliser as standard. Deadlocks on the doors also make it difficult for thieves to gain entry even if they resort to smashing a window.
Car safety
A respectable list of safety equipment includes four airbags, active front head restraints and seatbelt pre-tensioners, coupled with the Monaro's impressive handling, acceleration and braking means it is more likely to avoid an accident in the first place.
Driver appeal
This is the Monaro's key strength, as it is designed and built for high performance. The 6.0-litre V8 engine is a real pleasure to use, with excellent throttle response, masses of power and torque plus a fantastic exhaust note. As well as delivering rapid acceleration in every gear, the high torque output and large capacity means the Monaro can trickle along at very low speeds in a high gear and then pull away effortlessly, making it surprisingly relaxed to drive in slow moving traffic. The suspension is well matched to the performance of the car, as it provides a decent ride with good grip and little body roll. The only question mark is over the brakes, which are fine in everyday use, but one or two stops from high speed is enough to induce a degree of fade. Otherwise the Monaro is a very exciting car to drive, as well as being flexible enough to be driven daily.
Family car appeal
The Monaro has enough room to carry a family of four with ease, although taller rear passengers may dislike climbing into the back seats on a regular basis. Once again the issue of the small boot eats into the Monaro's credibility as a family car, though in terms of comfort and passenger space it is more than adequate.
First car appeal
A newly-qualified driver might be tempted by the prospect of owning a Monaro, but its heavy controls, huge performance and high running costs would make it an impossibility for most first time car buyers.
Quality and image
Some of the materials used inside the Vauxhall's cabin do not feel of the highest quality, but the overall impression is of a car that is well constructed and built to last. The Monaro also has a strong image, thanks to its relative rarity in the UK and its outlandish styling. Few cars look like the Monaro, and as a result it turns heads when out on the road.
Accessibility
Given its size, the Monaro should be an easy car to gain access to, but there are a few niggles which do require getting used to. The door pillar for front passengers is steeply raked, and it is quite easy for passengers to bump their heads when getting in or out. The front seat tip release also slides the seat electrically forward, but even so it may be difficult for larger passengers to get in to the rear. However, it does have a button conveniently located next to the seat release to slide it back to its original position.
Stereo and ICE (In car entertainment)
The Monaro is fitted with a Blaupunkt six CD changer as standard, which is simple to use and provides good sound quality and a powerful output. However, it is not fitted with the Radio Data System which is a common feature on many other cars, and without the option of satellite navigation either, it falls behind the opposition a little on this point.
Colours and trim
With leather interior trim as standard, the Monaro interior feels of good quality. Although the dominant colour is black leather and plastic, it does not feel claustrophobic. The lack of colour choice is a negative point, most buyers will find the standard trim attractive.
Parking
Rear parking assistance as standard is a bonus on the Monaro, as its size and relatively small windows can make reversing tricky. The door mirrors give a small field of vision, and the heavy clutch also makes slow manoeuvres taxing.
Spare wheel
Space saver fitted beneath the boot floor as standard.
Range information
Two engine options - 5.7-litre V8 (349bhp) and 6.0-litre V8 (397bhp) both mated to a six-speed manual transmission. Two models available - Monaro with 5.7-litre engine and Monaro VXR with bigger wheels, body styling, suspension modifications and 6.0-litre engine.
Alternative cars
BMW M3 An excellent car to drive and own
TVR Tuscan 3.6 Stunning looks and performance, but strictly a two-seater
Mercedes C55 AMG Saloon practicality and high performance, not as engaging and expensive
Audi TT Quattro Sport Common but still desirable, respectable performance from 1.8-litre turbo engine