Vauxhall Mokka X Elite 1.4T 140
Plenty of interior space and easy to drive
April 2017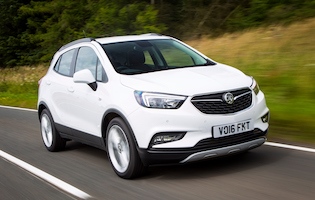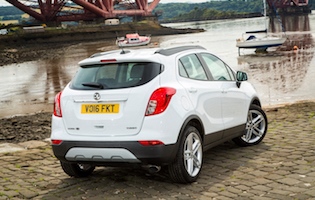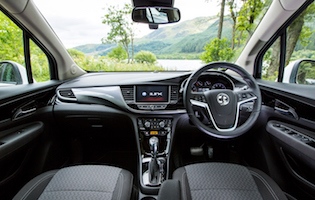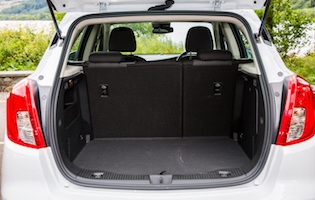 Overall rating

Likes:
Looks much better than before
Generous levels of equipment
Very easy to drive
Plenty of interior space
Gripes:
1.4-litre petrol lacks low-down grunt
Not at all exciting to drive
Interior does feel cheap in places
Grabby clutch
Remember the Vauxhall Mokka from a couple of years ago? Well the Mokka X is its replacement, gaining a new face, a new interior and a new 'X' at the end of its name to denote the fact that it is a part of Vauxhall's growing crossover and SUV family.
The most noticeable change on the new Mokka X is the fact that it has been restyled. While the original Mokka looked rather cutesy, the revised car is much more serious and muscular in its stance, and looks all the better for it. While the back end of the car hasn't changed much, the new front end more than makes up for this.
Inside, Vauxhall has redesigned the Mokka X's dashboard to look more like the one found in its Astra model. It is dominated by either a seven- or eight-inch touchscreen infotainment system (depending on which trim level you opt for), and looks pleasingly uncluttered.
Vauxhall has also revised the Mokka X's engine range, adding the 1.4-litre ECOTEC Direct Injection Turbo engine from the Astra to the line-up. However, our test car was fitted with the less powerful 138bhp 1.4-litre turbocharged petrol engine, which really lacked puff low down in the rev band.
However, while the petrol engine was rather underwhelming, the Mokka more than proved its capability as a family wagon. There is enough space inside for four adults to sit comfortably, and three children will be able to sit in the back seats with no trouble whatsoever.
Our verdict on the Vauxhall Mokka X Elite 1.4T 140
The Vauxhall Mokka X isn't a car that you will yearn to get out and drive by any means, but for the task of running around town and taking the kids to and from school it will do more than a good job. Prices for the Vauxhall Mokka X start at £17,590 for the petrol models, and £19,515 for the diesel-powered versions.
---
Costs
Prices for the Vauxhall Mokka X start at a reasonable £17,590 for a Design Nav model. This is the specification to go for, as you benefit from a wide range of standard equipement, including the NAVI 900 Intellilink infotainment system, satellite navigation, DAB radio and smartphone connectivity. If you're planning on primarily using the Mokka X around town, we wouldn't bother opting for the more expensive diesel models.
Space and practicality
While the Mokka X isn't exactly a huge car, there is still more than enough room inside for four adults to sit in comfort. Yes, there is a middle seat, but things would become cramped very quickly if a third passenger was to sit there. Children, on the other hand, will be able to sit three-abreast with no trouble at all. As far as boot space is concerned, the Mokka X offers 356 litres with the rear seats in place, and 1,372 with the seats folded down.
Controls and display
The Mokka X's controls are all laid out in a sensible manner, and are within easy reach of the driver. Our test car was fitted with the smaller seven-inch touchscreen infotainment system, which worked well enough but suffered the same difficult-to-use-while-on-the-move fate that all touchscreen units do. That said, it was clear and easy enough to read – as were the rest of the displays throughout the Mokka X.
Comfort
There shouldn't be any cause for concern here, as the Mokka X is a comfortable little car. The seats are supportive and not too firm, and there is a good amount of interior space for the driver and passengers. Ergonomically, everything is laid-out in a sensible manner, too, so you won't find you ache after being forced into an awkward driving position. There is a noticeable amount of wind and road noise at speed, but not enough to be a problem.
Car security
Security shouldn't be too much of a problem as far as the Mokka X is concerned. It doesn't have a premium badge to attract unwanted attention, and is fitted with all the security systems you would expect from a modern car – such as central locking and an immobiliser.
Car safety
Although the latest Vauxhall Mokka X has not been crash-tested by Euro NCAP, its 2012 predecessor was awarded the full five-star rating – so it would be reasonable to assume that the new model will do just as well. Vauxhall has improved the level of safety tech on the new car, with new adaptive LED headlights for improved visibility, as well as a 'guardian angel' Onstar system that can automatically alert the emergency services in the event of an accident.
Driver appeal
This is another area where the Mokka X falls down. Yes, it does the basics – such as driving around town and on the motorway – well, but as far as out-and-out appeal is concerned, this isn't the sort of car you want to wake up at the crack of dawn to get out in. However, that's not really the sort of thing it's been designed to do. This is a family car for driving in urban situations, which it does without breaking a sweat.
Family car appeal
As a proposition for a family car, the Mokka X makes plenty of sense. There's enough space in the back for three children, and the boot is spacious enough for the weekly shop as well as any odds and ends that are necessary when completing the school run. The Mokka X will also tackle those longer family journeys as well, although petrol models may be costlier to run on these occasions.
First car appeal
The Mokka X wouldn't be the go-to first car out of the wider Vauxhall range. Yes, it's easy to drive and relatively cheap, but models such as the Corsa or Adam would be far more suitable (not to mention cheaper) than the Mokka X.
Quality and image
As tends to be the case with the majority of Vauxhall cars, the Mokka X doesn't exactly have a hugely desireable image. It is a car that looks at home on the school run, rather than posing on the high street. That said, though, while the interior may not be fitted out with the most premium materials in the world, it feels as though it has been built to withstand the abuse that families and young children in particular can inflict on cars.
Accessibility
Getting in and out of the Mokka X is incredibly easy. It sits at an ideal height for practically everyone other than the smallest children, and its doors open wide to reveal large apertures. Thanks to its five door layout, getting to the back seats isn't at all difficult. The boot also has a low and wide opening, meaning loading heavier items into the back is made that much easier.
Stereo and ICE (In car entertainment)
Depending on trim level, the Mokka X is offered with either Vauxhall's R 4.0 IntelliLink infotainment system, or its NAVI 900 IntelliLink system. The NAVI system is the top-of-the-line unit, and features satellite navigation, DAB radio, Apple CarPlay and Android Auto among other functions. The system is controlled via an eight-inch touchscreen unit, while the R 4.0 Intellilink utilises a seven-inch touchscreen.
Colours and trim
Rather refreshingly, Vauxhall offers the Mokka X in a wide range of eye-catching colours, as opposed to just a handful of drab greys, whites and blacks. The more adventurous customers will likely find the bright metallic orange, blue and red colours appealing, as well as the smart deep purple. The only real consideration here is that the stand out colours may make it difficult to sell the car on when the time comes. Trim levels are: Active, Design Nav, Elite, Elite Nav and Ultimate.
Parking
Thanks to its relatively compact dimensions yet high driving position, parking the Mokka X is a very easy process. The controls are all light and easy to operate, and standard parking sensors at the front and rear of the car will give you plenty of warning if you're about to run into any unseen obstacles.
Spare wheel
Space saver wheel as standard.
Range information
Petrol engine options: 1.4-litre Turbo (138bhp), 1.4-litre ECOTEC Direct Injection Turbo (150bhp), 1.6-litre (113bhp). Diesel engine options: 1.6-litre CDTi (109bhp, 134bhp). Transmission options: Five-speed manual depending on model, six-speed manual depending on model, six-speed automatice depending on model. Trim levels: Active, Design Nav, Elite, Elite Nav, Ultimate.
---
Alternative cars