June 2010
Vauxhall Insignia Sports Tourer 2.0 CDTi SE 4x4
More rounded than its predecessor, the Insignia boasts a convincingly premium appearance
June 2010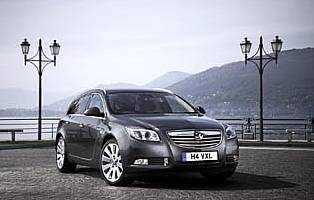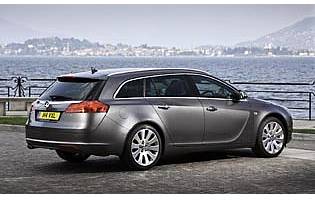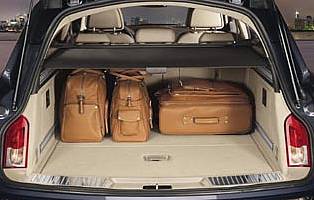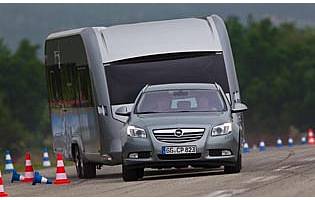 Overall rating

Likes:
Mature, attractive styling
Agile nature belies its size
All-wheel drive option adds welcome extra layer of versatility
Electronic trailer stability system is impressive
Gripes:
Sports Tourer is more a lifestyle vehicle than traditional, capacious estate car
Real world fuel economy could be better
Rear three-quarter view could be better for reversing manoeuvres
Steering could offer more feedback for keen drivers
Riding high on the positive reception given to its hatchback and saloon variants, Vauxhall is keen to promote its Sports Tourer estate variant as a premium lifestyle holdall. And key to this approach is added extra value to the proposition. In this case it's an intelligent all-wheel drive system for the non performance models, in a bid to enhance the car's enhanced versatility.
No longer the plain-looking estate car that was the Vectra, Vauxhall's more stylish and upmarket Insignia Sports Tourer offers plenty of clues as to the future direction of its maker. Positioned to break into the lucrative but highly competitive compact executive market, the Sports Tourer does not disappoint with sharp, executive styling.
In a bid to retain as much aesthetically pleasing detail as possible when developing an estate car, Vauxhall's designers have crafted a large boot door that incorporates much of the rear end including the light units. The space it uncovers is uniform in shape and perfect for easy loading. The design means the model can accept luggage beyond what appears to be at the end of the boot space.
Depending on trim level, interiors vary from acceptable to surprisingly luxurious for what is a mainstream model, but all feature the same inherent comfort. A wrap around dashboard, high level of standard equipment and refined ride qualities are all designed to appeal to drivers usually found behind a more up-market badge.
What sets this Insignia apart from the rest of the range is the inclusion of all-wheel drive. Keen to tap into the lifestyle market, Vauxhall wants buyers who need a regular car but also want all weather versatility and towing capabilities. Adding an intelligent, on demand system to the Insignia ensures fuel economy and emissions stay at sensible levels. Factor in a trailer stability system plus electronically switchable damper control and this Insignia is capable of more than just getting you to the office.
Our verdict on the Vauxhall Insignia Sports Tourer 2.0 CDTi SE 4x4
If you thought Vauxhall's Insignia was just another choice on the company car list then think again. Granted, success in the fleet sector is important, but the car is also a competent family car. With the addition of all-wheel drive, the non-performance variants can shine in all weathers and give you greater confidence to tow trailers or caravans. The financial trade-off is modest, as economy and emissions barely suffer thanks to a four-wheel drive system that only works when needed.
Costs
With the all-wheel drive Insignia Sports Tourer aimed at active owners, the diesel option will make the most sense if you plan on racking up the miles. Plus, you'll need to compensate for the reduced fuel economy when towing. Elsewhere, this Insignia is like all the others, which means high levels of standard kit, plus competitive insurance and servicing rates.
Space and practicality
The estate version of the Insignia comes with practical advantages in terms of load space over its hatchback cousin. The cleverly designed rear makes the additional room particularly easy to utilise. The Sports Tourer is eclipsed in the overall practicality stakes by some rivals, though - Vauxhall has chosen a more lifestyle bias and sacrificed the Vectra's boxy appearance and greater load space for greater style. That said, up front legroom is very good and there's plenty of storage available in the front of the cabin for oddments.
Controls and display
Although daunting at first, the considerable number of buttons dominating the car's central fascia soon become straightforward thanks to their logical layout. The dominant colour screen makes checking the radio, climate control status or, if fitted, the sat-nav function easy when on the move. A BMW-like i-Drive controller behind the gearlever helps to shorten the steps required to move between the various functions available. And as we've come to expect from Vauxhall, all the main instruments and controls are easy to read and intuitive respectively.
Comfort
As a high speed motorway cruiser the Insignia can rival the premium contenders. Predictably the petrol variants have a slight edge over the diesel models in terms of noise and overall refinement. All models are comfortable in their own right thanks to shapely and supportive seats and plenty of cabin space for occupants.
Car security
As you would expect with a car in the upper medium sector, the Insignia maintains a strong standard of security with remote central deadlocking, alarm and immobiliser. Covered storage in the front armrest, glovebox and under the boot floor means valuables can be kept out of sight.
Car safety
Boasting standard-fit ESP along with seat-side, curtain and front airbags, the Insignia offers an excellent basic safety package. In this case it's enhanced by the inclusion of all-wheel drive - an intelligent system that senses a drop in traction levels and steps in to maintain stability. And, in conjunction with a Vauxhall-approved tow hitch, the car's Trailer Assist function will sense unusual movements and brake individual wheels to help prevent a caravan or trailer from swaying too much and potentially causing an accident.
Driver appeal
Vauxhall has worked hard to make the Insignia range more appealing to keen drivers. The inclusion of user switchable adaptive damping on selected models is one example, while the intelligent all-wheel drive feature offers both added security and enhanced agility. The overall experience is good, although it can be tempered a little by steering that occasionally feels too light. The rounded engine range is impressive, with the 160 horsepower diesel delivering plenty of punch and refinement when asked.
Family car appeal
In principle the Insignia Sports Tourer is an excellent family car thanks to its roomy and practical interior, and offers a better compromise as a business car from nine to five and a family vehicle on evening and weekend duty. In reality, a compact people carrier such as Vauxhall's Meriva or Zafira will be a more flexible proposition for an active family.
First car appeal
While not a vehicle targeted at the first time car buyer, the fact that the Insignia is an easy car to drive should make the novice driver more relaxed and confident when behind the wheel.
Quality and image
Vauxhall has made a considerable effort to distance itself from the dowdy image of the Vectra. A more upmarket affair in terms of styling, the Insignia Sports Tourer builds on the saloon and hatch variants with a stylish design with plenty of road presence and far greater kerb appeal than its predecessor. Material quality is good and build quality seems strong.
Accessibility
There are few issues with accessing the front or rear sections of the cabin. Greater headroom makes the rear less restrictive for entry. The huge tailgate means assess to the boot space is unhindered and a power-tailgate option makes it effortless to get items in and out.
Stereo and ICE (In car entertainment)
Dominating the central fascia, the car's colour display is effectively shielded from glare and additional controls mounted between the armrest and gear lever are very useful. The high power sound system delivers excellent quality, although the swathe of buttons and knobs to control it takes some getting used to.
Colours and trim
The Insignia Sports Tourer looks at its best in mid-tones such as greys or reds. The darker shades can make it look less handsome. The executive styling of the interior carries leather, wood and metal trim well. Two tone plastics also give the model a more luxurious air than its predecessor.
Parking
The car really benefits from the fitment of parking sensors, as it can be difficult to judge the positioning of the Insignia Sports Tourer's rounded rear end. The view out of the rear window is also restricted by its arched shape. For a large car it is highly manoeuvrable, but its size makes it less well suited to tight car parks than some.
Spare wheel
Space saver fitted as standard.
Range information
Petrol engine options - 2.0-litre (217bhp); 2.8-litre (256bhp). Diesel engine options - 2.0-litre (158bhp). Transmission options: six-speed manual gearbox, six-speed automatic gearbox with manual override. Trim levels: S, Exclusiv, SE, Elite, SRi.
Alternative cars
Skoda Octavia Premium ambience, well priced and competent Skoda shouldn't be ignored
Volkswagen Passat Sophisticated-looking Passat is a genuine rival
Ford Mondeo Estate has sharp styling and is a rewarding drive
Citroen C5 Upmarket Citroen offers all bar all-wheel drive to tempt buyers